---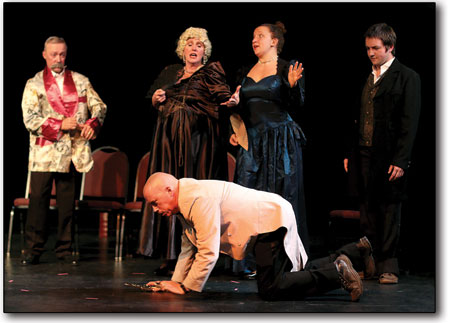 Durango Lively Arts Co. rehearses a scene from "Play On," a play within a play written by Jack Sharkey. The troup's first production in 3 years runs this weekend and next at the Durango Arts Center./Photo by Jennaye Derge
The play's the thing
Durango Lively Arts champions community theater
by Stew Mosberg
Considering the diminutive size of our mountain town, the numerous stage productions throughout the year is a testament to our proclivity for theater arts. The FLC Theater, the Durango Arts Center, Merely Players, the Strater Hotel, plus local school performances, all provide us with a wealth of choices. Among these first-rate groups is the long-standing Durango Lively Arts Co. (DLAC).
The DLAC, a nonprofit organization, was established in 1981 to keep community theater alive with the goal of providing performing arts opportunities to adults and children of the Four Corners. According to current chairwoman Wendy Ludgewait, at the time it was founded DLAC was the only community theater group in Durango. "We performed three to four shows a year; mostly musicals and comedies," she said.
Although some money has come from the Durango Friends of the Arts in the past, funding has been difficult to obtain during the group's 33 years of existence. As a result, DLAC had to take a hiatus on two occasions with its most recent production being in 2011.
Now its back and the latest offering, "Play On!" is set to debut at the Durango Arts Center on Nov. 14 and run through November 22. The play is a farcical frolic full of intentionally over-the-top acting performances.
As explained by Assistant Director John Porter, "The show is the hilarious story of a theater group trying desperately to put on a play in spite of maddening interference from a haughty author who keeps revising the script."
Written by Rick Abbot, one of several pen names used by prolific playwright Jack Sharkey (1931-92), the play centers around the rehearsals of a dreadful show titled "Murder Most Foul." The near disastrous dress rehearsal and the final act of the play within a play depicts a performance in which anything that can go wrong, does. "When the author (character) decides to give a speech on the state of the modern theatre during the curtain calls, the audience is treated to a madcap climax to a thoroughly hilarious romp," said Porter
Some audience members will find similarities in "Play On!" to the British comedy, "Noises Off," but Abbot's show predates it by several years.
As for Ludgewait, not only has she been a stalwart participant in DLAC for the past 15 years, she is also an actress, albeit not formally trained. Consequently, she prefers to be on the other side of the curtain and not so coincidentally, was the winning playwright of the DAC's 10-Minute Play Competition earlier this year. It may also come as no surprise that in addition to her current responsibilities at the helm of DLAC, Ludgewait directed "Play On!"
JusttheFacts
What: "Play On!" performed by Durango Lively Arts Co.
When: 7 p.m. Nov. 14, 15, 21; 2 p.m. Nov. 22
Where: Durango Arts Center, 802 E. 2nd Ave.
Tickets: $15 for adults and $10 for students and seniors. Available at DAC or online at: durangoarts.tix.com
"This light comedy explores some of what can – and often does – go wrong in the world of community theatre," said Ludgewait of the hilarious comedy. "It makes one wonder why otherwise quite normal appearing citizens get involved," she said, then half-jokingly added, "perhaps something went terribly wrong in their childhoods."
DLAC actors do not get paid for their hard work, but watching them on stage suggests how much they love theater and a chance to perform.
At one time numbering 350 members, DLAC held open additions for this show while also pre-casting a few regulars. "Play On!" features 11 actors, seven of whom are seen regularly on Durango stages, while Gail Beach, who happens to be Ludgewait's mother, had the task of costuming.
The play within the play provides some purposely ridiculous outfits for the actors, which is part of the spoof. Audiences will have to pay close attention to the action because at times the actors are acting in the play's play, "Murder Most Foul," and at times acting as actors rehearsing a play. Confused? That's part of the fun. The charming cast portrays their theatrical characters as inept, melodramatic thespians, and at times it becomes deliberately confusing to know if it is the performer or the character who is talking off script or in the play's play. If this all sounds complex, you'll just have to see it to understand. It is pure fun and a perfect selection for Durango's growing, savvy theater audiences.
Because of overlapping schedules and limited venues for rehearsals, DLAC builds its sets at Ludgewait's home and transports them to the Arts Center. The troupe ingeniously adds casters to the flats so they can be rolled off stage between rehearsals or when the stage will be in use by other productions. That kind of spirit serves to build relationships within the arts community and also demonstrates the need for the proposed STEAM Park Cultural Center, which would include a stage.
Ludgewait acknowledges that the lack of venues for theater productions remains a problem for them and other companies. In discussing the state of theater in Durango, Ludgewait remarked that without community support, theatre might well cease to exist here. "Please, please, please," she implored, "support DLAC and keep community theatre alive in Durango. If I could wave a magic wand, we would have our own venue."
Anyone interested in joining or learning more about DLAC can call Wendy Ludgewait at (770) 383-8584.
In this week's issue...
May 11, 2023

New hostel offers hikers, skiers and other frugal fun hogs place to hang their hats
May 4, 2023

Proposed apartments spur efforts to preserve historical burial grounds
May 4, 2023

Small mountain hamlet to remain resort-free, for now