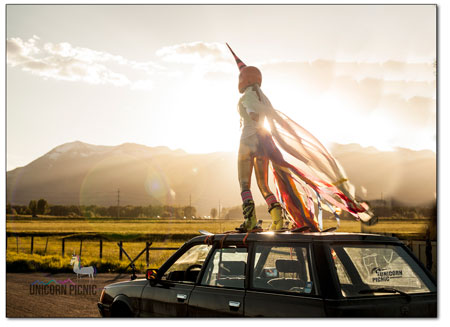 A mystical sparkly unicorn superhero (aka Sophie Danison) in a scene from Lynsey Dyer's crowd-sourced ski movie "Pretty Faces." Dyer co-founded SheJumps with fellow pro freeskier Claire Smallwood, who will be in Durango on Friday to promote the film and raise money for SheJumps./ Photo by Lynsey Dyer
Leap of faith
SheJumps seeks to empower women, girls to hit the great outdoors
by Missy Votel
Claire Smallwood had her game face on. The then-20-year-old extreme skier from Santa Fe was on her way to the 2005 U.S. Freeskiing competition in Taos, practically in her back yard, when she saw a fellow skier hitchhiking to the event. It was Lynsey Dyer, longtime hero and inspiration for Smallwood, who would now be her competitor.
"My brother thought she was cute and wanted to stop and pick her up, and I told him he couldn't because she was my competition," Smallwood recalled.
As fate would have it, Smallwood's brother – who was driving – won out. And the rest, as they say, is skiing history.
"We ended up really hitting it off; she was really supportive," said Smallwood.
That first meeting planted the seeds not only for a long friendship but the vision for SheJumps, a nonprofit dedicated to empowering girls and women to get active in the outdoors. Or, as the group's website so succinctly puts it, "an alternative to the world of skinny jeans, reality TV and fashion magazines."
Smallwood will be in Durango on Friday for a fund-raiser for the newly forming local chapter of SheJumps. The event will feature a screening of Dyer's crowd-sourced women's ski film, "Pretty Faces: The Story of a Skier Girl." Festivities get under way with a pre-party at 6 p.m. at the Smiley Building, with film at 7.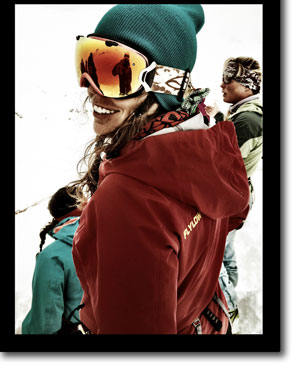 SheJumps co-founder Claire Smallwood./ Courtesy photo
The idea for SheJumps was officially launched in a coffee shop in Jackson, Wyo., in 2007. After discussing the idea, Smallwood, fresh out of college, proclaimed her plans to Dyer and Jackson ski-journalist Vanessa Pierce.
"I said, 'I'm going to do it,'" Smallwood said. With her cohorts' blessings, Smallwood obtained 501(c)3 status and together, the three founded SheJumps, of which Smallwood serves as the executive director.
Soon after, Smallwood started "SheJumps into the Canyon," a program for women and girls at Alta, near her new home of Salt Lake City. Now, seven years later, SheJumps is going strong with 20 chapters across the country, including ones in Colorado as well as Seattle, Salt Lake City, Jackson, Massachusetts, Vermont and even Tennessee.
"The bottom line is to make it open to anyone, whether you want to improve your skill set, or need support or inspiration," said Smallwood.
To that effect, the organization operates on three basic tenets: "jump in," as in try something new; "jump up," or improve your skills; and "jump out," share your passion.
The group achieves this in a variety of ways, including outdoor education, everything from avalanche courses and wilderness first responder training to bike maintenance and flyfishing.
"The goal is to find fun and relatively easy things to do in an evening," said Smallwood.
SheJumps also emphasizes youth outreach as well as its "Get the Girls Out" program, which features womens-only athletic outings in a supportive environment.
For Smallwood, it is the youth outreach that has had the most profound effect on her. Growing up in New Mexico, skiing – because of its expense – was a rare treat for her. However, thanks to a public school program that got kids on the slopes, she was able to develop her love for the sport. "It really ignited a true fire, and that's something SheJumps strives to do," she said.
Often, the goal is to get at-risk girls on the slopes, not only to expose them to the outdoors but to instill4 environmental stewardship and provide positive female role models. At Alta, the idea took root, with some members of the local Boys and Girls Club who participated in SheJumps going on to get jobs at ski resorts. "They went from seeing the mountains but never going up there to living up there," she said. "The best way to make someone care about something is to get them involved with it."
Since a horrific accident in the British Columbia backcountry sidelined Smallwood in 2012, she has been pouring most of her effort into SheJumps. Currently, she and her boyfriend are crisscrossing the Western United States in a Subaru to promote "Pretty Faces" and drum up support for SheJumps. The Durango show is sandwiched between Bozeman, where the movie premiered on Wednesday night, and Santa Fe, where Smallwood hopes to spend a week recharging her batteries.
But, channeling her competitive energy into the latest endeavor, she shows no signs of slowing down. Nor does the role of women in skiing, she believes.
Going big: All-chick ski flick 'Pretty
When it comes to ski porn, it's a man's world. But professional freeskier Lynsey Dyer is setting out to change all that. This fall, Dyer, a native of San Valley, Idaho, released the first-ever crowd-sourced, crowd-funded all-women's ski movie, "Pretty Faces: The Story of a Skier Girl."
The film, which premiered in Boulder on Sept. 30, will make its Durango debut at 7 p.m. Friday night at the Smiley Theatre.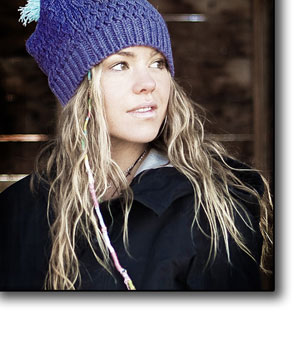 In addition to offering the first local viewing of the movie, the event will also be a fund-raiser for SheJumps, a nonprofit Dyer co-founded with fellow free skier Claire Smallwood and writer Vanessa Pierce in 2007. The organization is dedicated to increasing the participation of females in outdoor activities.

The event is being sponsored by local writer Erinn Morgan, editor of Women'sMovement.com, a website dedicated to women's adventure, and Backcountry Experience.

Since debuting, "Pretty Faces" – which was produced by Dyer's "Unicorn Picnic" productions – has sold out venues across the West and garnered wide acclaim. But getting there was an uphill battle.

"A lot of people didn't have much faith in this project ... so many times I didn't think it was going to happen. We brought in a producer from LA – I was thinking LA had all the answers – and she ended up quitting. She told someone she felt there was nothing here and she quit," Dyer told Morgan in an interview on womensmove ment.com.

Eventually, however, Dyer raised enough believers and funding, even landing the sponsorship of outdoor clothing giant Eddie Bauer as well as GoPro and REI.

In addition to Dyer, other female athletes in the film include Rachael Burks, Elyse Saugstad, Ingrid Backstrom, Wendy Fisher, Angel Collinson, Nadia Samer and Olympian Devin Logan.

The evening will kick off with a preparty at 6 p.m. featuring DJ Niko as well as food and signature cocktails from the Smiley Cafe. There will also be prize drawings, including a pair of skis, as well as a unicorn costume contest.

Admission is $10 and kids 10 and younger are free. Tickets are available at the door or at Backcountry Experience or Second Avenue Sports.

Other local sponsors include: 2nd Avenue Sports, Silverton Mountain and Purgatory at Durango Mountain Resort.

– Missy Votel
"I was just talking to a writer for Powder magazine who asked if this was going to be the 'year of the skier girl' and then things would go back to status quo," she said. "I don't think so. Women are tired of the 'pink-it-and-shrink-it' approach. And women have buying power."
They will also have the power to get out and pursue their dreams, ifSmallwood has any say. "You can still identify with the vision of SheJumps without ever participating in an event or program," she said. "It's the whole idea of, 'If she can do it, so can I.'"
And, for those who do take the jump, it's about knowing you'll always land on your feet, one way or another. "It's about taking a risk and trying something new and knowing there is a community of other women out there that believes in that."
For more info on SheJumps or to get involved with the local chapter, go to www.shejumps.org.
In this week's issue...
May 11, 2023

New hostel offers hikers, skiers and other frugal fun hogs place to hang their hats
May 4, 2023

Proposed apartments spur efforts to preserve historical burial grounds
May 4, 2023

Small mountain hamlet to remain resort-free, for now