---
Indians, pilgrims and tapioca, not in that order
by Ari LeVaux
You probably got the memo that Thanksgiving, as is currently celebrated, is a far cry from what probably transpired at the original feast. Rather than a cross-cultural love fest, the first Thanksgiving was more like a poker game where each player has one hand on his cards and the other hand on his pistol, under the table, aimed at another man's lap. The party did not include a quick game of tag football while the turkey cooked, because there wasn't even a turkey. Or a pumpkin pie. Or women and children at the dining table.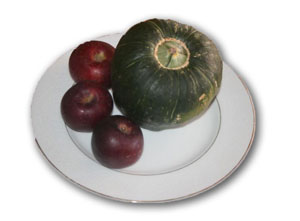 One aspect of the Thanksgiving story that appears to be true is that the Wampanoag tribal members, who vastly outnumbered the Pilgrims, actually helped them survive the cold winter that followed the feast. The collective regret that followed for not snuffing out the colonists must have been as fierce as it was short-lived, as it died with the Wampanoag that caught smallpox, or were slaughtered a few years later in King Philip's War.
This year, K-Mart workers have been instructed to report to work at 6 a.m. on Thanksgiving Day, which gives you a hint at the modern function of the holiday: to usher in the shopping season. So, yeah, we have every right to be cynical, not to mention wonder why anybody would want to eat a Tofurky. But at the same time, who can't get behind a holiday that, stripped to its bare essence, is about being grateful for what one has? In this sense, every day should be Thanksgiving, as far as I'm concerned. And there should always be pudding. Pie is optional.
I have nothing against pie, especially pumpkin pie. In a previous life, I even ran a pumpkin pie business, which boomed around Thanksgiving. But during that time I realized that I'm too lazy to make crust, and it isn't necessary. Most of us don't eat pie for the crust, but rather, the filling, also known as pudding. And pudding is not only the best part of the pie, it's the easy part. And since, as far as Thanksgiving tradition goes, we're making up the damn thing as we go, there's no shame in skipping the crust. Or in skipping ahead to eggnog either, for that matter.
In this spirit, here are some pudding recipes that you can be thankful for in these chilly Autumn days, whether or not you believe the Pilgrims and Indians sang Kumbaya around a turkey.
Tapioca, Coconut and Pumpkin Pudding
Little known fact: a tablespoon or two of tapioca will improve any pudding or pie filling immeasurably. Tapioca operates on the textural level, adding a toothy elasticity to the finished product, and bestowing it with the body you're looking for. My mother-in-law uses tapioca in apple pie, and since I started messing around with the tapioca trick myself, it hasn't failed me. And for what it's worth, tapioca has long been a food of indigenous peoples of Central and South America. So there's an obtuse Thanksgiving Indian angle for ya.
This recipe also includes corn meal, which thickens the pudding, while adding more complexity to the flavor. It also adds a pinch of indigenous authenticity.
I use molasses here because I really like the dark, intense flavor, especially this time of year, and combined with these ingredients. I opt for the extra-intense blackstrap variety of molasses, which is less sweet, and has a bit of bitterness thanks to a higher concentration of minerals. But if you've got a sensitive palate, you should probably avoid blackstrap, and perhaps skip the molasses altogether in favor of sugar or brown sugar.
Final note: this dish is unquestionably better after a night in the fridge.
Ingredients:
2 cups cooked squash (preferably kabocha), or 1 cup each of cooked squash and sweet potato
2 T granulated tapioca (aka cracked tapioca)
2 T cornmeal
2 T molasses
1 can full fat coconut milk
3 eggs
1 teaspoon vanilla extract
Instructions: Combine ingredients in a food processor or blender. Whizz until smooth. Pour into a buttered baking pan. Bake at 300 until an inserted knife comes out clean. Let cool to room temperature. Refrigerate overnight.
It's not an overly sweetened dish, but the inherent sweetness of the squash/sweet potato and coconut combine with the molasses for a truly amazing pudding experience. Or pie, if you're crusty.
Indian Pudding with Apples
The next recipe comes from an old recipe booklet, Apple Talk, that was published by the Northern Pacific Railroad in the early 1900s, apparently in an attempt to boost its apple shipping business by giving people more ideas for how to eat apples. My copy of Apple Talk was found in an old homestead in Missoula, Mont., beneath a dusty stack of recipes. Apples, like squash, are in season during Thanksgiving.
The recipe for Indian Pudding with Apples has an indigenous sound to it, but there's nothing Indian about Indian pudding. Still, it's old, and it's authentic to the settlers, and it's cool that this recipe was unearthed in a homestead.
When finished, the pudding will bear a black hue on top, as if you burnt it. Don't worry, it's just the molasses.
"Scald 2 quarts of sweet milk (also known as whole milk). Stir in 1 cup of cornmeal until the mixture thickens. Remove from the fire. Add one and one-sixth cups of molasses, 1 teaspoonful of salt, ½ teaspoonful each of nutmeg and cinnamon and 2 cups of sweet apples, pared, cored and quartered. Pour into a deep pudding dish and bake for four hours. (A temperature recommendation here would be nice. I went with 275, and it was perfect.) When the pudding has baked for 1½ hours, add without stirring, one pint of cold milk. Serve with cream and sugar and syrup."
I've played around with variations like doubling the apples or corn meal, which makes it sweeter and thicker, respectively. It's a forgiving recipe. Maybe not as decadent as your average serving of tiramisu, but it's better for you, and closer to what may have been served in the original feast, for whatever that's worth. Like the squash pudding recipe above, this black pudding, as I call it, is exponentially better the next day, so plan ahead.
In this week's issue...
May 11, 2023

New hostel offers hikers, skiers and other frugal fun hogs place to hang their hats
May 4, 2023

Proposed apartments spur efforts to preserve historical burial grounds
May 4, 2023

Small mountain hamlet to remain resort-free, for now