---
Half Nelson, Dustbowl Revival and the Wrecking Balls
by Chris Aaland
Time for full disclosure: I went into my interview with Gunnar Nelson with no small amount of cynicism. I was a head-banger back in the day and even a hair metal fan. But the sight of Nelson on constant MTV rotation with "(Can't Live Without Your) Love and Affection" in 1990 – not to mention an over-saturation of Poison and Winger at the time – drove me away from the music of my youth. So when the Nelson brothers' agent requested I interview Gunnar a month ago, I was skeptical.
I wasn't the unbiased, objective journalist I'd been taught to be.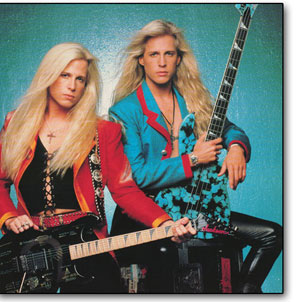 The Nelson twins bring "Ricky Nelson Remembered" back to the Concert Hall at 7p.m. Wed., Nov. 19.
As it turns out, I had the most fun I've ever had interviewing a musician. Gunnar and I talked for over an hour about his family lineage, '50s rockabilly, '80s hair metal, '90s grunge and the role that television played in three generations of Nelsons garnering No. 1 hits. He could easily teach a PhD-level communications course on the interplay between popular music and television. And, what's more, he's a genuinely nice guy who was more concerned about my time away from 4-month-old Rosie during the interview than he was about plugging Tuesday's "Ricky Nelson Remembered" multimedia show that he and Matthew are bringing back to the Community Concert Hall at 7 p.m. Wednesday.
The grandsons of Ozzie and Harriet and son of Ricky, Matthew and Gunnar weren't even around when Ricky took the world by storm. They were born in 1967, long past Ricky's "Hello Mary Lou" rockabilly prime. By choosing a career in rock & roll over acting, Ricky was choosing his own path.
"At the core of this, you had a kid who loved music, more than his very stable acting career," said Gunnar. "Back in the day, you couldn't even call it rock & roll. It was R&B. Rock & roll was salacious. He could've been a fine film actor at the time, but he went the other way. He played music and wound up living and dying for rock & roll. He did 300 dates a year until the day he died."
Ricky ushered in rock & roll to a generation that longed to break free. "He was the first guy to utilize the power of television to market music," Gunnar said. "Ozzie & Harriet's kid doing stuff on TV? They got a whole bunch of hate mail. Dad was the best guy to smuggle rock & roll into living rooms at a critical time in music history."
Then, when musical tastes swayed from rockabilly in the late '50s and early '60s – Elvis was in the Army, Buddy had died in a plane crash, Jerry Lee was scorned for marrying his 13-year-old cousin – Ricky reinvented himself again, this time as the country-rock pioneer. He wasn't even Ricky anymore, having changed his recording name to Rick in 1961.
"I think he showed us it was possible to reinvent yourself," Gunnar said. "He showed us how important it is to be focused on whatever you were doing at the time. He turned down all of his rockabilly offers to pursue his current stuff with the Stone Canyon Band."
The twins naturally gravitated to music. "We got our first instruments when we were 6 years old. My first memory was sitting on a crate on the side of the stage when my dad was playing Knott's Berry Farm. I was probably a year-and-a-half old."
Gunnar started out as a drummer and would sneak behind the Stone Canyon Band's drum kit during breaks in rehearsals. Matthew played bass. When he was a teen-ager, shortly after his dad had died in a New Year's Eve plane crash en route to a concert, Gunnar switched to guitar. It was an appearance on Saturday Night Live – the first time an unsigned band had played the show – that convinced Gunnar to leave the sticks behind.
"I had an epiphany that my dad came to me and said, 'You guys need to be up front together,'" said Gunnar. "When someone says they've played guitar for 10 years, they've been lucky to have the guitar in their hand for an hour a day. I made the commitment to play 10 hours a day."
Fast forward three years, and Nelson was just the second band to be signed to David Geffen's DGC imprint. By the end of 1990, an angry Seattle trio called Nirvana signed to the same label. Nelson, in the middle of their 15-month world tour, saw the handwriting on the wall.
And the rest is history.
The Dustbowl Revival visits the Henry Strater Theatre at 8 p.m. Saturday. The Venice, Calif.-based collective blends old-time, Gypsy jazz, swing and vintage rock in an Old Crow Medicine Show-meets-Louis Armstrong's Hot Fives, Dylan & the Band-jamming-with-Benny Goodman vibe. The octet's instrumentation includes washboard, fiddle, mandolin, horns, drums, bass and guitar.
Durango Scottish Dancers and the Durango Celtic Festival present the Highland Soles Trio at 6:30 p.m. Tuesday at the Rocky Mountain Retreat, 848 E. 3rd Ave. The trio draws on 35 years of experience working with some of the top Scottish and Cape Breton artists of our time.
Tyller Gummersall has a new band called The Wrecking Balls and they'll host their CD release party at the Animas City Theatre at 7:30 p.m. tonight (Thurs., Nov. 13). There's a minimal cover with suggested donations that benefits SASO (Sexual Assault Services Organization).
This week's Top Shelf list includes some upcoming events that might pique your interest. The Community Concert Hall just added eight shows to its winter/spring lineup:
1. Michael Martin Murphey, Fri., Jan. 16, 7 p.m. The cowboy poet returns!
2. Béla Fleck & Abigail Washburn, Tues., Jan. 20, 7 p.m. Banjo's reigning husband-and-wife royalty.
3. Alan Doyle, Thurs., Feb. 26, 7 p.m. A Celtic guy best known for his work in Great Big Sea.
4. Taj Mahal, Thurs., March 19, 7:30 p.m. A living blues legend.
5. Ed Kowalczyk, Sun., March 22, 7:30 p.m. Touring in support of the 20th anniversary of Live's "Throwing Copper" album.
6. Recycled Percussion, Thurs., April 9, 7:30 p.m. Four guys beating on pots, pans and power tools.
7. Robin Spielberg, Wed., April 29, 7:30 p.m. One of America's most beloved pianists and composers. Classical piano reminds me of the joke about the genie who was hard of hearing and gave a guy who made a wish a 12" pianist.
8. Ballet Folklorico Quetzalli de Veracruz, Tues.May 5, 7:30 p.m. A visual fiesta of the culture and dances of old Mexico, on Cinco de Mayo, no less.
You passed by me one sunny day? Email me at chrisa@gobrainstorm.net.
In this week's issue...
May 11, 2023

New hostel offers hikers, skiers and other frugal fun hogs place to hang their hats
May 4, 2023

Proposed apartments spur efforts to preserve historical burial grounds
May 4, 2023

Small mountain hamlet to remain resort-free, for now