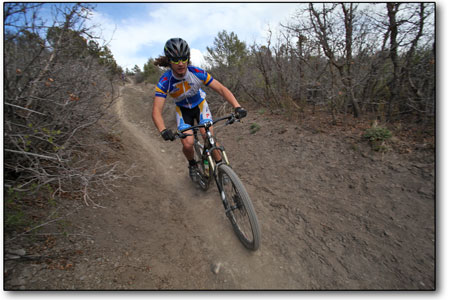 Fort Lewis Cycling's Chace Blair bombs down a hill in Overend Mountain Park this week. The City recently acquired a 3-acre lot in the Hidden Valley subdivision that it is hoping to parlay into 50 acres of open space. The new parcel will put part of the Hidden Valley climb, which is now on private land, into the public domain./Photo by Steve Eginoire
One-track mind
What's new and exciting in the local trailscape
by Missy Votel
Upcoming Trails
2000 events
- Trails 2000 Membership Party, for new and continuing members, Wed., May 21, 4:30 - 7:30 p.m., Carver Brewing
- "Running the Edge" a film about running the Colorado Trail. Sponsored by the Durango Running Club benefitting Trails 2000. Thurs., May 22, 7 – 8:30 p.m., Smiley Building
- Trails 2000 annual Colorado Trail Weekend, trail maintenance between Wall Gulch and High Point, June 21-22.
For details or info, go to www.trails2000.org.

The trail season may just be kicking into gear, but for Trails 2000 it's already been a busy one. "We cleared Dry Fork of 30 trees and Haflin Creek of 50 trees," Trails 2000 Executive Director Mary Monroe-Brown said last week. "We haven't gotten to the high country yet; we expect that to melt out the first week in June."
Here in the lower climes, though, pulaskis have been swinging and knobbies rolling for weeks. Trails 2000 officially kicked off its in-town trailwork season April 24 with work on the South Rim Trail. The public trailwork nights run from 4 - 7 p.m. every Wednesday through the fall on various trails throughout the area.
In addition to the usual slate of trailwork, Trails 2000 also has several new projects in the works as well as a few that are still on the drawing table.
The project perhaps garnering the most attention this spring is the Chapman Hill Bike Park, a joint project between the City of Durango and Trails 2000. The plans for the park – which have been in the works for years – call for "flow trails" off the rim above Chapman as well as jumps, a skills area and a pump track, all in forested areas adjacent to the skiable terrain. Although it has wide community support as well as blessings from City Council and the Planning Commission, it has yet to gain traction in the way of funding. The City has gone after two Great Outdoors Colorado grants for building the park, both of which were unsuccessful.
"We have approval to do it, but nothing is imminent, just a good plan and lots of advocacy," Durango's Assistant Director of Community Development Kevin Hall said.
However, the park's luck may change. Trails 2000 is spearheading efforts to win a $30,000 grant from helmet manufacturer Bell for a pump track (see sidebar.) According to Monroe-Brown, if Durango wins, the pump track would be built this summer with the help of the International Mountain Bicycling Association. "IMBA wants to complete the projects this year," she said. "No money goes to us; it all goes to the City and the Bike Park project."
Aside from the Bike Park, other big trail news includes plans to improve and add on to existing trails on the Log Chutes area, northwest of town near Junction Creek. Home to several miles of an old road network, plans call to remove overgrowth, clear trails and install signage on Log Chutes trails 1 and 2.
"Those trails need a lot of work, they haven't seen a lot of love," said Monroe-Brown. "It's so beautiful up there. The views are spectacular."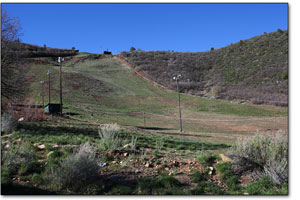 Chapman sans pump track./Photo by Steve Eginoire
In addition to improving the ride-ability of the existing loops, Trails 2000 has also submitted a proposal for Log Chutes 3, a 4-mile multi-use trail that would follow an existing road bed. The new trail would circumvent the existing trail system along a cliff band to the west, providing intermediate riding.
In addition to this, Trails 2000 expects word from the Forest Service in July on an environmental analysis of the Log Chutes downhill. The EA is examining the impacts the trail would have within 200 feet on either side of Junction Creek Road for 3 miles. Alternatives include making the trail – also an old logging road with about a 35 percent grade – single-use (bikes only) or multi-use but in one direction.
While the fate of the Log Chutes downhill remains to be seen, plans elsewhere in the local biking landscape are more concrete. A breakdown, according to area, follows: 4
- Horse Gulch: Work will continue on the "progressive" trails off Raider Ridge, including Snakecharmer and Medicine Hat. "We are hoping to direct more progressive riding in that area," said Monroe-Brown.
Signage will also be added to the area, which is criss-crossed by a tangle of unmarked singletrack.
In addition, the City plans on starting work at the new Horse Gulch trailhead this summer, once completion of the adjoining office building and parking lot is complete. According to Hall, the area traditionally used for parking, at the base of Horse Gulch Road, is actually private property owned by Oakridge Energy. "They've been nice enough to let us use it all these years," he said.
The new trailhead will include public parking, landscaping and possibly seasonal porta potties. "The plan is to clean up the front door to Horse Gulch," said Hall. "It should look really nice when it's done and work well for trail users."
- Overend Mountain Park: With the recent purchase of a lot in the Hidden Valley subdivision, the City is hoping to ink an agreement that would add an additional 50 acres to the Mountain Park.
This would put all of the Hidden Valley trail, part of which is currently on private property, all on public land and provide an opportunity for another trail to a nearby ridge, said Hall.
- Twin Buttes: Although no trail building is planned for Twin Buttes this summer, there will be home building. As a result, the lower trails will be closed to public use and there will be some rerouting. The upper trails will still be open, and riders can access trails from the Giant gas station, on Highway 160.
"You can still get around, it just won't be as convenient as it was," said Hall.
And speaking of access, a Mountain Park -Twin Buttes connector trail remains elusive. Monroe-Brown said Trails 2000 has proposed two possible routes that would cross Bureau of Land Management land to link the two popular recreation areas, but that's as far as it's gone.
Hall noted it is still something on the long-term radar. "It takes time working with the federal government," he said. "We continue to work on it, but there are no solutions today and I don't expect anything coming in 2014."
However, Monroe-Brown said such links have always been part of the group's overarching goal and something it works toward continually. "It's so healthy for a whole community having connectivity," she said.
Get pumped: Trails 2000 gets out vote for pump track grant
Durango is in the running for yet another national award, but this time it could land the city more than just a little ink and some celebratory back-slapping.
In case you're out of the loop, Durango is among four cities attempting to garner the most votes for a $30,000 "Bell Built" trail building grant for a pump track at Chapman Hill.
But, there's some stiff competition. As a member of the "central division," Durango is going up against projects in cities several times its size and voting power: Chicago, Minneapolis/St. Paul and Bloomington, Ind.
However, as of Tuesday, Durango was only trailing by 600 votes with a little less than a week left to vote.
"It's just a matter of votes," Trails 2000 Executive Director Mary Monroe-Brown, who submitted Durango's application, said, slyly adding, "you can only vote once ... per computer."
For Durango's presentation, IDTV filmed a segment playing up the town's western ambiance, featuring local two-wheeled celebs descending Chapman. At the bottom, they round up their steeds and trade in their helmets for cowboy hats while Ned Overend exclaims, "Where's the pump track?"
Monroe-Brown is hoping the video will help set Durango apart from its competitors while playing up its rich bicycling legacy. "We tried to capitalize on the fact that Durango's got more national champions and Olympians than any other town in the U.S., in any sport," she said.
To cast your vote, go to www.bellhelmets.com/bellbuilt by Sun., May 4. winners will be announced Mon., May 5.

– Missy Votel