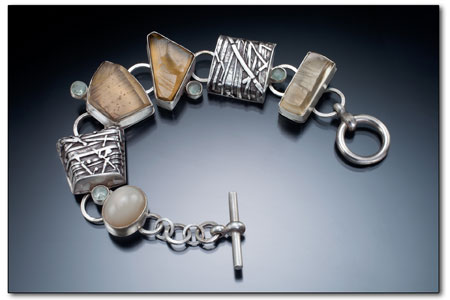 Lake Powell" bracelet, by Nan Blair, of Colorado, is among the jewelry that will be on display at DAC's TOP Jewels show, which runs May 16-June 28./Courtesy photo
All that glitters
DAC to showcase national jewelry exhibition
by Stew Mosberg
JusttheFacts

What: TOP Jewels 2014, a national jewelry design competition and expo
Where: Durango Arts Center
When: May 16 - June 28
Jewelry design has a regional heritage in the Southwest, from the ancestral traditions of turquoise and silver to the well-respected contemporary designs in local galleries.
New Face Productions (NFP) a funding arm of the Durango Arts Center, has been working for more than a year to bring TOP Jewels 2014 to Durango from May 16 - June 28. The exhibition is sponsored by First National Bank of Durango and is a natural evolution of NFP's successful TOP Fashion Show, which has taken place the past three years.
This sparkling, new event is a juried affair featuring some of the most creative designers from around the country. There will be eight prizes totaling $5,000 awarded to the best of the best entries, as judged by Allison Buchsbaum Barnett, co-owner of Patina Gallery in Santa Fe.
Some 128 designers from 33 states plus the Virgin Islands submitted 450 pieces, which were reviewed by local jewelers/sculptors Jeff and Susan Wise. World-renowned for their jewelry, which integrates sculptured gemstones and fabricated metalwork, they are represented in the permanent collection of the Smithsonian, Boston Museum of Fine Art and Museum of Art & Design in NYC. They have also exhibited in Barcelona, Spain and Pforzheim, Germany.
Ultimately, 78 designers and 150 pieces were chosen for inclusion, a difficult process at best, according to Jeff. He acknowledged that one vital component to assessing the work was the skill with which the piece is made. "No matter if a designer is using complicated techniques or simple ones, the work needs to be well constructed and finished," he said
The two will also be looking for original ideas coupled with the adaptation and development of the concept and how it was interpreted by the artist to create something personal and unique. They will be watching for a "fluency in the language of aesthetics such as balance, composition and rhythm," said Jeff.
Each artisan was allowed to submit up to five pieces, but due to the nature of the medium and its inherent value, photos or slides were requested. And since workmanship and detail are significant elements of hand-crafted jewelry, the Wises had a particularly challenging mission.
As the awards judge, Barnett will have her work cut out for her when it comes to choosing the stand-outs amongst the superb brooches, necklaces, rings, pendants and bracelets. In addition to being co-owner of a gallery she founded with her husband, Ivan, 15 years ago, she studied metalsmithing and has a fine arts degree from Syracuse University. Barnett will have to tap into the very same expertise she uses when choosing the artisans to be represented at Patina.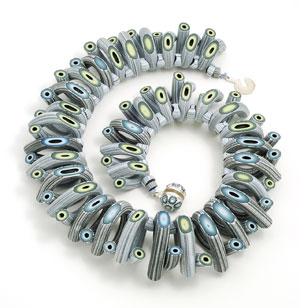 Necklace by Steven Ford and David Forlano, Pennsylvania./Courtesy photos
In addition to the DAC's six-week exhibition, two comprehensive master workshops will also be held. The first, "Stack it, Smack it, Squish it, Screw it" – a course on fabricating and creating with Chinese beads – will be led by renowned jewelry designer Deb Karash, of North Carolina. The second workshop, taught by Tim McCreight, from Maine is titled, "Precious Metal Clay for Jewelers."
In addition, on Sat., May 31 at 7p.m. in the DAC Theater, an extraordinary free lecture, "The Historical Overview of Southwest Indian Jewelry" will be presented by northern New Mexico artists Yazzie Johnson and Gail Bird. Sponsored by Coca-Cola/ Durango-Farmington, the lecture includes a presentation on the historical perspective of the artistry, from traditional to current design.
Regina Hogan, chairwoman of NFP, explained that the competition and affiliated programs were created to attract artists throughout the United States and to enable the regional art community to see and learn more about jewelry design. "By establishing a national exhibition," she remarked, "The DAC will create a unique opportunity to showcase the very best in the field." In addition to the exhibit, for which special showcases were commissioned, several of Durango's galleries and retail stores will partner in promoting the exhibit and the workshops, as well as hosting lectures and artisans.
TOP Jewels' opening reception will be held at the DAC on Fri., May 16, at 5 p.m. And for those who are struck by the dazzling array and wish to possess a bauble or two, all displayed pieces are available for purchase at the Arts Center.
The event is the first national-level event created by NFP and has already garnered countrywide attention in lapidary magazines and tourist publications.
Commenting on the superb response to the call for entries and the forthcoming exhibition, Hogan said, "The quality is truly sensational; entries using traditional as well as the most innovative materials from artist novices to those with impeccable credentials." She said entrants were asked to share both the techniques that they used as well as their background information for the exhibit. "And the stories that were shared are remarkable. It'll be wonderful information to post in the exhibition," she said.
Additional information on the workshops, accompanying events and entries is available at www.durangoarts.org. or bitly.com/TOPjewels.