Celtic clogging, Irish Car Bombs and HBD BREW
by Chris Aaland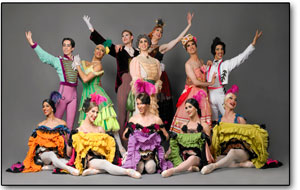 Les Ballets Trockadero dresses up the Concert Hall stage at 7:30 p.m. Wednesday.
The second annual Durango Celtic Festival gets under way tonight (Thurs., March 6). Headliners include Colcannon, Tramor and Willson & McKee. Based out of Colorado Springs, Colcannon plays Irish music with panache, warmth and wit. A PBS special about the band, "Colcannon in Concert," recently won an Emmy. Tramor is a trio that features the uilleann pipes, penny whistle, Celtic harp, guitar and mandolin. The talented Willson & McKee duo plays, sings and teaches ceilidh dancing.
Regional and local acts like Patrick Crossing, Giant's Dance, Big'ns, Gypsy Fire, Kitchen Jam Band, Mad Haggis round out the bill. Tonight's Ceilidh Kickoff Event at the Irish Embassy Pub is free, featuring Tramor and Scottish highland dancing. The big shows start at 4:40 p.m.
Friday and 11 a.m. Saturday at the Henry Strater Theatre. The Pub hosts late night events on Friday and Saturday. Sunday's highlight is a free Pub Church with Patrick Crossing at 9:45 a.m. at the Hank.
40oz to Freedom, the premier Sublime tribute band, shakes the Animas City Theatre at 9 p.m. Saturday. They've won legions of fans by staying true to the So-Cal goodtimes vibe with thumping bass, rad beats and shredding guitar … just like Sublime did back in the '90s before Bradley Nowell's heroin overdose.
Les Ballets Trockadero de Monte Carlo classes up the Community Concert Hall stage at 7:30 p.m. Wednesday. Founded in 1974, the Trocks are known for their loving knowledge of dance, comic approach and the astounding fact that men can dance without falling flat on their faces. Prior to the performance in the lobby, celebrate Arts Perspective magazine's 10th anniversary by viewing an exhibit of the magazine's first decade.
If you were lucky enough to get a ticket before it sold out, The Wailers – Bob Marley's legendary backing band – celebrate the 30th anniversary of Marley's pivotal greatest hits package, "Legend," at 8:30 p.m. tonight at the Sheridan Opera House in Telluride. Waitin' on a miracle? Unclaimed tickets will be sold at 8.
Steamworks taps a cask of its popular Irish Car Bomb for this month's Firkin Friday. Named for the beer's effect and not intended as a social statement, the Bomb is based in Steamworks' Backside Stout, which features a complex malt and oat flavor. Its second fermentation with Irish cream and Jameson whiskey flavors results in a smooth brew.
A second cask will be tapped the following Friday on the beach outside of Purgy's for the annual Steamworks' Clam Bake benefitting La Plata County Search & Rescue.
The Six Dollar String Band – a local old-time act so good that the powers that be at the Durango Bluegrass Meltdown booked them and not a national act to play this year's Old Time Barn Dance – takes over Studio & at 8 p.m. tonight. Get there early (doors at 7:30); Studio & only seats 40 people for their truly unplugged performances. Tony, Stephen, Brendan and Cyle play tight, driving, unpretentious music that would have been at home in the Appalachians during pre-Civil War times.
Crash Music in Aztec brings gutbucket Spanish blues to the region at 7 p.m. Friday. Alfie Harpo (born in Spain under the name Alfredo Barranco) is a harmonica player who earned a nomination for a WC Handy Award in 1999 as part of the Glendora Harp Summit's Sonny Boy Williamson Tribute. He's performed alongside the likes of Sugar Blue and Lee Oskar.
It's a busy week for Jack Ellis, with solo performances at the Derailed Pour House at 6 p.m. tonight, at the Office Spiritorium at 7 p.m. Friday and at the Seven Rivers Steakhouse at the Sky Ute Casino in Ignacio at 5 p.m. Saturday. Other local acts toiling about this week include: Hello Dollface's debut at the Millwood Junction in Mancos at 7:30 p.m. Saturday; and the Black Velvet duo plays at 6 p.m.
Wednesday at the Derailed.
Happy birthday … the Lawn Chair Kings play BREW Pub & Kitchen's first anniversary party at 6 p.m. Friday. More pork bellies, please!
KSUT's spring fund drive ends at 6 p.m. Saturday when I'll draw somebody's name to win a vacation for two to the New Orleans Jazz & Heritage Festival at the end of April (flights & lodging included). If you pledge by calling 563-0255 or online at ksut.org, it could be you.
One of the premiums we're offering is KSUT's "Roots & Rhythms Vol. 5" CD, a collection of intimate, in-studio performances by the Gourds, Black Lillies, Eliza Gilkyson and 17 others.
In honor of that CD, this week's "Top Shelf" looks back at my favorite in-studio moments from my 25-plus-year radio career:
- Leftover Salmon, early 1990s, KDUR. Drew, Vince, Mark & the boys regularly played my "Psycho & Budman" Friday afternoon show during their three-day residencies at Farquahrts.
- Country Dick Montana of the Beat Farmers, spring 1992, KDUR. The Beats are my all-time favorite band, so it was an honor to shoot the shit with Dick prior to their Fine Arts Auditorium gig.
- Dave Schools of Widespread Panic, Sept. 9, 1992, KDUR. Yeah, they played here. Twice.
- Robert Earl Keen, Sept. 22, 1997, KSUT. "Shades of Gray" was captured for the original "Roots & Rhythms."
- David Olney, Jan. 16, 1998, KDUR. Sitting alone in a tiny studio with him as he sang "Jerusalem Tomorrow" sent chills down my spine.
- Dave Alvin, May 7, 1999, KSUT. Dave called Beth Warren a dominatrix for making him re-learn "From a Kitchen Table" for his DSCPA concert later that night.
- Otis Taylor, Jan. 15, 1999, both stations. The gruff bluesman insulted interviewers Nancy Stoffer and the aforementioned Warren at both stations, but I found him warm and cuddly.
- Todd Snider, Sept. 26, 2002, KSUT. I had to drive to my house to pick up Joe Walsh's greatest hits CD so that Todd could learn the words to "Rocky Mountain Way" on the ride to and from KSUT.
- Katy Moffatt, Sept. 21, 2005, KDUR. Katy co-hosted "Cask Strength" the night prior to her show with Rosie Flores at the Durango Arts Center.
- Alejandro Escovedo, Sept. 8, 2006, KSUT. His stunning, solo reading of "Evita's Lullabye" haunted me. Five years later, I sang it to Baby Gus as he took his last breath. I cry every time I hear it.
What it's like washing windows? Email me at chrisa@gobrainstorm.net.