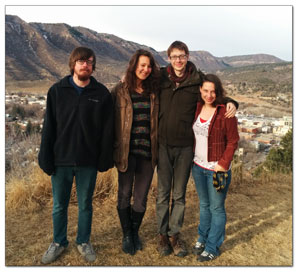 Ecofem participants, from left, Lionel Di Giacomo, Michaela Steiner, Randy Newkirk and Anne Duffield on the FLC rim./Photo courtesy of Dylan Rupe
Through the lens of ecofeminism
Panel explores intersection of feminism, environment for Women's History Month
by Jen Reeder
As Durango joins America in celebrating Women's History Month this March, it's fitting that student leaders at Fort Lewis College will be hosting a special event. "EcoFem Lenses," a panel exploring the connections between feminism and environmentalism, takes place March 11 at 7 p.m. in the Vallecito Room at FLC.
"The basis of ecofeminism is essentially acknowledging that patriarchy and environmental degradation are not disconnected from one another," said Michaela Steiner, FLC sophomore and event organizer. "It's a movement as well as a philosophy that links feminism with ecology, and basically that women and nature are united through their shared history of oppression."
JusttheFacts
What: "EcoFem Lenses," panel discussion and Q&A in conjunction with Women's History Month
When: Tues., March 11, 7 p.m.
Where: Vallecito Room of Student Union, FLC
For info.: www.animasSDS.org or on Facebook

Steiner said 10 panelists will discuss the history of this oppression, such as the rise of patriarchy as humans began controlling nature through agriculture, as well as contemporary links, such as women's lack of access to contraception leading to overpopulation. Following an introduction by Marcy Jung, associate professor of Exercise Science and coordinator of the Gender and Women's Studies program at FLC, the panel will address questions ranging from "How do different systems of oppression intersect to shape your lived experience or the lived experiences of others?" to "How are Fix-it skills environmentally awesome and feminist?"
"I wanted this to be a youth empowerment event," Steiner said.
Steiner will moderate the panel, in which each of the 10 panelists – mostly students – will answer a question for two to three minutes. The panel will be followed by a Q and A session, and to close, Steiner will discuss ways participants can apply their new awareness to their personal lives. For example, she will share information about a new seed library at the Durango Discovery Museum so people can plant and harvest their own food.
The event is hosted by FLC's Sociology Club, of which Steiner is a member, and open to all. She organized the first EcoFem Lenses panel independently last year, and more than 90 people attended.
"It's definitely important that feminism is not restricted to women, but that everyone is welcome to participate," she said. "That's been the goal for this year: getting more community members involved."
Durango's Food Not Bombs will provide free food at the event. Steiner said it's a good partnership because the group, which shares free vegan meals to protest war and poverty, complements concepts that are integral to the EcoFem Lenses event.
"Environmental degradation and poverty are connected," she said. "People in poverty are put at a greater risk of environmental injustices."
Professor Jung said she is honored to offer the opening remarks at "EcoFem Lenses" because she was impressed by the "passionate knowledge" shared at last year's event. She said it ties in well with the theme of this year's Women's History Month, "Women of Character, Courage and Commitment."
"This event spotlights students with those qualities," Jung said. "It is a strong educational complement to this year's schedule of events."
Jung, who has worked at FLC since 1986, said she doesn't think young people today identify as feminists as much as they have in the past, though some young women leaders "quickly claim their conviction to feminist principles."
"There seems to be a hesitation in young people – both women and men – to identify as a feminist. Some with the idea that there is no longer a need, others who feel a negative connotation associated with the label, others who can say they believe in equality for women, but would not consider themselves a feminist, and others who do entertain the possibility," she said.
Jung said defining an "ecofeminist" can be complicated, but her understanding relates to her belief in a holistic ecology that respects all life.
"Ecofeminism, to me, honors systems of thinking where everything is connected and necessary to the health of a whole," Jung said. "Dominance over women and destruction of nature both disturb freedom – ecofeminists act to re-establish the inherent medicine of mother earth."
Jung said the "EcoFem Lenses" discussion is important because it draws together people from different disciplines to share knowledge and consider common paths.
"To hear the intelligence and witness the open-mindedness of the student panelists is refreshing," she said. "It is important because I get to listen and think in new ways."
For more information on other local events in honor of Women's History Month, visit www.wrcdurango.org.