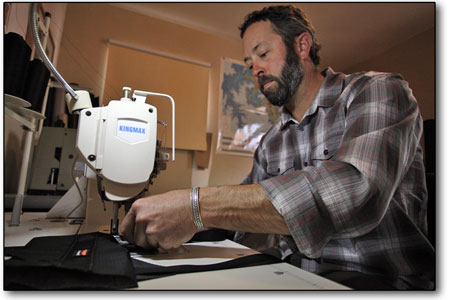 Andrew Wracher, owner of Bedrock Bags, sews up a harness for an "Entrada" handlebar bag. For the last few years, Wracher has been sewing bike packing bags in his home-workshop in Durango./ Photo by Steve Eginoire
Taking a load off
Local seamster crafts rock-solid bike packing bags
by Missy Votel
Andrew Wracher is unabashed about his love for what traditionally has been considered woman's work.
"I really like sewing," he admitted last week from his spare-bedroom-turned-workshop in Durango. "It's a pleasant way to spend the day. "
Not just that, but Wracher ventures to say that sewing – like many of his other adrenaline pursuits like rafting or mountain biking – gives him a little "kick."
"People talk about getting in the zone," he said. "Nothing gets me in the zone like sewing. I'll have hours that go by and won't have any idea what has gone on around me."
But Wracher is not churning out blue ribbon quilts for the county fair or new curtains for the guest room. Rather, he is cranking out rugged, technical and impeccably crafted bike bags for the burliest craze to sweep two wheels: ultralight bike packing.
JusttheFacts
What: "Adventure by Bike: An Evening of Bikepacking" featuring Bedrock Bags
When: Thurs., June 26, 6 p.m.
Where: Velorution Cycles, 1077 Main Ave.
For info: www.velorutioncycles.com
While back packing is nothing new, per se, this newest iteration eschews the traditional rack system for specialized bags that fit directly to the bike's frame, stem or seat post. The bags are used to transport everything the biker may need for the trip, from food and water to bivvy sack and rain gear.
"Bike packing in general is the equivalent of ultralight backpacking," he explained. "You have limited space and everything needs to be light."
At the same time, it also needs to be sturdy. "You want to be able to ride a full-on singletrack and not have your stuff fall apart," he said. "The general rule 4
of thumb is to have all your fluffy, light stuff up high and your heavier stuff down low."
A few years ago, Wracher stumbled upon the idea for his business, Bedrock Bags, mostly out of self-necessity. He was planning a multi-day bike-packing trip, and the cost of frame bags were out of his reach. A self-taught "recreational sewer" for years, making his own raft gear, he thought he'd take a stab at bike packs. "I couldn't afford the full kit, so I decided to try making my own bike packs," he said. As a former web designer savvy in the ways of the internet, he posted a how-to bike pack-making video on Youtube and it was an instant sensation – at least in bike packing circles.
"As of now, it's had 40,000 hits," he said. "I thought, 'Hey, I made these bags. I wonder if it's something I can sell?'"
From there, Bedrock Bags – taking its name from his prior profession and all-time passion, geology – was born. "It's been going crazy ever since," he said, estimating he's made between 800 - 1,000 bags since starting. "It's occurring in spite of itself."
Operating out of a 12-by-12 room in his house off Junction Creek is a one-man, three-sewing-machine show. Rolls of colorful, high-tech fabric bedeck corners and shelves, and a large work table serves as his cutting and measuring surface. Photos of various biking adventures as well as a massive, detailed map of the Grand Canyon adorn the walls for inspiration and motivation.
It's Wracher's busy season, and he says for the last few months, he's been sewing seven days a week, for eight or nine hours a day. He sells his bags locally at Velorution Cycles but said the bulk of his sales come from his website.
Right now, his repertoire includes a frame bag, handle bar bags, seat bags and accessory bags – all named for various geological features. There's the Coconino Seat Bag, Honaker Seat Bag and Tapeats To-Go Bag – all a nod to the geological wonder gracing his workroom's west wall.
"Because of my background in geology, I look at things in three dimensions," he said. "It's the same way with bags, you need to think of layers under the surface. That part appeals to me."
While Wracher's hand-sewn pieces are not for the casual dabbler – custom frame bags start at $160 – he believes they are worth every penny. And apparently, plenty of people agree.
So far, he seems to have found a nice niche among the high-end and endurance-cyclist set. His customers include everyone from riders of the grueling Colorado Trail and Tour Divide races to weekend warriors out to explore some of the Four Corners' hidden backcountry or the San Juan Hut System, from Moab to Telluride. Fort Lewis College's Outdoor Pursuits program uses his bags, as do members of the Devo Explorers. Bedrock even has its own sponsored athlete, Jesse Jakomait, who finished second in last year's CTR.
Wracher said part of the appeal is that people are willing to pay for custom, quality work that isn't mass-produced in a factory in China.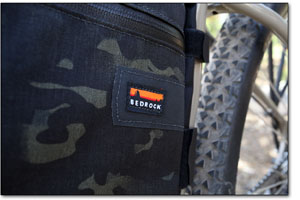 A custom Bedrock frame bag in camo. Bedrock's bags are sought after by ultralight, distance, offroad cyclists./Photo by Steve Eginoire
He attributes his success to his materials, which are chosen specifically for their intended purposes, and all made in the United States. The bulk of the bags are made from high-performance sailcloth used on racing yachts, which is light, fairly stiff and extremely water resistant (he notes his bags are not water tight like a dry bag, however.) He also uses silicone-impregnated nylon where appropriate to shave off weight. Furthermore, every frame pack is made to order, cut from the exact dimensions of the bike frame. "The customer sends in a tracing and then I make it more 'official,'" he said.
Despite the quality materials, the bulk of the cost is his own labor, but, he added, "as long as you're efficient, you can make money."
Over the years, he has gotten the system down to a science, cutting and sewing in batches. And, he is always looking for a way to build a better mouse trap. For example, he recently bought a new walking foot sewing machine, which he calls his "work horse;" a bar tacker machine for high-stress areas; and $750 worth of sturdier, nickel-plated zippers.
"I'm putting investments back into things that make the bag a little better," he said.
And for now, he seems to be enjoying the ride, estimating he is among the top four or five bike pack manufacturers in the country. While he admits is it very much a niche market, he said there is no better place than Durango to peddle – and pedal – his wares.
"(Bike packing) is a great sport and perfect for Durango," he said.
For more on Bedrock Bags, go to www.bedrockbags.com.