Father-son bonding, MarchFourth and a new season at the Hall
by Chris Aaland
During the months leading up to Rosie's birth, my wife, Shelly, was adamant that our usual summer festival rituals would carry on. She was certain that Rosie would come early enough to allow us to attend the Pagosa Folk'n Bluegrass, utilize our second row Steve Earle tickets a week later and even keep our string of Telluride Bluegrasses alive.
Alas, our little princess had other plans. Arriving five days later than expected, we missed Pagosa altogether; Steve Earle played 13 hours after her birth, eliminating that from our musical calendar; and Rosie's 24/7 need for additional oxygen ruled out T-Ride. But Shelly wanted Otto and me to go … if anything, it kept our needy 7-year-old out of her (and baby sister's) hair for a few days.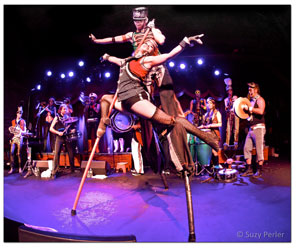 The MarchFourth Marching Band plays the ACT tonight, Thurs., June 26.
So at 6 a.m. last Friday, Otto and I heard a knocking on my door. My Deadhead buddy Chuckles – yes, he of the unfortunate La Quinta parking lot oil slick debacle of 2009 – had arrived to become Shelly's replacement as my plus-one in the poser pit. We hastily packed: my bag had a few days' supply of heart meds, two pair of underwear, two pair of shorts, old cotton sweats, three t-shirts, one pair of socks, a flannel shirt and a brand-new North Dakota hockey cap courtesy my buddy David Smith. Otto's bag was meticulously packed, thanks to Shelly's diligence. But my Tundra is a traveling camper, stocked with sleeping bags, fishing and hunting gear, rainwear, tarps, ponchos, winter clothing, shovels, axes, cooking gear, toiletries and chairs.
By 7 a.m., we were on the road. Even with a 10-minute fuel-and-coffee stop in Mancos, we pulled into Casa de Spencer in Mountain Village in less than two hours. And by 10 a.m., when Chatham County Line strummed Friday's first notes, we'd already made it to Checkpoint Charlie to have our bags inspected.
Back on the home front, mama and baby were afforded the first few hours of two-and-a-half days of blissful quiet.
Up in Telluride, I became a Single Parent Festivarian (SPF). SPFs can count on at least one entire musical set per day missed while parenting. In my case, that meant sitting at the kid's fishing pond while Otto's frustration built over one lost rainbow trout after another. Each time, he'd come up to me and ask me to re-bait his hook with more kernels from his roasted ear of corn. SPFs also spend an unusual amount of time and money at the food vendors. Kids love ice cream and shaved ice on 80-degree days as much as old men like cold beer. Besides, we needed real food … like Fat Alley gumbo or Sister's Dumplings.
Back at the tarp, we settled in for stellar sets by Keller & the Travelin' McCourys, Jason Isbell and Tim O'Brien & Darrell Scott.
Then, at 6 p.m., the inevitable happened. As the crowd quieted to a whisper, the Colorado Symphony Orchestra took the stage for a performance with banjo virtuoso Béla Fleck. Opting for classical tunes familiar enough for even kids and hippies to recognize (like "The William Tell Overture"), nearly 10,000 listeners immersed themselves in high culture at high elevation. And my Otto pulled out what was left of his roasted ear of corn from his tackle box – a mere 25 yards from the CSO's cellists – and began to chomp away.
For most likely the first time since the dawn of the Age of Enlightenment, a fully functional human being pushed Eagle Claw hooks and yellow Mister Twister lures off his ear of roasted corn and listened to the symphony. And he applauded with zeal.
For me, that's pure fun. Jeff Foxworthy would be envious.
Speaking of fun, the Party of the Year comes to the Animas City Theatre at 8:30 p.m. tonight (Thurs., June 26) when Portland's MarchFourth Marching Band returns. This more-or-less 20-piece ensemble (which includes a five-piece percussion corps, eight-part horn section, additional musicians, dancers and acrobats) is far from a marching band in any traditional sense. Their original music is anchored by funky electric bass and has evolved into a rocking guitar-and-vocal driven journey from Louisiana swamps to Eastern European Gypsy camps to African and Brazilian jungles. In the past few years, they've exploded from "the best kept secret" to "the band that everyone's talking about," be it following a performance at a small Colorado ski town, a hipster NYC club or the mainstage of a New Orleans festival.
The 2014-15 Community Concert Hall season has been announced and tickets for two dozen confirmed shows go on-sale at 2 p.m. Tuesday at the ticket office inside the Durango Welcome Center, online at durangoconcerts.com and by calling 247-7657. Show up to the Welcome Center from 11 'til 2 Tuesday for a kick-off party and enjoy free hot dogs, live music by Ace Revel and buy the best seats in the house before they go on sale online at 2.
Of local note: indie rockers Little Wilderness play tonight's Ska-B-Q from 5-7 and the Balcony from 6-9 p.m. Friday; One Roof Blues plays Serious Texas BBQ South at 6 p.m. Friday; and the Kirk James Blues Band works Vallecito's Schank House at 7 p.m. Friday, while James goes solo at 6 p.m. Saturday at Serious Texas South.
Taking a short break from our celebrity Top 10 albums of all-time, this week's Top Shelf list features 10 of the 24 Community Concert Hall events that might pique your interest in the coming months:
- Asleep at the Wheel, Aug. 13. Ray Benson's near annual return with his Western swing torchbearers.
- Hot Rize with Red Knuckles & the Trailblazers, Sept. 24. The last time these guys played in Durango was at Farquahrts. Yes, it's been that long.
- Suzanne Vega, Oct. 23. Folksy tales like "Luka" and "Tom's Diner."
- Shelby Lynne, Nov. 1. Perhaps best known as the Grammy-winning older sister of Steve Earle's soon-to-be seventh ex-wife, Alison Moorer.
- The Duhks, Nov. 6. A rescheduled date from last season.
- Big Bad Voodoo Daddy, Nov. 30. A wild & swingin' party.
- Edgar Meyer & Mike Marshall, March 8. From Bach to bluegrass to Brazilian choros.
- Charlie Musselwhite & John Hammond, March 24. Two living legends of the blues.
- Loudon Wainwright III, Apr. 2. The singing surgeon from M*A*S*H!
- Natalie MacMaster & Donnell Leahy, May 14. Visions from Cape Breton and beyond.
Hot corn, cold corn, bring along the demijohn? Email me at chrisa@gobrainstorm.net.