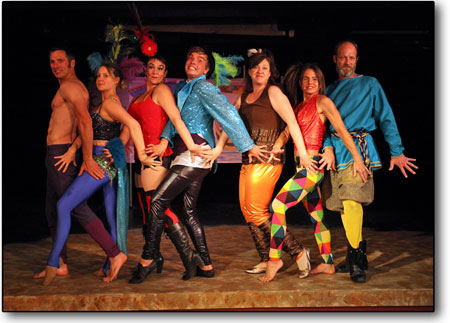 The cast of "Pippin: The Musical" rehearses a number Monday night at the DAC theatre. The show runs weekends through Aug. 16./Photo by Steve Eginoire
Cirque du Durango
'Pippin: The Musical' struts into the Arts Center
by Stew Mosberg
Justthefacts
What: "Pippin: The Musical"
Where: Durango Arts Center, 802 E. 2nd Ave.
When: 7:30 p.m., Fridays & Saturdays, June 27-Aug 16. Special matinee 3 p.m., Sun., July 6.
Tickets: $25 General/$22 DAC members
If growing attendance and critical acclaim is any indication, theater in Durango has been getting better and better. Several productions at the Durango Arts Center, for example, are exhibiting more ambitious staging, exciting music and dance, and higher-caliber acting. Fresh on the red slipper heels of Merely Players' superb "Wizard of Oz," the DAC is raising the curtain on its spectacular summer production, "Pippin: The Musical."
Broadway got its first taste of the musical in 1972 when it debuted with John Rubinstein and the late Jill Clayburgh in the leading roles. Rubenstein went on to receive a Theater World Award for his performance.
With music and lyrics by Stephen Schwartz and story by Roger O. Hirson, the Tony Award-winning musical also boasted Bob Fosse as its director. The show was successfully resurrected on Broadway in 2012 and won a Tony for "Best Revival." With that pedigree, it is no wonder DAC Theater Director Theresa Carson chose it as the featured summer fare. "I was hoping it would be familiar to the Four Corners audience," she said. "I wanted something a bit more daring and flamboyant, which Pippin can be. And under Dennis' (Elkins) direction, I think it will be! It is also a timeless story (with) varying levels of comedy and drama."
The story revolves around an inexplicable performance troupe and the young prince, Pippin, who is searching for his place in the world. Performed admirably by Adam Soward with charm and a captivating voice, this is worth the price of admission alone. Pippin's father, Charles the Great – aka Charlemagne, the Medieval Emperor of Europe – is played by Michael Chapman. The father's aloofness and poor parenting skills drive Pippin first to join him in battling the Visigoths alongside his brother Louis, played comically by Steve Ward, and then ultimately to join a performing troupe of acrobats.
Costumes by Ginny Davis are a jumble of pseudo-Renaissance court and circus attire with hilarious accouterments standing in for armor and weaponry. Kenneth Breece sings, struts, taunts and cajoles Pippin, the players and the audience in a tour d'force performance that connects all the action, albeit loosely.
In addition to Breece and Sowards, solos are performed by Mandy Gardner as Fastrada, Charles' gold-digging, ambitious wife; Kristen Winchester playing Catherine; and Charissa Chiaravalotti as one of the troupe. Also, alternating in the role of Theo and singing "Theo's Corner," the last number in the show is sung by Eathen Flores and Anthony Berger, the youngest members of the cast.
Plotline aside, this is an entertaining, exuberant production with a fair share of surprises and energetic showmanship.
In the sprit of DAC's mission of collaboration, Carson enlisted FLC Theater Department Director Dennis Elkins. "I thought finding a guest director for Pippin would be a good opportunity to fulfill our mission, so I asked Dennis to direct."
Elkins said the FLC school year is always "jam packed," and he accepted the project as a stress reliever. "Getting to do art without all the other responsibilities ... I was very eager to tackle this one. I liked the show and I wanted to direct for the DAC," he said.
Elkins acknowledged that summer poses its own challenges in finding cast and crew, particularly when the ensemble includes 17 members. Conversely, as anyone who has attended theater in Durango knows, the talent pool is extensive, something that was important as every part in Pippin sings and dances. "We have a wonderfully diverse and talented cast and crew, made up of a great cross-section of our demographics," he said.
The performers range in age from 7 to seasoned adults, with and without theater training. And speaking of experience, Elkins has more than 20 musical productions to his credit, including two operas. He has even produced Pippin elsewhere but had not directed it. His familiarity with the genre also comes in handy because this show has 20 musical numbers. Helen Gregory, DAC Music Director, and choreographer Suzy DiSanto have helped immensely on that front. "They have been absolutely amazing to work with," he said.
Elkins said this presentation is more closely aligned with the 2012 revival than the original version in that it is more circus-like, with a nod to the famed Cirque du Soliel style.
As theatrical productions go, Pippin is an ambitious undertaking for any theater company. Making it work on the DAC's tiny stage is a feat of magic. Every inch of space is utilized, with stage extending into the seating area and action often taking place in the middle of the audience. This also allows the audience to become part of the performance, ultimately adding to the entertainment experience. While not meant to be a spoiler alert, audiences are sure to be surprised, as well as dazzled by the opening sequence.