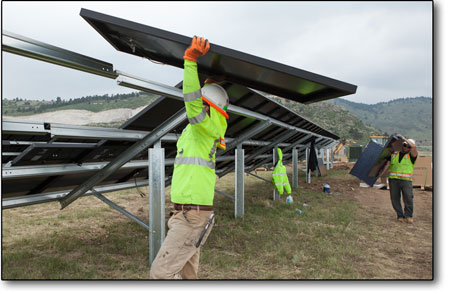 Clean Energy Collective is one of four companies building community solar gardens, like this one in Jefferson County, as a part of La Plata Electric Association's new program./Courtesy of Clean Energy Collective
Piece of the panel
LPEAs members get the chance to purchase solar power
by Tracy Chamberlin
Everyone has a shot at it. No matter where they live – apartment building, condominium or suburban home. Whether they own, rent or just don't make a lot of money.
Even if the house is tucked among the trees or simply never gets a good dose of sunshine, anyone can get a piece of the solar power pie.
With four companies building community solar gardens this year, members of the La Plata Electric Association cooperative are already lining up to benefit from the renewable energy source.
"You're actually buying panels," explained Todd Davidson, director of marketing for Clean Energy Collective, one of four companies signed up for LPEA's new Solar Garden Program. "You own them."
According to Davidson, 80 percent of homes in the United States simply can't install solar panels on their rooftops, yet most Americans want to use solar energy.
The solution for many is the community solar garden, where a company like Clean Energy builds a solar array and sells or leases the panels to customers living within the service area of the local utility. LPEA calls them subscriber organizations.
And, right now, the four subscriber organizations signed up to construct solar arrays this year are seeking out LPEA members who want to get involved.
"If you have an electric bill, you can participate in community solar," Davidson said.
Early in the process, Clean Energy promoted the idea of building an array in the area and quickly hit the quota of interested customers required by LPEA in order to proceed. "There's a definite interest in the market," Davidson added.
John Shaw, owner of Durango-based Shaw Solar, another one of the companies involved in the Solar Garden Program, said his company has sold over 85 percent of its garden's space and is optimistic it will be sold out before construction begins at the end of July.
"This is an opportunity for all LPEA members, so anyone interested should contact us ASAP," he said.
Those building the first gardens under LPEA's new program are as diverse as their potential customers.
Shaw Solar is a local installer building its first community array. "We are excited to provide the first solar garden in LPEA's service territory, allowing us to bring even more solar power to the people," Shaw said.
He added that his company, founded in 2005, chose to participate in the program because it would expand on what it already offers by bringing solar power to a different demographic. "Those whose house is not well suited to solar – for shading or roof orientation, renters or people who might not be able to afford the upfront cost of some solar systems," he explained.
Clean Energy Collective, based in El Jebel, is a company that's been building community arrays since 2010 4 in towns and cities across the country.
Want to get involved?
Four companies approved by LPEA as
subscriber organizations:

Armadillo Community Solar Garden
970-764-7256
info@armadillocsg.com
www.armadillocsg.com

Clean Energy Collective
800-646-0323
info@morecleanenergy.com
www.laplatacommunitysolar.com

Durango Solar Gardens/Shaw Solar
970-759-1227
john@shawsolar.com; www.shawsolar.com

Sun Mesa Solar Gardens
970-749-2453
Ben@LivingSolar.net; www.livingsolar.net
Davidson explained that Clean Energy pioneered the community solar model. "It's what we do," he said, adding that community solar gardens are good for all involved, from the community, the utility, its customers and the subscriber organizations.
Clean Energy's model includes a maintenance and operations package, complete with mobile apps which customers can use to monitor their energy production.
Clean Energy built its first array just four years ago, and now boasts 40 community solar projects, partnered with 18 utilities across eight states. "Since then, it has exploded," said Davidson.
The company doesn't work with just anyone. It has even walked away from other utilities and programs. Clean Energy chose to work with LPEA, calling its program well engineered and well balanced. "This is where we want to put an array," he said.
As far as the cost of the panels, Shaw said there are a few different ways to participate and interested members should contact the company to find out more.
Clean Energy's panels range from $500 to $900 each; however, Davidson said the company can't know the price for certain until a location has been chosen as land prices vary. However, several sites have been identified within LPEA's service area, one of the requirements of the program.
Another is that at least one of the subscribers to each garden must be a local nonprofit organization. Shaw plans to work with the Women's Resource Center and the Boys and Girls Club of La Plata County, also utilizing the rooftop of the club as a location for one of two arrays.
Clean Energy has yet to decide which nonprofit it will work with, Davidson said.
Both companies plan on completing construction by year's end.
One thing subscribers to solar gardens have in common with individual owners is reaping the benefits of renewable energy.
Each month, the subscriber is credited with the amount of energy created by the percentage of the array they own or lease. That amount is used to offset their energy bill and the excess is sold back to LPEA.
When subscribers move, they can take that subscription with them, as long as they stay within LPEA's service area.
For Armadillo Community Solar Garden, this is not its first foray into community solar gardens, having designed, installed and maintained a system several years ago at the headquarters of LPEA's sibling utility to the west, Empire Electric.
Currently, over half of the Armadillo array is spoken for but, according to Project Manager Jordan House, they still have room for more subscribers.
The array, which House said is all locally funded, is located on the roof of the Armadillo Storage facility on Highway 3. A subscription to the array entitles the customer to a percentage of the energy produced, and that energy can be credited to any LPEA bill; either the subscribers own or even donated to a local charity, as long as they have an LPEA meter.
Calls to Sun Mesa Sun Gardens were not immediately returned.