Renaissance man, country crooner and Daddy fest
by Chris Aaland
Steve Earle is a true Renaissance man. He's conquered country, rock & roll, folk, blues, bluegrass, Celtic and assorted Crescent City genres. His 16 studio albums (not to mention countless live records, compilations, EPs and contributions to tributes and soundtracks) have garnered 14 Grammy nominations and three Grammy Awards. The BBC Radio 2 gave him a Lifetime Achievement Award and Rolling Stone magazine honored him as their Country Artist of the Year way back in 1986 when he was just hitting the big time. He's also an author, actor (check out his performances in "The Wire" and "Treme"), DJ and political activist whose words have attacked such issues as the death penalty and U.S. foreign policy.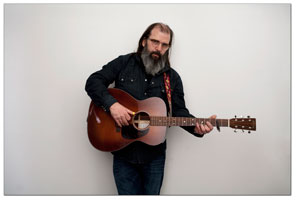 Steve Earle plays the Community Concert Hall for what likely will be a sold-out show this Friday at 7:30 p.m.
Earle's musical career can essentially be split into two parts: pre-incarceration and post-incarceration. Both eras are brilliant. He hit the gate with a trio of critically acclaimed records, "Guitar Town," "Exit 0" and "Copperhead Road" in the late 1980s and then hit rock bottom. He was busted for heroin possession in 1993 and cocaine and weapons possession a year later. He was jailed before completing an outpatient drug treatment program – life-changing events that shaped many of his best songs ever since.
1995's "Train a Comin'" was an acoustic masterpiece, recorded with such legends as Emmylou Harris, Peter Rowan, Norman Blake and the late Roy Huskey Jr. A string of creative output poured from Earle's guitar and pen over the next decade, including "I Feel Alright," "El Corazón," "The Mountain" (with the Del McCoury Band), "Transcendental Blues," "Jerusalem" and "The Revolution Starts Now." Along the way, he collaborated with such acts as the Supersuckers, the V-Roys, Iris DeMent and dozens of others.
Want to see Steve Earle live? He'll play the Community Concert Hall with his band, The Dukes (and Duchesses), at 7:30 p.m. Friday. Tickets are nearly sold out: as of Tuesday afternoon, about half of the balcony seats remained.
Top 40 country artist Clay Walker comes to the Sky Ute Casino Resort on Saturday night. Back in the '90s, Walker had six No. 1 singles, including "Rumor Has It" and "Live Until I Die."
Who's your daddy? Back by popular demand, the Powerhouse Science Center throws back an old favorite – Who's Your Daddy! – from 11 a.m. 'til 7 p.m. Saturday in Buckley Park. The family fun includes live music, food, a beer garden, slip 'n' slides and other crafty, scientific activities. The musical offerings range from old-time (Six Dollar String Band) to rock (the Moetones) to hip-hop (Diabolical Sound Platoon) to a blues/country/bluegrass/jazz mash-up (Papa Otis' Big Ol' Band). If you're not familiar with the latter, Steve Mendias and Jeff Moorehead's ever-changing band has evolved into a seven-piece that includes fiddle (Robin Davis), mandolin & acoustic guitar (the Flume Canyon Boys), a trumpet/banjo double threat (Richard Barnes) and more. They'll play from 2:30-3:30 p.m.
British rockabilly comes to Crash Music at the Historic Aztec Theatre in the form of Rockin' Lloyd Tripp at 7:30 p.m. Friday. Tripp has backed such rockabilly legends as Dale Hawkins, Rocky Burnette and Narvel Felts during his career and even opened for Morrissey.
Music in the Mountains presents dinner and a show with Jazz in the Movies at 6:30 p.m. tonight (Thurs., June 12) at the Unitarian Church on San Juan Drive. After dinner, catch a live performance by Chad MacCluskey (guitar), Elizabeth Riordan (bass), Jonathan Latta (percussion) and Jack Maynes (piano) at 7:30. And a big thank-you and good luck wishes to Latta, who will become the assistant dean at the Pacific Conservatory of Music on July 1. Latta's tireless work with the Fort Lewis percussion ensembles and his own performances in various combos throughout town have touched thousands.
Congrats are also in order for Ska Brewing, which announced the opening of its first new market in five years. Thanks to their relationship with Stone Brewing Co. (which Ska has distributed in Southwest Colorado since 2003), beer drinkers and hell raisers in the North County area of San Diego will be able to purchase Modus Hoperandi, Mexican Logger, Euphoria and the seasonal stout series. "The bar is set high, but our beers fit right in with the quality of beers available … and the character of our brewery fits well with SoCo culture," said El Presidente Dave Thibodeau, a one-time resident of Ocean Beach. "Plus, I really needed a way to write off my travel expenses when a good swell rolls through." Finally, a corporate big-wig who speaks the truth.
Moe's madness this week is highlighted by the Moetones, who play their brand of rock & roll from 5:30-8:30 p.m. Sunday on the patio. The Intelligents do a full moon Friday the 13th party at 9 p.m. – one that follows a Funked Up Friday jam with Bacon from 6:30-9. DJ Inspire spins from 8 'til close on Saturday.
Charles Leslie, director of the Community Concert Hall, provided this week's Top Shelf list. Here are the 10 albums that shaped this Texas expatriate, in no particular order:
1. B.W. Stevenson, self-titled, 1972. My introduction to Texas singer/songwriters. Died too young.
2. Crosby, Stills, Nash & Young, "Déjà Vu," 1970. Songs to sing while riding around as a kid on my bike.
3. Jerry Jeff Walker, "¡Viva Terlingua!," 1973. More great songs to sing late at night.
4. Peter Gabriel, "So," 1986. '80s rock kept me going late nights in grad school building set models, drafting and writing papers.
5. Led Zeppelin, "Led Zeppelin II," 1969. "The opening guitar lick in 'Whole Lotta Love' hooked me on the album and band.
6. Kelly Willis, "What I Deserve," 1998. One of the best singers resurrected her career with this album just as I was returning to Austin in 1999 on a new career and personal path.
7. Ozomatli, "Street Signs," 2004. Best "dance with my wife in the living room" album of the 2000s.
8. Brandi Carlisle, "The Story," 2007. Opener for Shawn Colvin and her voice and songs blew us all away.
9. Stevie Ray Vaughan and Double Trouble, "In Step," "Texas Flood," "Couldn't Stand the Weather," "The Sky Is Crying," … OK, all his albums. Another artist lost too early in his life.
10. Lyle Lovett, "Lyle Lovett and His Large Band," 1989. "Nobody Knows Me" still gets me.
Shake for me, girl? Email me at chrisa@gobrainstorm.net.