Journeys of the heart
A father-daughter trip from cradle to cradle of civilization
– Jaime Becktel
A blast of warm light from a hot air balloon burner illuminates my father's face, and his expression of boyish bliss brings tears to my eyes. I watch him as he must have watched me once, beaming at the candy colored balloons pillowing high above a valley of crumbling ruins. I cover my heart with my hand, knowing that I am suspended in a memory I will cherish the rest of my life.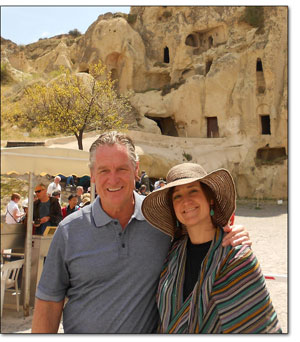 Writer Jaime Becktel, right, in vintage kaftan, and her father during a recent trip in Cappadocia, Turkey./Courtesy photo
I'm 33 and my father is 61. Eighteen years ago, I accompanied him to Turkey as part of a business trip; an innocent, indulgent and defiant teen-ager of 15 years. Turkey staggered my mind and my life permanently, altering me in ways that I only now recognize. The hypnotic daily call to prayer, the dance of sea birds between minarets, the kaleidoscopic geometry of textiles and ceramics and the gilt opulence of palaces sent my imagination aloft. And there, it remains to this day, like balloons over Cappadocia, an ancient civilization carved from soft Anatolian ash.
In the most basic sense, I owe my entire life to my father, yet he has given me infinitely more in the three decades I've had the privilege of being his little girl. The gift of that first travel experience so long ago set into motion the aesthetic infrastructure of the woman I have become. Many life choices have been made, many paths divergent from that deep taproot of cultural curiosity that began in Istanbul, Turkey, in 1995.
Such an early introduction to the psychological and emotional jostling of travel was instrumental in my becoming a lifelong student of anthropology, archaeology, history, art and religion. That first trip to Istanbul honed my palette for the "otherness" of life. In the Grand Bazaar, my taste buds were introduced to exotic spices and scents while an addiction to hot springs and massage was fostered within the marbled harem of a Turkish bath. Directly correlated to my father's insatiable curiosity for story is my current incarnation as a writer. His delight in history and personal narratives, whether recounting the tales of Ellis Island immigrants, Holocaust survivors, war veterans or those sequestered within Japanese internment camps, has led me to seek the voice of people and place wherever I go.
I am eternally grateful for his offer to join him on that first defining trip and here we are again, father and daughter, traveling together through a foreign land. He in his golf polo and khakis and I in a vintage Egyptian kaftan scored in a back alley bazaar. He wants the privacy and security of a cab while I prefer the forced intimacy of public transit, bumping into strangers and observing how they move through their daily routines. He wants to soak it all in, hitting all the spots and seeing as much as possible, while I'm content to simply ride the ferry across the Bosphorous, watching dolphins crest while sipping apple tea or gritty Turkish coffee. He travels like a king, I travel on a shoestring yet we agree to compromise and meet in the middle.
Walking the corridors of the city in search of treasures we marvel at the shark-like audacity of John Travolta, a Turkish rug vendor who interprets the words, "No thank you," as a personal challenge to drive home a sale. We laugh as I'm scammed by a shoe shiner demanding the equivalent of $30 USD for a two-minute application of cream to my boots. We share pistachio ice cream and honey-glazed baklava while strolling through a rainbow of spring tulips in the gardens of Topkapi Palace.
On a crowded bus, we maneuver the congested streets on our way to the Byzantine Chora Church. Covered in pristine mosaics and frescoes glinting with gold, the church was part of a monastery built outside the walls of Constantinople, then the seat of the Roman Empire. It has since been converted from Christian monastery to Muslim mosque and now museum. Adjacent to the church is a small cemetery courtyard containing a handful of Muslim graves. This religious juxtaposition is the very essence of Istanbul; a crossroads between continents and mélange of tribal identities, grand civilizations, culture and faith.
Despite his travel weariness, I convince my father to explore further down the road a bit. "Just to the wall," I promise falsely, and as we reach it, I see in the distance the unkempt grounds of a large and ancient looking cemetery. We soon find ourselves surrounded by a field of graves jaggedly protruding from the grass and wild flowers like old stone teeth. Covered in careworn inscriptions engraved in Arabic, the headstones are pocked by the elements and centuries of forgetting. These are the places I cannot forgo. Jockeying the long lines of the Blue Mosque or Hagia Sophia Basilica holds little appeal for me. I prefer the quiet stillness of the long forgotten dead to ponder the ages that have passed within and without the now crumbling walls of Constantinople. I could sit in the grass of this cemetery beside my father forever, timelessly at peace and perfectly content. I don't want to move because when I do, the next moment will sweep us up and away, until he's back in California and I'm home in Colorado – a thousand miles from this memory.
Thank goodness for the small inlaid box hidden within us where we keep safe our most beloved moments. They remain there always, alive and vibrant, even after time has worked its weathering ways. For the rest of my run on this Earth, I will have the priceless memories of walking with my father through the streets of Istanbul as a young girl and now a woman. I wonder if there will ever be a man who will love me so unconditionally and care for me so completely. Those are some mighty big shoes to fill.