Own it and move on
A long shot, literally: driving all the way to Colorado Springs to check out a lightly used camping trailer, and it's not as if I needed one. I own an older but sturdy 13-foot lightweight molded fiberglass outfit that I've been dragging behind me for 12 years. It suits me fine, but six years of retirement made me wonder if maybe, just maybe, I deserve a few luxuries, like a bathroom and a bed where two people can sleep side by side. I tried reasoning with myself: I'm not getting any younger.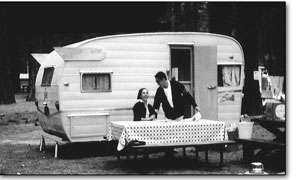 At a coffee shop in Colorado Springs, I apped up the directions. The route to the seller's house seemed clear, but the street names made me queasy. I'd be required to turn left onto Carefree Circle, then follow a plethora of feel-good street signs that included Splendid Circle, Hopeful Drive, Sedate Lane, Neat Place, and Blissful Circle, all before I reached my destination on Cheerful Road. All this without a prescription for valium. I nearly turned around and headed home. Then I told myself, everything happens for a reason – the kind of platitude upon which this neighborhood was built.
I saw the trailer parked in a driveway and tried to picture myself towing it up Wolf Creek Pass to one of those summer RV resorts like Happy Valley where waxed and buffed RVers line up like dominos in a highly organized acre or two, with feeding tubes for water and electricity, the strategically placed picnic table beside a gravel pad, and free wifi streaming out of the trees.
The gentleman who showed me his 17-foot trailer when I arrived qualified as one of those rarified fellows who goes to extraordinary lengths caring for his property. Though it was six years old, the trailer was immaculate, except for the air-conditioner housing on the roof from which he'd knocked a few fins loose backing into a tree limb. Still, what surprised me most was that he, like me, wanted to buy something bigger.
After a thorough inspection of the interior, which included taking down the dinette table so I could recline in the space that transformed into a bed, we stepped outside to circle the unit, perhaps for an opportunity to kick a tire. But no, we stopped, stooped and checked out every notable panel and latch that accessed the trailer's inner workings. Here, for instance, is the refrigeration, and above it the condenser, and here is the panel for the furnace's electronic ignition. And here's where the clean water goes in, and here shoved like a snake into the bumper is the sewer tube for emptying the trailer's bowels, which includes a nifty magic sprayer wand to stick down the toilet in case any toilet paper remains plastered to the holding tank walls.
By the time I reached the panel that housed the electric water heater element and switch, and an anode tube in the shape of a hot dog that inserts like a uranium rod into a nuclear reactor, my gray matter started to ferment. I should have been taking notes, because I'd given up trying to memorize his instructions. I just hoped a Trailering for Dummies edition had been published by someone with more desire to figure these things out than me.
Briefly, I entertained the notion of owning this wheel estate, at least until we rounded a corner and confronted the propane tanks.
"How much time does it take to use up two tanks of propane?"
"It depends. Which is why I leave the second tank disconnected."
"I see, so you'll always have a spare."
"Not exactly. The trailer automatically switches to the second tank when both are connected. Difficult to figure out how much fuel is left that way."
"So how do you know when the first tank is empty?"
"The furnace quits, or the water heater, unless I'm hooked up with electricity."
"I see" I said, and walked back to kick a tire.
My trailer has a propane tank, too. Only one, but when I fill it up each spring before my first outing, it always has fuel remaining in it. My two- burner stovetop functions as both furnace and water heater: while I boil water in my teapot, the flame warms the interior.
The small one-way refrigerator that uses propane has never been lit. Instead, I stick a couple frozen water jugs into the icebox before leaving home. It's well insulated. And the trailer has never been plugged into electricity except when I store it away for the winter in my barn, just so I can see enough to clean it up. The only 110-volt electrical appliance that came with the unit is a florescent light.
I could go on with a list of what my trailer lacks, but what's the use? It is what it is, and it's not for sale.
– David Feela