Prowling the henhouse, Robison & Willis, and Dirty Bourbon
by Chris Aaland
Every year, more than 3,000 festivarians descend upon Lyons for RockyGrass the last week of July. It's a pilgrimage I've made 10 times or more. It's the best festival around … dozens of traditional bluegrass bands, mid-day dips into the St. Vrain River and campground picking that's second to none.
This year's festival – the 42nd annual RockyGrass – is extra special, as it represents the rebirth of Lyons after last September's catastrophic floods. While the main stage survived the floods, trees were uprooted, buildings destroyed and festival grounds wrecked. But like the Phoenix, RockyGrass rose from the ashes. As always, the lineup of this traditional festival is stacked: Ricky Skaggs & Bruce Hornsby, Hot Rize, Sam Bush, Steep Canyon Rangers, Town Mountain, an Uncle Earl reunion … and the list goes on. Per the norm, it's sold out. But scalpers prowl the highway in front of Planet Bluegrass Ranch if you're willing to shell out the coin.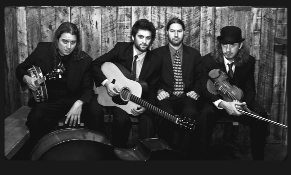 Chicago's Henhouse Prowlers play high-end grass at the ACT this Fri., July 25, at 9 p.m.
If you can't make it up to Lyons, there's high-end grass to be smoked at the Animas City Theatre at 9 p.m. Friday. Chicago's Henhouse Prowlers follow in the footsteps of hippiegrassers like Greensky Bluegrass and Railroad Earth. The Prowlers have built their reputation thanks to five strong albums, nonstop touring, blending the roots of bluegrass while branching out into their own sound, and an alter ego called Sexfist. Expect everything from lightning-fast picking to sentimental ballads.
Americana music's preeminent husband-and-wife team, Bruce Robison & Kelly Willis, play Durango Mountain Resort's festival tent as part of Music in the Mountains at 7 p.m. Friday. Their second duet album, "Our Year," has garnered heavy airplay on stations like KSUT as well as critical praise in music mags. In particular, a reworking of the Tom T. Hall-penned "Harper Valley PTA," resonates like it did back in 1968 with Jeannie Riley. Their first record, 2012's "Cheater's Game," ain't too shabby, either.
Reggae legend Jimmy Cliff plays the Telluride Conference Center in Mountain Village at 9 p.m. Wednesday. Cliff is touring in support of both "Rebirth," his first full-length album in seven years, and the 40th anniversary of the groundbreaking 1972 album and film "The Harder They Come." OK, it's 42 years since the release, but who's counting? Just think of the songs … "Many Rivers to Cross," "Sitting in Limbo," "You Can Get It if You Really Want" … it was a genre-defining moment. Cliff's new recordings were called "his best music in decades," by Rolling Stone.
As an added bonus, Brooklyn-based The Pimps of Joytime play a free concert at Sunset Plaza in Mountain Village at 6 p.m. The group's sound is heavily influenced by the Brooklyn DJ culture and live music scene. A recent collaboration with the Neville Brothers has helped vitalize the band's connections to its roots.
The ACT also welcomes the Dirty Bourbon River Show at 9:30 p.m. Wednesday. They describe their sound as "New Orleans Gypsy brass circus rock" and the quintet augments the usual instrumentation of guitar/bass/drum/piano with accordion, trumpet, trombone, saxophone, clarinet, sousaphone and flute. Their eight album is entitled "Volume Four."
The Tour de BoulDurango finishes at Ska's World Headquarters from 5-7 p.m. Friday. Toast all of the pedaling brewers at the finish line, enjoy beers from Ska, Avery, Oskar Blues, Great Divide, Boulder and Left Hand as well as the Skavery collaboration, Wheelsucker Wheat and groove to the house band of summer, the Lawn Chair Kings. The $10 admission includes a commemorative pint glass, beer from all six breweries, tunes and the feel-good tingling you'll get from supporting Bicycle Colorado. Now in its sixth year, Tour de BoulDurango takes representatives from six of Colorado's leading craft breweries on a five-day, 426-mile road bike trek through some of Colorado's steepest and most grueling terrain. Along the way, they'll summit such passes as Loveland, Hoosier, Cottonwood, Red Mountain, Molas and Coal Bank.
Papa Otis, featuring Josh & Art from the Flume Canyon Boys, brings mountain stomp to The Balcony at 6 p.m. Saturday. As usual, they'll pack up banjos, acoustic guitars, resonator guitar, parade snare, stomp box, mandolin, Prohibition era trumpet, stand-up bass, fiddle and harmonica to play their unique blend of American roots, including old time, bluegrass, country blues, ragtime and rockabilly.
Jackson Hole-based groove and funk band Sneaky Pete & the Secret Weapons close out this summer's free concerts in the park, presented by the Community Concert Hall and Buckley Park. Music runs from 5:30-7:30 p.m. tonight (Thurs., July 24) in Buckley Park.
Head down to Aztec on Friday evening for Brooklyn's Miss Tess & the Talkbacks, as they return to Crash Music in the Historic Aztec Theatre. Mixing saloon jazz, country swing, early rockabilly and New Orleans second line, Miss Tess & the Talkbacks have just released their second album on the rootsy Signature Sounds label. "The Love I Have for You" pays homage to some of Tess' favorite singers and songwriters, including Willie Nelson, Bonnie Raitt, Neil Young and others.
Finally, Moe's slate includes Funked Up Fridays with Splatapus at 6 p.m. Friday and DJs Peter Robot and CSO at 9 p.m. Saturday.
I tried to line up some ringers like KDUR's Jon Lynch or the Sheridan Opera House's Kathrine Warren to provide this week's Top 10 list of their favorite albums of all-time, but they proved to be as reliable as fishnet underwear in soaking up Hershey squirts. So, instead, I'll offer up insight gleaned at last weekend's Animas River Blues & Brews Fest in Aztec. At $22, it's the best festival bargain around. Ample space up front for your blankets and chairs, plenty of family fun and bands like Bad Brad & the Fat Cats and Studebaker John that should be household names rather than groups flying under the radar. Here are three other newly discovered truths from the Land of Enchantment:
1. New Mexico's liquor laws are strange and prohibitive. I recommend shotgunning PBRs in the parking lot in between acts rather than dealing with the restrictive beer Nazis.
2. People light up at festivals in New Mexico, too. Unfortunately, they're puffing Marlboros, not Purple Kush.
3. Colorado festivals serve up Thai, Chinese and Himalayan food. New Mexico festivals offer lots of fried foods smothered in green chile and molten cheese. Not a single lentil in sight!
You'll find she's had a little nip of gin? Email me at chrisa@gobrainstorm.net.