---
Shan & Judith, Béla & Abigail, and Tony & Andreas
by Chris Aaland
Je suis Charlie. All of us in the media – particularly those in insurgent, independent media like the Durango Telegraph, KDUR and KSUT – are Charlie. Snowdown is Charlie. Legal pot shops are Charlie. Brew pubs are Charlie. Natural food stores are Charlie. Art galleries and theatre troupes are Charlie. Educators, chefs, doctors, nurses, construction workers, politicians and law officers are Charlie. We are the singers, the painters, the lovers, the dreamers.
Durango is blessed to have editorial cartoonists like Shan Wells and Judith Reynolds inspire laughter, tears and even anger on a weekly basis. The tears Shan and Judith wept on Jan. 7 are our tears. Hug them next time you see them. Send them emails and cards thanking them for their work, now more important than ever. "Charlie Hebdo" will be back, stronger than ever. Trust me.
Bluegrass royalty visits the area Tuesday when the husband-and-wife duo of Béla Fleck & Abigail Washburn plays at 7 p.m. Tuesday at the Community Concert Hall. With their first duo album just four months old and a son, Juno, who is only four months older, their breadth of musical knowledge is unparalleled. Fleck's background is in traditional bluegrass and genre-bending newgrass, yet he's spent more time dabbling in jazz, classical and traditional African music. Washburn first caught our attention as the leader of Uncle Earl, a Lyons-based, all-female old-time quintet. She's also adept in Mandarin Chinese folksongs, new acoustic and contemporary folk.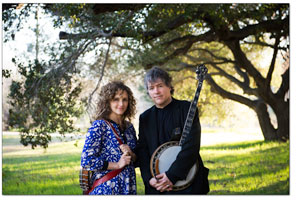 Abigail Washburn and husband Béla Fleck play the Concert Hall Tuesday at 7 p.m.
Fleck & Washburn aren't the only banjo innovators to grace Durango stages this week. The Tony Furtado Band with opening act Andreas Kapsalis return to the Animas City Theatre at 8 p.m. tonight (Thurs., Jan. 15). A two-time national banjo champion who recorded with Alison Krauss and Laurie Lewis early in his career, his resume includes collaborations with old-time master Dirk Powell and Primus drummer Brain. Furtado's banjo mastery is only outdone by his deft slide guitar work, harkening back to Delta blues and its disciples like John Hammond.
Another old friend, Michael Martin Murphey, returns to the Community Concert Hall at 7 p.m. Friday. Perhaps best known for his mid-'70s outlaw country records "Geronimo's Cadillac" and "Blue Sky – Night Thunder," Murphey has reinvented himself throughout his career. Aside from a financially profitable yet critically panned venture into Top 40 country in the early '80s ("What's Forever For," et al), he's reinvented himself at every turn. His series of "Cowboy Songs" records in the '90s harkens back to the days of the Sons of the Pioneers and Roy Rogers. Later efforts dabbled in bluegrass and Americana. A descendent of a Texas pioneer family, he's a champion of the Old West and fights for the cause of ranchers and farmers across the country.
Funk it up, Fishbone! One of the seminal funk/punk/ska bands of my youth plays the Sky Ute Casino Resort in Ignacio on Saturday. Original members Angelo Moore (Dr. Madd Vibe, on sax and vocals) and "Fish" Fisher (drums) remain driving forces in the seven-piece.
And the Sheridan Opera House in Telluride hosts the Jeff Austin Band on Friday and Saturday nights. The new quartet formed by the former Yonder Mountain String Band mandolinist features Danny Barnes (banjo, formerly of the Bad Livers), Ross Martin (guitar – and he played at my wedding 13 years ago!) and Eric Thorin (bass, one-time Open Road member). Austin no doubt surrounded himself with ringers … arguably better musicians than his former Yonder bandmates. Time will tell if Austin can achieve the same solo success as Sam Bush and Tim O'Brien did after departing New Grass Revival and Hot Rize, respectively. The energy generated by YMSB has rarely been equaled.
In honor of Béla Fleck & Abigail Washburn's Tuesday concert, this week's Top Shelf list recounts 10 of my favorite albums from his storied and diverse career. I may have traveled down this road a few years ago, but the banjo man warrants revisiting his output:
1. Béla Fleck, "Crossing the Tracks," 1979. His solo debut proved there was a new sheriff in town. The opening take on Flatt & Scruggs' "Dear Old Dixie" is essential listening.
2. The Dreadful Snakes, "Snakes Alive," 1993. Béla and Jerry are joined by three former Blue Grass Boys – Blaine Sprouse (fiddle), Roland White (mandolin) and Mark Hembree (bass) – and seasoned veteran Pat Enright (guitar) to deliver old-time bluegrass inspired by legends like the Stanley Brothers, Flatt & Scruggs and the Big Mon himself.
3. New Grass Revival, "On the Boulevard," 1984. NGR reinvented themselves in the early '80s, replacing longtime members Curtis Burch (guitar, dobro) and Courtney Johnson (banjo) with Fleck and singer-songwriter Pat Flynn (guitar). The new Newgrass became a showcase for the instrumental prowess of Fleck and Sam Bush and the vocal chops of John Cowan. Fleck's standout instrumental, "County Clare," is a Celtic-infused highlight.
4. Béla Fleck, "Drive," 1988. An instrumental powerhouse that features Bush, Tony Rice, Stuart Duncan, Mark O'Connor and Jerry Douglas. One of my favorite bluegrass records of all-time.
5. Strength in Numbers, "Telluride Sessions," 1989. Bluegrass aficionados hail this as the greatest instrumental album of all-time. Just mandolin, violin, banjo, dobro and bass, with extremely sparse use of guitar by Fleck and O'Connor.
6. Béla Fleck & the Flecktones, "UFO Tofu," 1992. The original quartet of Fleck, Victor Wooten (bass), Howard Levy (keyboards, harmonica) and Future Man (synth-axe drumitar) forged a trippy, funk-jazz classic on their third effort. Wooten's "Sex in a Pan" and Fleck's "The Yee-Haw Factor" are magical.
7. Edgar Meyer with Béla Fleck & Mike Marshall, "Uncommon Ritual," 1997. Mostly classical and chamber originals are spiced up with Bach and Sarasate. One of the most beautiful records I've ever heard.
8. Béla Fleck, "The Bluegrass Sessions: Tales from the Acoustic Planet, Vol. 2," 1999. Fleck's output has leaned heavier on jazz, classical and world music in the past two decades, but this marked a return to his roots. The John Hartford vocal on "Polka on the Banjo" was one of the gems from his final years.
9. Béla Fleck & Edgar Meyer, "Music for Two," 2004. The CD is great; the DVD even better. Meyer, perhaps the world's greatest bassist, torments Fleck to master "Canon," a ridiculously intricate piece that was the focal point of their live show together.
10. Béla Fleck & Abigail Washburn, self-titled, 2014. The husband-and-wife duo captured the essence of their live show, remaining true to Washburn's old-timey roots.
Imagine? Email me at chrisa@gobrainstorm.net.