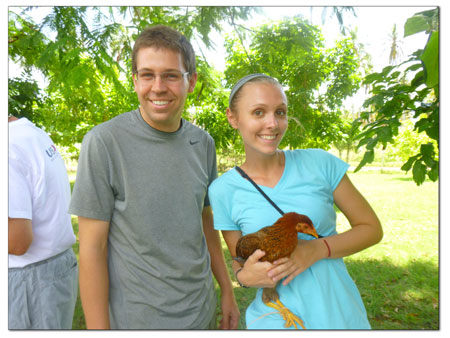 Luke and Samantha Temple pose with one of their chickens. Luke, a Durango native, met Samantha in college and the two entered the Peace Corps after graduation. Their first mission was in Tanzania where they taught sustainable chicken rearing practices, among other things./Courtesy photo
Home away from home
From Durango to Tanzania, couple finds new home halfway round the world
by Tracy Chamberlin
Karibu. Translated into English, it means welcome. But in Swahili, it means so much more. It's a way to say hello first thing in the morning. It's a way to hail others at the local market. It's a greeting for old friends and new neighbors alike.
"It's just one of the best words you can learn," Samantha Temple explained. "It's very simple and represents the culture … welcoming and inviting."
Luke and Samantha Temple learned about karibu in a small village in the southern highlands of Tanzania, a country located in the Great Lakes region of East Africa near the borders of Mozambique and Malawi.
The small village is named Magagura. Where the sun rises at the same time each morning, a stroll to the butcher is more than just an errand; and, where the Temples spent the past two years learning from and teaching the local community as volunteers with the Peace Corps.
"It's the simple things I miss right now," said Luke Temple, who recently returned to Colorado with Samantha. The two are now living in Denver, where Luke, a native of Durango, is attending grad school.
Although his parents still call this area home, after graduating from Durango High School, Luke left to attend Knox College, in Illinois. That's where he met Samantha, and where the journey to Tanzania began.
When the two first met, they talked about what they wanted in life. About goals they had for the future. For both, it was the Peace Corps. It drew them together. "We decided that needed to be our first adventure," Samantha said.
Soon after receiving degrees, the two married and sent in their Peace Corps applications. Once accepted to the program, Samantha and Luke spent three months in training where they learned about the Tanzanian culture and Swahili language.
Most of what they learned was just scratching the surface. Three months isn't enough time to learn Swahili, Samantha said, just enough to learn how to learn the language. It took a good year before they felt comfortable and fluent.
What didn't take long was for a small village in the southern highlands and the people who lived there to make its way into their hearts.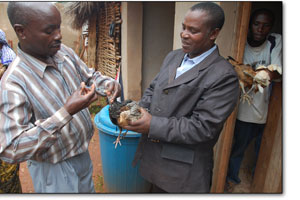 As part of the Magagura chicken husbandry project, villagers get their chickens vaccinated. They also learn some practices to keep the chickens healthy. In addition to being a source of protein for locals, chickens are used as a form of currency./ Courtesy photo
Since the Peace Corps program began in 1961, almost 220,000 Americans have traveled abroad to help communities facing challenges in education, health, agriculture, economics and environment. More than 2,500 of those volunteers have served in Tanzania.
While in Tanzania, the Temples worked on several projects. They helped dig water wells; worked on an HIV-AIDS awareness program aimed at high school students; and, along with other volunteers, developed a week-long Girls Empowerment Conference for 13- to 15-year-old girls.
They also assisted with the creation of an electrical trade school, where the first class of 12 students learn the basics of switches, wiring and electricity. Luke and Samantha raised money for supplies, from chalkboard paint in the classroom to hardhats for the students.
Like most of their projects, the school was initiated by a local villager. "Our job is just to connect those who know to the people who need it," Luke explained.
The biggest project the Temples worked on, however, was all about poultry.
Chickens are a low-cost, relatively low-maintenance livestock option for villagers. They not only provide protein in eggs and meat, they also act as a savings account. Samantha said the villagers use them like currency, as a way to trade for other goods.
"The problem is the low-cost, low-maintenance attraction can turn into no care, no maintenance," Luke explained.
The neglect reduces the number of eggs produced and increases the mortality rate from disease. With some simple and inexpensive practices, like building better shelters and making supplemental feeds, however, locals can improve the care and increase their odds of success.
Along with a local agriculture professor from a university in Tanzania, Luke and Samantha started a program to teach the villagers about chicken husbandry. "It was really his expertise that we used to train the villagers," Luke said.
They helped with education, vaccinations and fundraising to provide the programs' participants with chickens.
Before joining the Peace Corp, the Temples had little experience with chicken husbandry. Samantha wasn't even sure about how to hold her fowl-feathered friends at first. After dealing with the 300 chickens in the program, however, she became a pro. "I got very comfortable with chickens," she quipped.
Shortly after the poultry program began, Luke had to leave the village and Samantha was left to rule the roost.
With their back yard serving as a temporary chicken house, her number one goal was simply to keep their dog, Auzi, away from the tempting prey. Soon, though, she began to wonder if they were ill.
Some looked like they'd been electrocuted, she said, with feathers sticking straight out from their bodies. Others had no feathers at all around the neck.
After a phone call to the local expert, Samantha took a sigh of relief. It turns out there are many different types of chickens, with varying feather patterns. "I learned a lot about the breeds," she said.
These fowl-feathered memories aren't the only thing the Temples returned home with this past November. They also came back with Auzi, the Tanzanian native who stole their hearts as a pup.
Even though the crisp Colorado winter isn't the tropical Tanzanian environment he's used to, like the Temples, he's starting to adjust to life in the states.
The family recently settled in Denver while Luke works on his master's degree at the Josef Korbel School of International Studies at the University of Denver.
It's not their community yet; they still feel a connection to the small village in the southern highlands of Tanzania.
The five-year plan for the Temples, though, includes a return to Magagura and the community they left behind.
"Tanzania is now a home to us … a place we'll always hope to go back to."
To learn more about the Temples and their adventures abroad, check out Samantha's blog at templesintanzania.wordpress.com.