---
Ear to the ground:
"Why do men have nipples?"
– One of the inexplicable joys of parenting as posed by an inquisitive 11-year-old boy
---
Silverton gets fat
Gotten fat this winter? Or maybe you're contemplating adding some girth around that spare tire? The inaugural Silverton White Out is your chance to get out there and work that extra tread to your advantage. Slated for Sat., Feb. 7, in conjunction with Silverton's Snowscape celebration, the White Out is a 10-hour fat bike endurance race. (Organizers note regular old mountain bikes may be used, but "it may not be the best decision you've ever made.")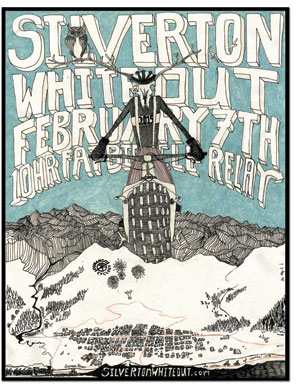 The 8-mile course is designed to incorporate an adventurous mix of urban riding (alley tour ala Crested Butte's Alley Loop), history (the "notorious" Blair Street); technicality (singletrack) and reverence (miner's shrine.)
Although the exact route has not yet been set, average loop times are estimated to take an hour; two at the most. There will be three "aid" stations on the course: Silverton Ski and Bike (keg and fire); Arrastra (tent, fire and snacks); and top of Shrine Hill (fire and views.)
The race will include categories for solo, duo, and 3-4-person teams. There will also be a family category offering an optional shorter course for kids 14 and younger.
Since fat bikes may be in short supply, teams will be allowed to share the same bike. Local shops also rent fat bikes and Surly will be in Silverton with demos.
Headquarters are at the Grand Imperial on Greene Street, which will offer a warm bar, restaurant and fire for frozen digits.
Registration is $50/rider and can be done online at www.silvertonwhiteout. com/#registration.
---
Triple-sport day
Who is the true king or queen of the mountain? Durangoans will have a chance to find out April 4 at what is being billed as the "first annual" Pole Pedal Paddle.
A fund-raiser for the Durango Winter Sports Foundation, the race is based on Jackson Hole's long-standing race of the same name, that features skiing, biking and kayaking. Durango's version of the multi-sport endurance event is still in its initial planning stages, according to the DWSF website, but will entail solo, couple and team categories competing in alpine and Nordic skiing, biking, and kayak/canoe legs.
The event is slated for the last Saturday of the ski season and will start at DMR. For more info, stay tuned to www.purgatory skiteam.org.