---
Chili for Kristen, the Nutcracker and power blues
by Chris Aaland
Time and time again, the Durango community rallies for one another in time of need. Shelly and I have certainly benefited from this when we lost our son and when I needed a heart valve replacement. This holiday season, consider another one of our own who needs your help.
Forty-three-year-old Kristen Dugan, a mother of two young boys, is once again battling cancer. Two years ago, she was diagnosed with stage III breast cancer. While undergoing a double mastectomy, Kristen's doctors found that it had spread to her lymph nodes. She proceeded with eight rounds of chemotherapy and 25 radiation treatments. Following these procedures, she appeared to be healthy and cancer-free. Last summer, though, Kristen experienced pain in her left hip for many months. The cancer had spread to her pelvic bones, tops of her femurs, vertebrae from C2 down to the lumbar region, and a few ribs. Treatments at a medical facility in Phoenix have caused the tumor markers to drop in half and have relieved pain in her hip. Unfortunately, that treatment facility isn't covered by her insurance.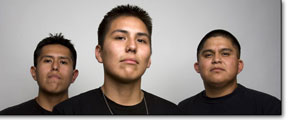 Navajo rock trio The Plateros play their Stevie Ray-influenced blues at Aztec's Crash Music on Saturday night.
First United Methodist Church, located at 2917 Aspen Drive, hosts a chili cook-off and silent auction for Kristen from 5:30 - 8 p.m. Saturday. For a suggested donation of $20 per family of four or $5 per person, you can sample chili and participate in the auction. I'm planning on doing a wild-game chili (elk & pheasant) with Hatch green chiles from last fall's Gazpacho roast. If this is anything like most of the cook-offs I've participated in, the rest of the chileheads in the community will concoct true masterpieces. It's a fun time and a great cause. If you can't attend, a website has been set up to help Kristen raise the $15,000 she needs to cover costs. Visit it at kristendugan.mydagsite.com to help her kick cancer's ass. Knowing this family of fighters personally (Otto plays City Rec soccer with one of the boys), I can assure you she's game for the fight. My money is on Kristen in this battle.
The State Street Ballet of Santa Barbara returns to the Community Concert Hall this weekend with its traditional holiday staging of "Nutcracker." Two evening performances (7 p.m. Friday and Saturday) and two matinees (2 p.m. Saturday and Sunday) are on tap. Tchaikovsky's ballet masterpiece is once again set in Victorian times and suited for all ages. Nearly 60 local dancers will join the professionals of the State Street Ballet.
Blues rock power trio The Plateros visits Crash Music in the Historic Aztec Theatre at 7:30 p.m. Saturday. The three-piece blues band, made up of brothers Levi and Douglas Platero and Bronson Begay, sprung from Tohajiilee, N.M., just west of Albuquerque, on the Navajo Nation. Much like Indigenous or Redbone, they've taken Stevie Ray Vaughan-inspired blues from the Rez to President Obama's 2009 Inaugural Ball, South by Southwest and beyond. Their second album, "Hang On," won the New Mexico Music Award for Best Blues.
Opera junkies can get their fix at 10 a.m. Saturday in FLC's Vallecito Room, as "The Met: Live in HD" continues with Richard Wagner's "Die Meistersinger von Nürmberg." This epic comedy returns for the first time in eight years, featuring a group of Renaissance "master singers" whose song contest unites a city. Run time is approximately six hours.
After six hours of German opera, you might need to wash it down with a beer. Trust me. My dad's family is Austrian, so I should know. Fortunately, BREW Pub & Kitchen has recently tapped a newbie. Quiera is a rich, exquisite, full-bodied American IPA.
Moe's madness this week includes J Bones and Mountain Menace at 8 p.m. Saturday and Funked Up Fridays at 8 p.m. on, well, Friday.
Double your fun at the Billy Goat Saloon in Gem Village with The Crags and The Transplants, two local bands that rock out starting at 8 p.m. Friday. And the Pete Giuliani Band plays Purgy's at Durango Mountain Resort from 2:30-5:30 p.m. Saturday as part of Purgatory's Season Kickoff Party.
This week's Top Shelf list features the Top 10 albums of the year as chosen by KSUT's Jim Belcher, host of "Strange Brew" (an eclectic mix of prog rock and jam that airs at 8 p.m. each Saturday) and a pair of Music Blends (1-4 p.m. Wednesdays and 9-noon Fridays) on KSUT Public Radio. As you'd guess, the Sky Pilot bassist's list brings the jam. It's up to you to butter up the biscuits.
1. Phish, "Fuego." Their first studio release since 2009's "Joy," recorded in about a week with producer Bob Ezrin at the helm. You can tell they had fun with it and it's been great hearing where they have taken the tunes in concert since then.
2. Umphrey's McGee, "Similar Skin." They keep upping their game with each studio release and they bring the tunes out live with such fire and precision. It's awe inspiring.
3. moe., "No Guts, No Glory." It's a great mix, showing off their acoustic chops and also taking things out in songs like the nine-minute-plus "Silver Sun."
4. U2, "Songs of Innocence." The haters were out in force for this one, but the hell with 'em. The band has crafted a set of songs that are musically adept, capped with very personal lyrics from Bono. They're still relevant in my book.
5. The Motet, self-titled. Fantastic old-school funk from these Colorado homeboys, anchored by the killin' rhythm of Dave Watts and Garrett Sayers.
6. String Cheese Incident, "Song in My Head." Aside from the title track, which does tend to get stuck in your head, it's a very strong studio release, with the band effortlessly genre-hopping between bluegrass, Latin, rock and EDM-flavored tracks. Personal favorite is "Rosie."
7. Minus the Bear, "Lost Loves." A collection of studio outtakes that doesn't sound like odds and sods.
8. The Black Keys, "Turn Blue." Their best studio effort yet, with the ubiquitous Dan Auerbach displaying guitar hero chops and Patrick Carney slammin' the skins. The songwriting has branched out also.
9. Foo Fighters, "Sonic Highways." What can you say? Dave Grohl is a force of nature.
10. Pink Floyd, "The Endless River." OK, so it's mostly unused material from 1994's "The Division Bell," but it highlights how important keyboardist Richard Wright was to the band. A fitting swan song for a seminal band.
Go on now, go, walk out the door? Email me at chrisa@gobrainstorm.net.