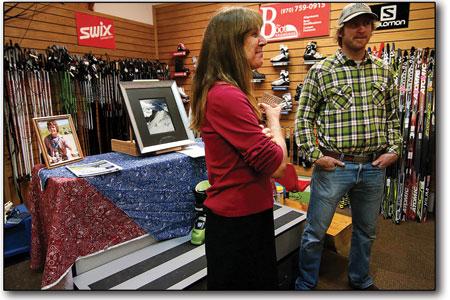 Karen Carver and Nathan McGrath help raise money for the Joe Philpott Peter Carver Avalanche Scholarship at Pine Needle on Dec. 5. The scholarship, which awarded its first recipients on Wednesday , helps offset the cost of avi training in memory of the men, who were killed in separate slides in 2013./Photo by Jennaye Derge
An uphill battle
Friends of San Juans, scholarship seek to make locals more avi savvy
by Missy Votel

It's been nearly two years since two Durango natives were killed in back-to-back avalanches. Now, a local effort is under way to turn those tragedies into something positive for the community.
In 2013, Peter Carver, 23, and Joe Philpott, 26, were both killed within a month of each other in backcountry avalanches – Carver near Silverton and Philpott on Cameron Pass, near Fort Collins. While both men were experienced backcountry travelers, the tragedies called attention to the need for greater avalanche education in the community.
JusttheFacts
What: Free avalanche awareness course by Friends of the San Juans
When: 6 p.m., Thurs., Dec. 18
Where: Pine Needle, 835 Main Ave.
For info: www.thesanjuans.org.
"I'm selling all the gear, but I'm not guaranteeing those people are knowledgeable about avalanche safety. Those couple of avalanche deaths really brought it close to home," Jeremy Dakan, co-owner of Pine Needle Mountaineering said. "We had this idea to start a scholarship in their names."
As a result, Dakan and the other owners of Pine Needle, along with the Philpott and Carver families, started the Joe Philpott Peter Carver Avalanche Scholarship. The idea was to help offset the cost of Level I avalanche courses, which can run upwards of $350. The fund was jump started by the families as well as winnings from Pine Needle co-owner Miles Venzara's randonee races.
In addition to funding avi education – the scholarship's first recipients, who were named at the Colorado Avalanche Information Center's annual fund-raiser Wednesday night – it also gave rise to the newly formed Friends of the San Juans, a nonprofit group dedicated to spreading free, accessible avalanche awareness.
"I read about the scholarship and thought, 'why don't we do something?'" the group's new director, John Strand, said. "I met with Miles and Jeremy, and we thought it would be a great marriage to create Friends of the San Juans."
The idea was based on a similar group, Friends of Berthoud Pass, that Strand, a former patroller at the defunct Berthoud Pass ski area, helped start around a decade ago. "We decided to create (Friends of Berthoud Pass) to give a voice to the backcountry skier," said Strand. The venture proved to be successful and popular. "At the time, there wasn't a lot of free avalanche training out there," he said.
In a similar vein, FOSJ will offer free avalanche awareness education while allowing scholarship hopefuls a chance to prove their mettle and dedication to being good stewards of avalanche protocol. As part of the scholarship application process, applicants are required to join the group as well as offer volunteer hours.
"We thought it would be a good opportunity for our recipients to give back to the community," said Dakan.
Scholarship winners named
On Dec. 10, recipients of the first-ever Joe Philpott Peter Carver Avalanche Scholarships were named. Six full Level 1 avalanche school tuitions (three adults and three youth) and four partial Level 1 tuitions were awarded by the scholarship's Board of Directors.
Applicants were required to submit a short essay on why they would like to receive the scholarship as well as two references. In addition, they were required to join and volunteer for Friends of the San Juans. The winners are:
- Youth Full Scholarships: Quinn Simmons, Will Berger and Domi Frideger
- Adult Full Scholarships: Peter Stockwell, Daisy Matthews and Alex Krebs
- Adult Partial Scholarships: Aaron Belson, Jake Schanfarber, Lucas LeMaire and Michal Rosenoer
Since obtaining its 501(c)3 status in September, FOSJ has held two free avalanche awareness classes – one in Durango and one in Pagosa Springs – with another set for Dec. 18 at Pine Needle. There are plans for more workshops, including an on-snow field session, later this winter.
Strand, who volunteers his time, said the group is not intended to replace a comprehensive Level I avalanche training course so much as "make the lightbulb go off" with newbies who, it is hoped, will go on to seek further education. "As the saying goes, 'you don't know what you don't know,'" said Strand. "I want people to come out of these courses feeling like they got something out of it and thinking they should take a Level I course. This is a great precursor; sort of like a feeder course."
However, the classes are not just for novices – they can act as a good refresher for the more initiated. "It can help keep experienced travelers' skills fresh," he said. Sometimes, the most diehard veterans can fall victim to the "expert halo," he said, a false sense of security. "No matter how4 experienced, you're still susceptible," Strand said. "It all comes down to decisions we make in the backcountry."
In its first few months, FOSJ has gotten support from local Level I-III course providers, including the Silverton and Wolf Creek avalanche schools and San Juan Mountain Guides, as well as the CAIC. All have, or will, offer up help in leading the various free awareness sessions.
"It makes all the difference that these are being led by avalanche professionals," said Strand.
CAIC pulls plug on hotline: Podcasts, radio spots replace phone forecasts
For old school skiers of the San Juans accustomed to their morning ritual, a rude awakening may be in store. Effective this year, the Colorado Avalanche Information Center has terminated its long-running – and oft dispensable – avi hotline.
"The human coccyx is a vestige of the tail in our primate ancestors," Aspen area forecaster Blase Reardon wrote on the CAIC's website on Nov. 19. "Now the coccyx is just something that really, really hurts after you fall hard on a heel-side snowboard turn. After a few more generations of snowboarders, maybe it'll disappear altogether ... Recorded avalanche advisories on phone answering machines are also vestigial."
When the precursor to the CAIC started issuing avalanche advisories 42 years ago, hotlines were a cutting-edge tool. However, in the smartphone age, their use has plummeted. The CAIC has maintained six hotlines, despite little use.
As a result, the CAIC has decided to pull the vestigial landline. But this is not an open invite to trudge off blindly into the great unknown. Instead, forecasters will record 60-second summaries of snow and weather conditions that will be available as downloadable mp3 files at www.soundcloud.com.
There will also be daily radio recordings for local stations (KSUT airs them every morning). And in case you happen to miss the radio spot, the recordings are also available on the CAIC's website, http://avalanche.state.co.us/.
As in the old tethered version, the forecasts will include overall danger ratings, special weather advisories like watches or warnings; and descriptions of avalanche problems, notable events and general weather phenomena.
"We recognize that a few people still use the telephone recordings, either out of long habit, familiarity, or lack of an internet connection. We understand that this news might be upsetting. We hope you can appreciate the need to balance the cost of efforts we undertake in the busy morning work crunch with the benefits of how many people we reach," wrote Reardon. However, he left the lines open for comment. "Give us your feedback so we can keep evolving."
– Missy Votel
The group has also garnered wide support from the community. At an informational meeting held at Carvers in October, Strand said he was overwhelmed by the turnout. "I was expecting five people to show, and 40 people came," he said. Likewise, at a recent avalanche class hosted by the group, $1,000 was raised for the scholarship. In addition, the group has gotten support from Carver Brewing Co., Venture Snowboards, Silverton Mountain and artist Zoe Madeen, who designed the logo for free.
"We've got volunteers just showing up and asking how they can help out," Strand said.
Looking ahead, the hope is the group will raise enough money to be able to put scholarship winners through an even more rigorous Level II or III course. "We figured the Friends of the San Juans would be a great vehicle for the scholarship winners," said Strand.
And the other goal, of course, is to save lives. Whether through better backcountry route-finding, on-snow analysis or simple communication skills, these are things FOSJ hopes will help tip the odds in backcountry users' favor.
"A lot of us probably know someone who has been caught in an avalanche. Some people are lucky and come out of it, and some people aren't so lucky," said Strand. "But this helps create something positive out of it. That's a big part of why FOSJ is here."
For more on Friends of the San Juans, go to www.thesanjuans.org. Donations to the Joe Philpott Peter Carver Scholarship can be dropped off at Pine Needle Mountaineering, 835 Main Ave., or Bank of the San Juans.