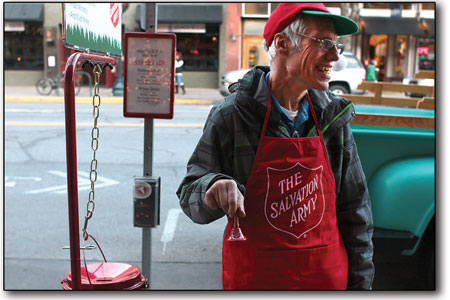 Mike Rustad, a regular volunteer with the La Plata County Salvation Army Unit, rings the bell outside Urban Market on Friday as part of the Matching Kettle Campaign, in which local businesses match the proceeds collected./Photo by Jennaye Derge
All through the year
Salvation Army's kettle funds programs other 11 months
by Tracy Chamberlin
It begins with a jingle. A familiar sound echoing outside a shop on Main Avenue or just beyond the grocery store entrance.
The bright red kettles, which hang next to one of hundreds of volunteers who come out, snow or shine, mean the time for giving is here.
"It's like a treasure when you open the kettle," Judy Duke, chairwoman for the La Plata County Salvation Army Unit, explained. "It doesn't matter whether it's a penny or $1,000."
Help is on the way
Want to help?
- Be a bell-ringer, call Kathy at 247-7764.
- Donations to the La Plata County Salvation Army Unit can be sent to P.O. Box 3296, Durango, CO, 81301.
Need some help?
- Community Emergency Assistance Coalition, 259-1086.

For Duke, it's a special time of year and the only time the local Salvation Army really puts on a fundraiser. For many residents of La Plata County, it's a tradition to drop in a few coins, wedge in a folded dollar bill or tuck in a check.
Duke recalled one woman who reminded her of her own mom. She came to the red kettle every year with a check for $25. Only this time, she was a little late for the annual drop, explaining to Duke she had to wait for her Social Security check so she could make that season's donation. "To me, that's like a million dollars."
Duke, who's been working with the organization for the past five years, said they do get donations occasionally throughout the year, but it's really the holiday kettle collections that keep the coffers full for the coming year.
In 2013, the local Salvation Army took in more than 4 $120,000 during the holiday season. Without any paid employees and careful budgeting, Duke said, the organization makes the most with those funds. "People think of us at Christmas, but every day it's helping people," she explained.
The funds are used for a variety of things, like gift cards for gas to get to job interviews, groceries to get through the week, a set of dentures, or even bus passes, which will cost more in 2015, Duke said, after the city approved a $1 fee on what used to be the free trolley.
Most of the kettle monies, though, support efforts of a group of local nonprofits and churches called the Community Emergency Assistance Coalition.
The idea is to unite multiple partners and funding into one place so it's easier for the community and the recipient, who can learn about all their options.
Another benefit, Duke said, is if someone does ask for help, the coalition knows if they've already gone to another organization for help. "We don't want to be enabling, we want it to make a difference," she explained.
The Salvation Army is the largest contributor to the coalition, which includes groups like Manna Soup Kitchen, La Plata Electric Association, La Plata County Department of Human Services and the La Plata Family Center, and originally came together under the Volunteers of America.
"It's doing wonderful things, quietly, for people living on the edge," Duke said.
Last year alone, the coalition helped hundreds of families in La Plata County, giving out approximately $2,000 every week, of which about $1,300 comes from the Salvation Army.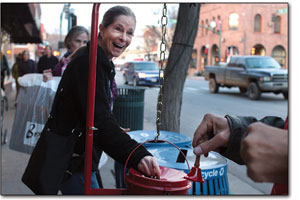 Debra Van Winegarden puts money in a kettle on Main Avenue. In 2013, the local Salvation Army took in more than $120,000 during the holidays./ Photo by Jennaye Derge
Elizabeth Salkind, executive director for Housing Solutions of the Southwest, another coalition partner, called the Salvation Army a key player in the program. Not just financially, but with community support and outreach.
"They keep the program going," said Salkind.
Starting this past year, Housing Solutions brought a new piece to the puzzle.
Every applicant with the coalition sits down with Housing Solutions for a counseling session. The two take a look at the family budget, compare it with community resources, and perhaps find new solutions and a strategy for moving forward.
"They try to look at the emergency behind the emergency," Duke explained.
By offering the two-part program with counseling and emergency assistance, they've been able to not just find a quick fix to an immediate problem but potentially a long-term solution. So, not every client is granted assistance money but they all get counseling.
"We think (Durango is) this Utopia, but some people are really hurting," Duke explained. "We just need to be reminded of that."
The coalition has been quietly helping local residents for years.
Perhaps it's a pair of eyeglasses. Or maybe it's a washing machine because leaning over the bathtub isn't working anymore. "Where are they going to turn for that?" Duke asked.
One client needed tires, which Duke said really made a difference in his life. "We gave him tires – cause that's where he sleeps."
Auto repair is actually the second most requested need. The first is housing.
Shelter and food are basic needs, Salkind explained, and rent is expensive in this area. Residents can spend up to 50 percent of their income on housing – something that's not lost on city officials, either.
Greg Hoch, Director of Planning & Community Development, along with members of his staff, presented City Council with a multi-year program Tuesday meant to address the issue of affordable housing.
The first step was to show council demographic data on residents and housing, and to get approval to move forward with the program. The next step is to figure out can actually be done to help. After all, there's only so much the city can do when it comes to housing. Programs like the successful Regional Housing Alliance or creating Habitability Codes could come out of the multi-year effort.
"Our overall goal is to allow people who work here to live here," explained City Planning Manager Nicol Killian.