---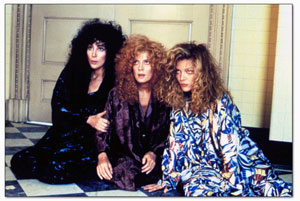 These bitches believe in big hair and bad manners.
Diver: The Bitches of Eastwick
Interesting Facts: You can't hum while holding your nose.
Dear Diver,
Who the hell took my vinyl copy of Iron Maiden's "Number of the Beast" from my house? It's gone.
-Liggett
Dear Liggy,
In order to help you locate your lost property I'm afraid that I'll need to know more about you. Are you English cycling commentator, Phil Liggett? University of California Mathematician, Thomas Liggett? Or Midwestern Christian blogger, Cathy Liggett? If you're Phil, then the thief was most certainly Lance Armstrong and if he says it wasn't him, he's lying. If you're Thomas, your record was probably snatched by Archimedes when he mistook the round disc for pi. If you're Cathy Liggett, it was likely Fred Phelps who took it with him to hell in an attempt to impress Beelzebub. The fact of the matter is, it is gone now, so just go to SW Sound and order a copy of "A Tribute to the Beast, Vol. 2" where you'll find a cover of "Children of the Damned" by Sebastian Bach of Skid Row fame that's even better than the original.
– Beelezebabe
Dear Diver,
Apparently, it's bad manners to talk on your cell phone while in the bathroom (according to my girlfriend, at least.) My question: Is it also bad manners to text on the throne as well?
– The Multi Tasker
Dear Multard,
I find nothing wrong with taking care of a little business while you take care of business. Your girlfriend must be some kind of prude who obviously expects you to wash your hands when you're done and replace the toilet paper roll when it's empty. Let me tell you one thing: any bathroom fantasies you may have are completely out of the question. It might be best to use your time on the john to check up on Match or text some ladies who might be open to some good, clean bathroom fun. In fact, I'm texting right now.
– Diver
Dear Diver,
What is up with all the young kids I see these days with greased hair and wearing cuffed jeans, leather jackets, argyle sweater vests, bobby socks and the like? Is it some sort of "Happy Days" resurgence or '50s revival? And if so, can zoot suits and flapper dresses or Elizabethan collars be far behind?
– Out of Fashion
Dear Lost & Fad,
I've noticed the grease lightning comeback, too. Whenever I see those bobby socks, I get an irresistible urge to start serenading my coworkers with an a capella version of "Summer Lovin'." Maybe its society's way of remembering the good times, instead of all that might have been difficult about the decade. Anyway, anytime a trend comes back around it's a chance to recycle all those old duds you've got in the box in the basement. I'm a child of the '80s, so I've already got a leg up on the leg-warmer revival fresh off the New York runways. Now, I'm just waiting for the parachute pants and neon scrunchies to make a comeback. I know I'll get my chance because, eventually, every era gets another shot at high fashion. So hold on to that red pleather, Michael Jackson "Thriller" jacket – just in case. As for the Elizabethan collars, I think Lady Gaga already tried that.
– Waiting on the Glory Days
---
Seek help from the master of the In-Sinkerator. The diver has the solutions to life's little messes. Send your problems to, "Ask the Diver:"
- 1309 E. Third Ave., Room 3 Durango, CO, 81301
- fax (970) 259-0488
-
telegraph@durangotelegraph.com