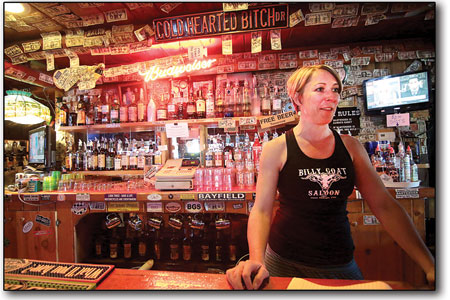 Billy Goat owner, Ashleigh Tarkington, stands at the helm of the iconic Gem Village saloon just as the bar is opening for the evening. Tarkington worked as a bartender at the Billy Goat to help put herself through college. She returned to buy the bar in 2003 after owners Ellen and Bill Asher suddenly passed away./ Photo by Jennaye Derge
The 'world famous' Billy Goat
Inside Gem Village's legendary diamond in the rough
by Stew Mosberg
Roadhouses, taverns, honkytonks and dives often have a seedy connotation. Many live up to it. Some, like the Billy Goat Saloon in Gem Village, struggle to dispel such myths. If the imagery of any of the aforementioned conjures bar fights, pool tables, dark, smoke-filled rooms, bouncers and barflies, perhaps you've seen one too many "biker" movies. Or maybe not.
The name of Bayfield's Billy Goat Saloon honors the famed Billy Goat Tavern in Chicago, known for its "Curse of the Cubbies." And although the local establishment's owner Ashleigh Tarkington describes the namesake like a lead in for a joke, she admits it might be a bit apocryphal. According to legend, once upon a time in the original bar in Chicago, a guy came in with a goat. The bartender refused him service and asked them to leave. In response, the goat herder invoked the following spell, "The (Chicago) Cubs will never win a World Series."
Truth be told, the Cubs have not won a World Series in more than 105 years. There are many myths about the hex and whether you choose to accept that tale or others, it is the sort of story one might hear while sitting on a barstool nursing a brew in Gem Village or across the street from Wrigley Field.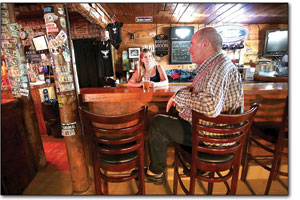 A bartender at the Billy Goat Saloon serves up a cold one for a patron who was passing-through on a weekend afternoon. For years, the bar has beckoned the curious tourist and local alike with its roughshod facade./Photo by Jennaye Derge
Standing at the edge of the service road on the south side of Highway 160, the weathered wooden facade quietly beckons the curious, the thirsty, the passers-by, as well as its cadre of regulars. Built in 1952 as a café/service station, the spot that houses the Billy Goat has existed under several names and management over the years, including "The Westerner," "The Coloradan" and the "Last Chance Saloon." It gained its current, and now infamous, identity in 1982 after being purchased by Chicago natives Ellen and Bob Asher, whom Tarkington later bought it from.
Tarkington's journey from a Fort Lewis College Exercise Science major to proprietress of a saloon was not as much of a stretch as it might first seem. Born in New Mexico, a shot glass throw from the Juarez border, the sports enthusiast and personal trainer worked at the Billy Goat to help finance her education. During her stint as a bartender there, she became close to the Ashers, but ultimately chose to leave and attend graduate school in California. However, prior to completing her dissertation, the last link to earning her Master's Degree, she received word that Bob and Ellen had taken ill. Not long after, the two tragically died within a month of each other.
Contrary to rumor, Tarkington did not inherit the place. But, not wanting to see it disappear, she admits not thinking too long before obtaining a mortgage to take over the business as its new owner in 2003.
Since then, her perseverance and skill as a firm but friendly hostess has engendered a large 4
customer following.
Converse to its outward appearance, inside the structure is a spacious dance floor as well as the obligatory pool table, jukebox, large screen televisions, tables and a long, well-stocked bar. Tarkington says beverage popularity changes from the fashionable beer of the day to flavored vodkas and top shelf whisky depending on what's in style. When the state smoking ban went into effect, she added tables and chairs to the back patio and, even in the winter, it has become a smoker's respite.
The televisions are typically broadcasting a sporting event and, as a life-long athlete and part-time trainer at the Momentum 24/7 Fitness Gym in Bayfield, Tarkington feels right at home having a play-by-play discourse with the customers. As with any favorite watering hole, the Billy Goat can get a bit rowdy, particularly on Friday nights when a local or visiting band is performing. Tarkington refers to her regular clientele as "family," and they have backed her up when she needed help with repairs or with an occasional troublesome patron. "We have never had any real problems with (brawling) here," she says and quickly offers an invitation to the uninitiated, "Don't be scared." As an athlete, Tarkington enjoys the thrill of competition and hosts pool tournaments, and also a golf competition against the Lone Wolf Bar from Arboles, which takes place the third weekend in June that adds to the camaraderie and friendly vibe of the place.
Upon stepping across the threshold, patrons have been known to confess, "I can't believe I've driven by all this time." And while it isn't known as a "singles" bar or pick up joint, dancing is always welcome at the Billy Goat, especially when a band is performing. Music varies from country to rock so there is something for everyone.
As a distinctive and venerable local institution, the Billy Goat also has received national recognition. Voted one of "America's top 50 bars" (2002) by Men's Journal magazine, it was also named "Dive Bar of the Month" by www.divebarshirtclub.com, which offers club members a chance to own classic T-shirts from unique bars. The Billy Goat also sells its T-shirts locally, so you don't have to join to flaunt your fashion. Those T-shirts are also the focus of a "Where's Your Goat Been" postcard campaign that is featured on the bar's website, www.thebillygoatsaloon.com.
If you think the Billy Goat could make a great movie backdrop, it already has appeared in an indie film, "Cowboys and Indians," as well as on the reality television series "Rocky Mountain Bounty Hunter."
Open starting at 2 p.m. to depending on who is left at the bar, the Billy Goat has played host to weddings, birthday parties, fundraisers and even the occasional funeral. Long-time customer Loyd Moore passed away recently, and his usual spot, where he nursed his "Bud in a can," is commemorated with a tiny plaque just below the turned edge of the dark wood bar.
With its rustic charm and local following, the Billy Goat Saloon represents a piece of Americana in the way Route 66 continues to hold its romantic "On the Road" image. Tarkington plans to keep it going for a long time and hopes more folks will join the "family." Once you belly up to the bar, or shuffle along the dance floor or share a moment with the barkeep and regulars, there's a good chance you will.