A few of my favorite things
by Chris Aaland
Two things I love as much as sex and the Stanley Cup are green chile and beer. Fortunately, I can indulge in both this weekend.
Gazpacho 23rd annual chile roast takes place from 9 a.m. - 4 p.m. Friday and Saturday. Join the party and grab your bag of freshly roasted green chiles, a Gazpacho stadium cup filled with complimentary green chile margarita and a basket of free chips. It's a Durango tradition to get your verde fix here. Matt Arias takes his chile roast seriously … you should, too.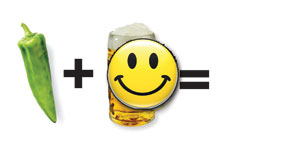 Get your drink on! It's that magical time of year when beer festivals seem to roll our way every week or so. The 16th annual San Juan Brewfest comes our way from 1-5 p.m. Saturday (noon 'til 5 for VIPs), featuring a record 50 brewers and four live bands. The jazzy, Los Alamos-based Hill Stompers headline the event, with earlier sets by Blue Sage Bandits, Elder Grown and One Roof Blues. $25 gets you a 5-oz. souvenir tasting mug that you can fill to your heart's content. Double that price and you'll get a VIP ticket that includes free food from Texas Ty's BBQ and admission to a Friday night party. Admission is free for DDs and children under 12 and $10 for kids and young adults ages 13-20. Drinking for a cause is always a feel-good affair; all proceeds benefit United Way of Southwest Colorado.
The Durango Blues Train pulls out of the depot for the last time this year on Friday and Saturday. Patrons can expect a full night of blues as artists like Matthew Curry, One Roof Blues, Alex Maryol, Kipori Woods and our own Kirk James perform all the way to Rockwood and back. Each night's train features two bands and four solo/duo artists in six rail cars. Each artist performs in their own vintage coach, while passengers are free to dance their way from coach to coach. For more information, visit durangobluestrain.com. Boarding begins at 6 p.m. each night with the train departing the station at 7 and returning at 10:20.
The Community Concert Hall and KSUT present "An Evening with Paula Poundstone" at 7:30 p.m. Saturday. Considered one of the foremost comics working today and famous for her razor-sharp wit and spontaneity, Poundstone steals the show at 2 p.m. each Sunday for "Wait, Wait … Don't Tell Me" on KSUT. She's appeared in multiple HBO comedy specials, on "Saturday Night Live" and was the first woman invited to entertain at the prestigious White House Correspondents' Dinner. The Boston Globe noted, "Poundstone improvises with a crowd like a jazz musician, swinging in unexpected directions without a plan, without a net."
It's Tex-Mex night at the Dolores River Brewery on Saturday when Joe King Carrasco comes to town. Back in the late '70s and early '80s, Carrasco was truly king of a genre populated by the likes of the Sir Douglas Quintet and Freddy Fender. He released his debut album, "Tex-Mex Rock-Roll," way back in 1977 with his backing band, El Molino. Carrasco recently reformed the quartet and released the stunning "Tlaquepaque" record. With Sahm and Fender done gone on, Carrasco's one of the last of a breed. Tex-Mex is to South Texas what Cajun is to Louisiana swamps.
Speaking of the swamps, Mancos' Millwood Junction hosts Jeffery Broussard & the Creole Cowboys at 8 p.m. Sunday. You've heard of five-tool baseball players. Broussard is a five-tool musician … a singer, songwriter, fiddler, button accordionist and piano-key accordionist. His take on Zydeco and Cajun music is guaranteed to get you dancing.
Rockabilly takes center stage at Crash Music at the historic Aztec Theatre at 7:30 p.m. Saturday in the form of the Cadillac Angels. Singer/songwriter and guitarist Tony Balbinot was raised on a small, rural farm in Illinois in a house with no television – just a radio and an old record player. Artists like Johnny Horton, Jimmy Reed, Link Wray and Dick Dale inspired him to take up the electric guitar. The trio has over 10 full-length CDs and has been featured in major films and commercials.
Moe's slate includes Bent Rocket on Friday, Peter Robot and Codestar on Saturday and Whale Logic on Sunday.
Elsewhere: Jack Tallmadge played country when country wasn't cool and he'll prove it to you from 6-10 tonight at the Sporting News Grill in the Holiday Inn; the Black Velvet trio is at Dalton Ranch at 5:30 tonight (Thurs., Aug. 21), while the duo works the Balcony at 5 p.m. Sunday; Jack Ellis is back at The Office at 7 p.m. tonight and Serous Texas BBQ South at 5 p.m. Saturday; Lawn Chair Kings play their final show of the season from 5-9 Friday at the Balcony; Carute Roma and the Troupe Verde Bellydancers bring Gypsy to the Durango Farmer's Market from 8 'til noon Saturday, then play the Rochester Hotel's Secret Garden from 4:30-7:30 Wednesday; and Papa Otis & the 88s play mountain stomp at the Balcony from 6-10 p.m. Saturday.
This week's Top Shelf list features local bluesman Kirk James' 10 favorite albums of all time. James will whip out his National steel on the Durango Blues Train this Saturday.
1. Robert Johnson, "King of the Delta Blues Singers, Vol. I & II," 1936 & 1937. There is a lot going on in these recordings ... listen close.
2. "The Roots of Lightnin' Hopkins," 1965. Imagine sitting next to Sam Hopkins as he pours his very being into the music and tells a few stories. Magic.
3. Jimi Hendrix Experience, "Electric Ladyland," 1968. A classic!
4. The Beatles, "The White Album," 1968. A classic!
5. Rolling Stones, "Exile on Main Street," 1971. Lotta grit!
6. "Buddy Guy & Junior Wells Play the Blues," 1972. This album broke ground for future blues bands.
7. Jeff Beck, "Blow by Blow," 1975. Jeff boiled it down to just what was needed and didn't leave anything out.
8. UFO, "Strangers in the Night," 1979. An excellent live rock recording.
9. Bob Dylan, "Infidels," 1983. With some great tunes, Bob brings in Mick Taylor on guitar and Mark Knopfler on guitar and production.
10. Albert Collins, Johnny Copeland & Robert Cray, "Showdown," 1985. Three heavies singin' and slingin' the blues together.
"'Cept for nuclear missile silos, Democrats and weird albinos drinking Mama's Little Yella Pils?" Email me at chrisa@gobrainstorm.net.