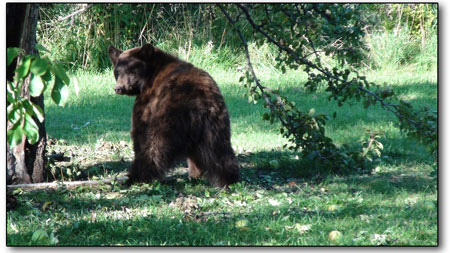 A bear is rather unabashed about its foraging habits near Hermosa recently. It's the time of year when bears ramp up their eating and groups like Bear Smart Durango ramp up efforts to reduce human-bear conflicts and remind residents how to live with wildlife through programs like the Fruit Gleaning Hub and outreach efforts to new homebuyers, landlords and kids./ Photo courtesy of Christopher Hall
Apples and oranges
Fruit gleaning program aims to reduce human-bear conflicts
by Tracy Chamberlin
An apple a day doesn't quite do it. Bears need 20,000 calories each day in order to pack on the pounds before heading to their winter dens for hibernation.
To get all that fuel for fattening up, they'll seek out the easiest, high-calorie meals. That's where the trash cans, dumpsters, birdfeeders and fruit trees come in. They all offer plenty of provisions for the ursine invaders without too much energy wasted.
In an effort to combat those comfy alternatives to acorns, groups like Bear Smart Durango, a local nonprofit whose goal is to reduce human-bear conflicts, remind residents how to live with wildlife through programs like the Fruit Gleaning Hub.
Partnered with Healthy Community Food Systems, the Fort Lewis College Environmental Center and the Colorado State University Extension Office, Bear Smart has set up an online bulletin board allowing residents with surplus fruit trees to connect with those needing the fruit.
"I think it's a wonderful idea," said Carolyn Vowra, director of the Animas Museum, who participates in the fruit gleaning program.
Although she doesn't have the banner crop she had last year, Vowra said it's still early in the season. She added that she does get bears on her property, which is why she participates in the program, now in its second year. And, the idea of sharing the fruitful bounty with neighbors and preventing property damage makes it a smart idea, she said.
Julie McCallister, another participant in the program, also called it smart.
For her, it's the first time in the 20 years she's lived on the property that she hasn't had a single apple to harvest. She's not sure if it's the fact that the trees were pruned last year or weather-related, but when the crop's been copious, she can't possibly use it all.
It's not just the potential for bear scat or damaged trees those in the bear business are looking to avoid 4 with the fruit-gleaning program, it's the consequences of allowing the bears to get comfortable.
So far this season, Bear Smart Durango has had 135 reports of bears and their cubs rummaging through local trash cans and dumpsters.
Of course, that number doesn't include the slew of stories about bears getting into homes, garages, chicken coops, sheds and even beehives.
They've also broken into RVs, trucks and cars this season. One time the ursine invaders were after some pistachios; on another occasion they broke a car window looking to finish off a bag of trail mix. "If they can eat it, they'll try to," said Joe Lewandowski, spokesman for Colorado Parks and Wildlife.
Bear in mind
According to those in the bear
business, this is the time to be vigilant. Here's a list of some simple steps to making the difference between being a bear stop or a place to avoid.

- Keep garbage in a secured location and only put it out on the morning of pickup.
- ?Clean cans regularly to keep them odor free.
- ?Don't leave pet food outside.
- ?Bird feeders should be brought in this time of year; birds don't need to be fed during the summer.
- ?Secure compost piles. Bears are attracted to the scent of rotting food – and they'll eat anything.
- ?Allow grills to burn for a couple minutes after cooking to burn off grease and eliminate odors.
- ?Keep garage doors and
bottom-floor windows of the house closed when not at home.
- ?Do not keep food in cars and lock car doors.
- Talk to neighbors and kids about being "bear aware."

– Source: Colorado Parks and Wildlife
It's not just the tasty trail mix, though, that keeps them coming back for more. It's the time of year. For the next six weeks, bears are going through hyperphagia, a key time when they need to store fat for the long winter's nap.
That's why they go for the easiest, high-calorie meals. It's the only way to get that much from the munchies without burning it all away.
Lewandowski said the key is to not let them get comfortable with easy pickins that keep them close to human homes – keep the trash locked up, the bird feeder inside and don't leave the trail mix in the car with the window rolled down.
If a bear tries to get into the trash and fails, it will move on, Lewandowski said. Hopefully to their natural food sources, like acorns and berries, which appear to be pretty good this year. Lewandowski said that might be why it's been relatively quiet this year.
Still, relatively quiet translates into the loss of eight bears that had to be put down because they were dubbed nuisance bears.
Lewandowski said his agency is obliged under Colorado law to do so when bears exhibit aggressive behaviors that could endanger humans.
That number doesn't rank with the 20-plus lost several years ago. In 2010, 28 bears died from causes other than hunting, like being hit by cars or being put down. In 2011, that number jumped to 36 and in 2012 it was 74.
When the bears are causing trouble, but not threatening people, they can be relocated, which has been the fate of four bears this season.
But, that's not a solution either, Lewandowski said. "It's no panacea." They are trapped and taken 50 miles away. But with people settling all over the area habitat, it's hard to go 50 miles from anywhere, he added. Bears are also territorial, making it likely they'll be dropped off in another bear area.
"Humans now live where they live and, unfortunately, there's always going to be conflicts," Lewandowski said.
For more information on bears and how to avoid human-bear conflicts, visit www.bearsmartdurango.com.