The comeback Grange
Generations come together to re-open the Mancos Grange
by Paul Ferrell
After being closed down for nearly 30 years the Mancos Grange is making a comeback. The old Grange Hall, located at 680 Grand Ave., is quickly becoming a gathering place for potluck dinners, workshops, fund-raising, food canning and socializing. Since its first public meeting in June, the Mancos Grange has grown rapidly and seems to be succeeding in its mission to improve the quality of life for area residents. The Grange, officially known as The National Grange of the Order of Patrons of Husbandry, is the nation's oldest agricultural advocacy group. From its founding in 1867, the grassroots, nonpartisan, nonsectarian organization mandated the participation of women and provided full membership for teen-agers. Its Declaration of Purposes states: "We desire a proper equality, equity and fairness; protection for the weak; restraint upon the strong; in short, justly distributed burdens and justly distributed power."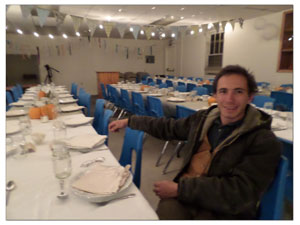 Harrison Topp, an Americorps volunteer, is one of the "movers and shakers" credited with reviving the Mancos Grange. He is seen here in a bedecked Grange hall on Oct. 19 prior to a fund-raiser dinner for Montezuma County school gardens./Photo by Paul Ferrell
The Grange's fight against the power of railroad monopolies led to the creation of the Interstate Commerce Commission in 1887. The group successfully advocated for rural farm delivery, a parcel post system, and federal legislation that provided farm credit and encouraged turning tenant farmers into farm owners. The Grange rightfully takes some credit for the passage of amendments to the U.S. Constitution that gave women the right to vote, the direct election of senators and a progressive federal income tax.
The Mancos Grange opened in 1917, but by that time there was a rapid decline in family farms. Early in the 20th century, a third of Americans worked on farms or ranches, today only 2 percent of the population is involved in agriculture.
The Mancos Grange fell victim to this decline, closing in the mid-1980s. But fond memories still remain. Ninety-two-year-old Mancos resident Russell Culp was a square dance caller at the Grange Hall and he remembers the socializing. "We did some dancing and also dinners," he says. Culp recalls Grange members helping neighbors in need, "If somebody's house burned down or something they'd have a fund raiser for them."
Mancos area resident Patricia Burk is from a local family with a history going back several generations. She remembers the square dances and 4-H Club meetings at the Grange Hall. "The Grange was an important part of growing up," she says. "We were all extremely involved in the Grange. That's where we did all our projects, that's where we did all of our meetings – that's where we met our first boyfriends."
Some of Burk's earliest memories are of playing on the front porch of the Grange Hall as a 4-year-old while her older sister attended 4-H meetings inside. Last May, a drive down Grand Avenue inspired her to join the movement to revive the Grange. "I drove by the Grange Hall and here was this child playing on the porch. I was so excited because 70 years earlier, I was that little child playing on the porch."
Patty Russell, a resident of the Mancos Valley, credits Burk, Harrison Topp and a handful of other "movers and shakers" with the Grange's revival. She says, "Patricia's got the roots of this valley in her veins – and Harrison – we are blessed to have a guy like him."
Topp recruited farmers and organized meetings and work parties while Burk instigated a recruitment campaign of her own. "I just started beating the drum trying to find people, and I contacted my network of people."
Topp is a 27-year-old AmeriCorps volunteer working with Live Well Montezuma and the School to Farm Project. Both organizations are aimed at improving knowledge of local agriculture and improving local health. Burk compares Topp to a saintly character in a Steinbeck novel. "He's very dynamic. To me, he would fit in The Grapes of Wrath really well as Jim, the union organizer, because he can really organize. The first time I met him I thought he was just exactly the energy we needed."
Early on, Topp feared that his organizing efforts might be in vain. "Every time we started a meeting, I had this feeling in the bottom of my stomach that no one's going to show up. Everyone's decided that it was a waste of time and we're not doing enough. We're not going far enough. We're not doing what people wanted to do. And every single time we fill the room up. It's really beautiful – everyone's here because they feel tied in to the community."
Monthly Grange meetings are now well attended. They are held on the first Monday of each month at 7 p.m. and are open to the public. In September, the Colorado State Grange presented an award to the Mancos Grange as "First Place Recruiters." The award consisted of a wall plaque and a cash bonus.
Topp sees the Grange as a "membership-driven organization," with members that are a mixture of young and old. Grange member Tim White says, "We've got a good mix, we've got energy and we've got potential." He sees the group's mission as wide open: "The Grange does whatever the members want it to be able to do."
So far, members want the Grange to help the community in a variety of ways. White, a builder, is working to convert the basement of the aging hall into a root cellar while at the same time re-enforcing the floor to hold community dances. The local book club holds meetings in the hall, and last week a gourmet dinner was held to benefit Montezuma County school gardens. A food canning workshop and informative talks on mushroom cultivation and food distribution have been held. A wireless Internet connection for the Hall will soon be available and a Facebook page is under construction. Outside the hall is a fenced play area for children and inside is a fully stocked kitchen. "It's a place to come together, to work together, to eat together," White says.
Kellie Pettyjohn is an organic farmer who hopes to see the Grange help the local agricultural community by buying seeds in bulk to make them cheaper for everyone. "We talked about using the Grange as a focal point for organizing that kind of thing. And even things like leasing or renting big equipment, you know, tractors and things like that."
Topp sees a great interest in investing in equipment. "A common refrigerator space, a walk-in cooler that people could keep goods in for overnight or a week or whatever – that's something that a lot of people have gotten excited about."
Although the monthly meetings on Mondays are attended by a diversity of local residents, the executive officer's meetings on Thursdays are dominated by older members – with the exception of Topp and Liz Bohm. The membership co-chair working with Burk, Bohm will eventually assume the chair now held by Burk. It is Burk's hope that all the executive positions will be filled with younger Grange members. "The Grange right now is being run by a bunch of old fogies, but our intent is to turn this over. My counterpoint in this partnership is Liz. She jumped in, and she's doing the job I was doing when we started. That's everyone's hope; that everyone will find a counterpoint, a partner that will take over in that young generation."
Bohm notes that none of this would have been possible without the elders, however. "A lot of the older folks stepped up into the executive positions and really made it happen in terms of 'somebody's got to get the ball rolling.'"
Bohm has a great interest in grass roots organizations and was impressed with the important roles women have always held at the Grange. "When I first heard that it was historically a fraternal organization I thought, 'Oh no, it's like – one of those.' But when I found out that it historically included women, I liked that," she says. "In farming communities, women are a big part of how things get done."
Burk says she is impressed with the women and men that make up the new generation of farmers in the Mancos area. "They're trying very hard to sustain the land and take care of it and provide a sustainable way for people to live here and eat. They all know there's a better way to treat the land and for people to treat their bodies. They are true warriors. They are so amazing," she says. "These young organic gardeners are what are making this community very rich."
The National Grange reports a new generation of farmers and rural residents are taking the lead in granges across the country as well. Patty Russell marvels at the rebirth of the Mancos Grange and hopes for a bright future. She quotes Margaret Mead in saying, "A small group of thoughtful people can change the world. Indeed, it's the only thing that ever has."
The next Grange meeting takes place in Mancos at 680 Grand Ave. on Mon., Nov. 4 at 7 p.m. Everyone is welcome. The meeting will feature a potluck dinner. For more information, contact Harrison Topp at msfpamericorps@gmail.com or 303-918-3538.
There is currently no content available.