Losing Lou, The Sadies and the scariest night of the year
by Chris Aaland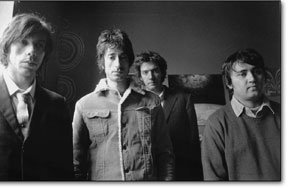 When the great Lou Reed died of liver disease Sunday at age 71, one of music's greatest visionaries was lost. Without Reed, rock as we know it would be vastly different. His influence on punk, glam, alternative rock and even hard rock and hip-hop is unparalleled. Imagine the Talking Heads, the Ramones, U2, R.E.M. and even Metallica without his impact, and it's a bleak sonic landscape. He was an urban poet laureate, finding art in the dark corners that scared the rest of society shitless.
During the Velvet Underground's heyday, radio plays were infrequent.
They were too dark for the airwaves, their music too aggressive, Reed's lyrics too racy. Their debut album, "The Velvet Underground & Nico," barely cracked Billboard's Top 200 as Reed's songs exposed drug abuse, prostitution and sexual deviancy. The Summer of Love was merely months away from the album's March 1967 release, but "free love" this was not. It was dirty, sticky sex with whips, chains and needles, spun from the pen of Edgar Allan Poe in a black leather jacket wielding a Gretsch guitar.
Reed and the VU no doubt influenced college and experimental radio.
Ironically, Durango's two stations that broadcast on the low end of the dial and play his music regularly host major fundraisers this week.
If you see just one concert this year, make it The Sadies, one of alt-country's most influential acts of the past two decades. KDUR rarely forays into the concert-producing business, but when it does do, it's always an artist worthy of note. Chalk that up to the eclectic tastes of the station's head honcho, Bryant Liggett.
Throughout their 19-year, 10-album history, The Sadies have blended surf, psychedelia, Canadian folk and roots genres. They've also worked with some of rock's most revered cult icons, recording albums with Jon Langford (of the Mekons and Waco Brothers fame); Neko Case; John Doe (of X); and Andre Williams (the R&B singer/songwriter best known for his '60s hit "Shake a Tail Feather"). More than a third of the way into this millennia's second decade, The Sadies' 2010 classic, "Darker Circles," resonates among rock's finest recent moments. Consider it my overwhelming front-runner for Album of the Decade. Imagine the Byrds meeting Dick Dale & his Del-Tones in a back-alley brawl with Gram Parsons and Alex Chilton egging them on, and you're in the ballpark.
Ska hosts KSUT's 20th annual Members Party & Silent Auction from 5:30-9:30 p.m. Saturday. The $25 admission includes beer, food from Durangourmet and the chance to bid on more than 200 auction items and packages. There's music galore on the auction block, collectibles like an autographed Fender guitar signed by Stephen Stills and Kenny Wayne Shepherd, a Lake Powell houseboat trip, a golf outing at "The Southern Swing" (featuring foursomes at three of Phoenix's highest-rated courses) and much more. Find out more at www.ksut.org and don't dally on getting tickets. More than 400 people cram into the brewery for this soirée.
"John Denver: the Tribute," featuring the John Adams Band, returns to the Community Concert Hall at 7:30 p.m. Saturday. "The Tribute" offers a nostalgic experience with not only the music, but the personal stories of the late songwriter.
Next year's Snowdown (theme: "Safari So Good") is three months away, but the scruffy sect can get started this Friday. Those who are facial-hair endowed are encouraged to get beer and beard at Carver's at 8 p.m. Friday. Show up clean-shaven and get your mug shot taken as proof you didn't get a head start. Three months later, on Thurs., Jan. 30, a panel of judges will award prizes to beards with the best color, length and beer absorption and, for ladies, best leg hair. It's a three-month race to look like an extra from "Mountain Men."
The F.R.A.N.K. Foundation (For the Recreational and Artistic Needs of Kids) holds its first fundraiser at the new brewpub in Bayfield from 2-5 p.m. Saturday. The first 100 kids will receive a free steel water bottle, plus there'll be door prizes and a kid's costume contest. This group, started by former San Juan Symphony and Pagosa Hot Strings bassist and Bayfield music teacher Lech Usinowicz and KSUT DJ Chris O'Shea Heydinger, will provide music instruction, recreation and outdoor education to area kids regardless of their family's ability to pay. Call Usinowicz at 799-4303 or Heydinger at 403-2777 for more information.
Of course, tonight (Thurs., Oct. 31) marks Halloween with loads of entertainment choices.
The 2013 Strater Halloween Bash features Vanilla Pop (doors at 8, music at 8:30). The duo of Al Dente and Lester Moore is one of the best dance bands in the Southwest. Part Vegas lounge act, part satire and all fun, Vanilla Pop covers '40s standards, disco hits, '80s classics and TV themes.
Three diverse local acts — the RD Unit (bluegrass), the Lawn Chair Kings (hapless they're not; Hap Purcell has joined LCK on banjo) and the Durango Funk All-Stars — play live at the Animas City Theatre's haunted fiesta at 8 p.m.
Carver's hosts the bluegrass quintet Running Out of Road at 9 p.m. (this one's free!) with a costume contest, keg giveaway and spooky drink specials.
If you don't overdo it on Halloween, you can enjoy Steamworks' November firkin at 3 p.m. Friday. This month, the special one-kegger is an Apple Pie beer. With this season's abundant apple crop, the Steamworks brewmeisters combined a fermented apple cider with a small amount of wheat beer, plus cinnamon sticks and brown sugar.
In memory of Lou Reed, this week's Top Shelf list is comprised of my favorite covers of Reed's songs:
1. "Sweet Jane," Mott the Hoople, from "All the Young Dudes," 1972.
2. "Rock & Roll," the Runaways, self-titled, 1976.
3. "Femme Fatale," Big Star, from "3rd," 1978.
4. "White Light/White Heat," David Bowie, from "Ziggy Stardust: The Motion Picture," 1983.
5. "There She Goes Again," the Beat Farmers, from "Tales of the New West," 1985.
6. "Femme Fatale," R.E.M., one of three Reed covers on "Dead Letter Office," 1987.
7. "Sweet Jane," Cowboy Junkies, from "The Trinity Sessions," 1988.
8. "Satellite of Love," U2, b-side of the "One" single, 1992.
9. "I'm Waiting for the Man/Heroin," Cheap Trick, from "Sex, America, Cheap Trick" box set, 1996.
10. "Pale Blues Eyes," Alejandro Escovedo, from "Bourbonitis Blues," 1999.
Villains always blink their eyes? Email me at chrisa@gobrainstorm.net.