Out of Euro-obscurity
Bruhl, Hemsworth shine in tale of two racing legends
by Tracy Chamberlin
I've been waiting for this for almost two years. In fact, everyone who follows Formula One racing trembled with cautious glee when whispers began to float down the pit lane that legendary director Ron Howard was looking to make a movie about the sport.
Howard, who also sat behind the camera for "Cocoon," "Backdraft" and "A Beautiful Mind," carried with him deep Hollywood pockets and the kind of exposure that could lift our obsession out of Euro-obscurity.
And Howard didn't disappoint. In fact, "Rush" left me almost speechless. As I left the theater, only two tiny words ran through my mind and rolled off my tongue: Wow and raw.
"Rush" follows the relationship between Formula One racing champions James Hunt, played impeccably by Chris Hemsworth, and Niki Lauda, played by Daniel Bruhl, who will no doubt rack up the accolades for this one.
The story peaks in 1976 at the German Grand Prix when Lauda is caught in a burning car on track. As a fan of F1, I've heard the tale of Lauda's accident for years.
He's pulled from the car by other drivers and, even with severe burns, returns to the track before the season's end to challenge Hunt for the world championship.
In many ways, the incident changed the sport forever. Back then, the race covered about 14 miles through the German countryside; now it's just more than 3 miles. Some parts on the car were made with magnesium, very light but extremely flammable. Of course, that practice has also ended.
For fans and historians alike, the tragic accident that day is well-documented. Howard, who also directed "Apollo 13," was true to that era, that moment and the repercussions it had on the years that followed. One of the many wow factors.
This truly was a great film, not just a great sports movie. The racing wasn't a set piece, nor was it used like frivolous CGI just to make the movie more exciting. It's an essential part of the story, another character necessary to the plot.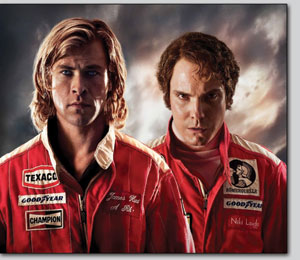 Howard seamlessly incorporates the racing into a fantastic film. He captures the speed, flow, chaos and concentration of the sport. The apprehension on the approach to every corner and checkered flag. You can almost feel the wind as the cars fly through the corners or accelerate down the straight-aways. The camera angles, editing, sound and direction all combine to create something that's almost impossible to explain. Yet, Howard explains it all perfectly without ever saying a word.
And as impressive as those scenes were, the truth is that the movie isn't about racing. It's about the things that most great films are about – human relationships.
Hunt and Lauda are two opposite personalities and rivals. They respect each other and, in many ways, rely on each other as a measure of greatness.
From the beginning, Howard shows how the two were destined to duel on the asphalt battlefield. Both were great drivers with natural talent. Both never wanted to do anything else with their lives. But, both went about those ambitions in completely different ways.
Cinematographer Anthony Dodd Mantle, who's already won an Oscar for "Slumdog Millionaire," does a remarkable job.
In the glossy shine of today's Hollywood technology, he makes the film gritty and real. One of the many reasons I use the word raw.
Same goes for the acting and writing, sometimes so honest it makes the audience uncomfortable. When Hunt struggles in his career and his life, I too felt drunk and desperate. During Lauda's recovery after the accident, I too felt the pain of changing the bandages.
This is not a family film. Howard depicts how these characters lived, honestly and without any filters. The audience learns who Hunt and Lauda are as men, as husbands and as drivers.
And, it's a life without any apologies.
Although Hunt died at age 45 of a heart attack, Lauda is still involved in Formula One. He's the principal owner of Mercedes, currently one of the top teams. So, I see him and hear him often, and I walked into that theater with preconceptions about him. What I didn't expect was to have those ideas changed by the time I left.
And it's all because of Bruhl.
Truth is, Lauda is not what you would describe as a "nice guy." His personality falls more under the tag of brutally honesty. He tells it as he sees it. But, Bruhl manages to make the audience both care for and respect Lauda. I understand why words like "Oscar" and "Globe" are floating around.
Although several scenes stood out for me, I did have two favorites. The first was about a drive through the Italian countryside. Lauda and his future wife end up stranded on the side of the road in Italy when a passing car recognizes Lauda as a Formula One driver for the Ferrari team and offer the two a lift, of sorts. They ask Lauda to drive.
As a devout member of the Tifosi (translation: The Ferrari Faithful), I can truly appreciate what a dream come true it would be to ride along with any of Ferrari's drivers, behind the wheel of my own car, racing through the streets of my home town.
The second scene took me by surprise. After Lauda's accident, he's not exactly camera ready. The reality is, he's severely scarred.
During his first press conference after returning to racing, a reporter asks Lauda if he thinks his wife will leave him because of his appearance. Lauda's response is short and not printable, then he gets up and leaves.
I didn't know or expect what happens next. Hunt, Lauda's rival, takes the reporter aside with a smile and a joke, promising an answer to the question. Instead he gives him quite the beating behind closed doors. Yet another moment of raw emotion and footage so real I had a metallic taste in my mouth from the bloody lips.
One complaint I have is that the movie begins and ends with narration. Perhaps Howard felt it was necessary in order to cram so much history into a reel that runs just a hair over two hours.
Problem is, he had already spoiled me. He's so masterful at showing the story, there's no need for telling. So Lauda as the narrator just fell flat, like a stick figure on a Monet.
In the end, Howard shines a masterful light on a moment in history that if it wasn't true, you'd struggle to believe.