Blues prodigies, hip hop legends and quirky tunesmiths
by Chris Aaland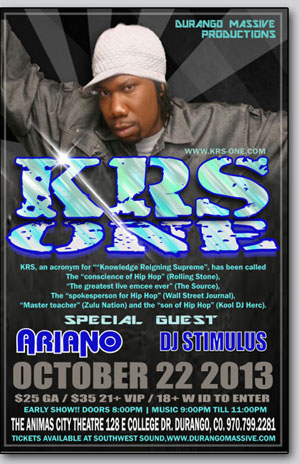 This is the type of busy week that music fans long for, with critically acclaimed artists in blues, hip-hop and folk stealing the spotlight.
Grammy-winning blues singer/guitarist Jonny Lang performs at the Community Concert Hall at 7:30 p.m. Wednesday. Ever since the release of his 1997 major-label debut, "Lie to Me," Lang has built a reputation as one of the best live performers and guitarists of his generation. A blues artist who respects and reveres the tradition of the past, Lang embraces more complex and evolved genres, grafting them to the blues foundation to create a hybrid sound that is simultaneously traditional and fresh. On any given night, audiences are likely to hear shades of R&B, soul, gospel, hard rock, funk and more. He is currently touring in support of his new album, "Fight for My Soul," the follow-up to his 2006 Grammy-winning "Turn Around." Lang's rapid ascent in the blues universe was astonishing in the 1990s. He first picked up the guitar as a 12-year-old in 1993. Just a few months later, he formed Kid Jonny Lang & the Big Bang and moved from Fargo, N.D., to Minneapolis. As a 14-year-old, he released his first album; by age 16, he was signed to a major label.
Hip-hop royalty finds its way to the Animas City Theatre on Tuesday night when legendary KRS-One comes to town for an 8 p.m. show. He sprung onto the scene in 1986 with his debut hit single, "South Bronx," and made certain that hip-hop was going to have to take itself a lot more seriously. KRS (an acronym for "Knowledge Reigning Supreme") has since been called "the conscience of hip hop" by Rolling Stone, the "spokesperson for hip-hop" by the Wall Street Journal and "the greatest live emcee ever" by The Source. KRS-One's influence extends well beyond the world of hip-hop into rock. He collaborated with R.E.M. in 1991, providing vocals to "Radio Song" from the band's acclaimed "Out of Time" album. A year later, Bradley Nowell of Sublime produced an acoustic song, "KRS-One," which featured the rapper's voice and DJ samples. Equally notable is his work as an author (he's written three books), lecturer (he's appeared at more than 500 universities across the United States) and activist (primarily against urban violence). Special guests include Ariano and DJ Stimulus.
Ever since he first played Durango in 2002, Todd Snider has become a local favorite. The quirky singer-songwriter blends biting political commentary with cornpone wit, often ambling into lengthy anecdotes between songs that can last for up to 15 minutes. The guy could make a second living as a stand-up comic, as his stories occasionally outshine his songs. But a tunesmith is the path Snider chose, and his canon includes such classics as "Conservative Christian, Right-Wing Republican, Straight, White, American Males," "Beer Run," "Doublewide Blues" and "Talking Seattle Grunge Rock Blues." Snider returns for his third appearance at the Henry Strater Theatre at 8 p.m. Saturday with opening act Ashleigh Flynn.
The annual Durango Bluegrass Meltdown fall fundraiser starts at 5 p.m. tonight (Thurs., Oct. 17) at the Wild Horse Saloon (music starts at 6). The Six Dollar String Band, Running out of Road, Flume Canyon Boys and The Clods will play a full night of bluegrass and old-time music. Ten bucks gets you in the door and, if you're early enough, a commemorative Meltdown pint glass and a free Durango Brewing Co. beer. Bring your instruments for some picking after the show.
One of the most popular bands in the region, Eufórquestra, returns to the Animas City Theatre on back-to-back nights Friday and Saturday (music to start at 9 p.m. each night). By integrating Afrobeat, reggae, funk, Soukous, Soca and dub, the Fort Collins-based ensemble has ignited dance floors across the country. The band's catalog includes three studio albums and one live effort. Sky Pilot opens Friday's show with their brand of electro-fusion jam, while the Durango Funk All-Stars open Saturday.
Head north to Montrose this week to catch the greatest one-and-done act in folk music history. Willis Alan Ramsey's eponymous 1972 debut earned scores of accolades and spawned covers by the likes of New Grass Revival, Jimmy Buffett, Waylon Jennings, Jerry Jeff Walker, Captain & Tennille and countless others. Forty years later, we're still waiting for a follow-up. He plays the Turn of the Century Saloon at 8 p.m. Friday along with his wife, Alison Rogers.
Folkie Catie Curtis returns to the Milwood Junction in Mancos at 8 p.m. Sunday. Longtime local fans may remember Curtis from her first appearance in Telluride, when she won the 1994 Telluride Bluegrass Festival Troubadour contest. She's released 13 albums during her prolific career.
In honor of the Johnny Lang show, this week's Top 10 list was provided by KSUT's Rob Rawls, who hosts "Barrelhouse Blues" each Tuesday from 7-9 p.m. Rawls provides us with his 10 greatest North American teen-age blues guitar prodigies, plus three honorable mentions.
1. Stevie Ray Vaughan – At age 17, dropped out of high school, moved to Austin and started a band, The Nightcrawlers.
2. Joe Bonamassa – At age 12, opened for B.B. King.
3. Derek Trucks – At age 14, was on tour with the Allman Brothers.
4. Johnny Winter – At age 15, released first record with brother Edgar, "School Day Blues."
5. Robben Ford – At age 18, was hired by Charlie Musselwhite.
6. Jeff Healey – At age 3, got first guitar; discovered by Stevie Ray Vaughan in Toronto at the age of 19.
7. Johnny Lang – At age 14, released first album, "Smokin'"
8. Kenny Wayne Shepherd – At age 4, got his first guitar from his grandmother, bought with S&H Green Stamps; at age 18 released first album, "Ledbetter Heights."
9. Gary Clark, Jr. – As a teen-ager began playing at Antone's blues club in Austin; mentored by Jimmie Vaughan.
10. Mathew Curry – 17 years old and the best of the current crop of teen-age guitar prodigies.
Honorable Mention:
1. Mike Bloomfield – As a teen-ager, began playing with Chicago blues legends like Muddy Waters.
2. Sue Foley – Began playing professionally at age 16 in Ottawa; moved to Austin at the age of 19.
3. Monster Mike Welch – Got his first guitar at 8, and by 14 was playing with blues giants like Junior Wells, James Cotton and Buddy Guy (first album "Axe to Grind.")
Tree huggin', peace lovin', pot smokin', porn watchin', lazy-ass hippies like me? Email me at chrisa@gobrainstorm.net.