Greenbacks for green thumbs
Locavore champion looks to crowdsource local food initiative
by Jenny Mason
Starting Nov. 27, the day before Thanksgiving, Linda Illsley is challenging Durangorganics to put their money where their mouths are. The owner of Linda's Local Foods Café is asking the community to pledge support for a new, fresh-food initiative, starring small-scale area farmers.
"We want people to have access to fresh, local produce all week long," Illsley explains. That's why she wants to raise enough funds to install a refrigerated unit in her restaurant where small, local growers can display and sell their green goods.
Illsley has built her life and career around all things delicious, savory, fresh and nutritious. She might as well be Durango's locavore knight in shining armor, its passionate crusader for sustainable food, its very own Joan-of-Ag.
She tells me that the color and crunch of good food enthralls her. She fills me in on some of her most precious memories growing up in Mexico, going to markets or plucking succulent fruits right off the trees. Soon, I am drooling, and I decide that if Illsley ever gave up the restaurant business, she could just as easily make a profit running a 1-900 food hotline – the kind that foodies (or just me) might call late at night to hear deliriously sumptuous and tempting descriptions of fruits and vegetables.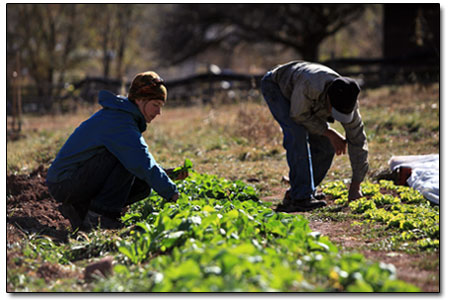 Andrea Martone and Brad Christ tend to their fall lettuce crop at their Calloused Palms Farm in the Animas Valley. The farm is among several small local operations that may stand to benefit from the local food stand incubator program launched by Linda Illsley on kickstarter.com./Photo by Steve Eginoire
In lieu of paying $2.99/minute to hear Illsley wax poetic about wax beans, the curious and ravenous should instead search the crowdfunding website Kickstarter.com for her video, "Creating a farm stand incubator for local farmers."
The basic idea is this: rather than go out and get a loan from a bank, Illsley wants the community to own the refrigerated farm stand in her restaurant.
"It's just like the Discovery Museum or the Rec Center," she points to other jewels in Durango's crown of achievements.
Like the museum or the rec center, the refrigerated stand – a smaller version of what you might see in a grocery store – symbolizes a greater community virtue. It would become a cog in the complex mechanism of the food-supply system in Durango. At present, locally grown goods can only be purchased directly from farmers at the Farmers' Market is mostly on hiatus till May 2014. (There will be a Thanksgiving Market on Sat., Nov. 23, and a holiday Market on Sat., Dec. 14. Both run from 10 a.m. - 2 p.m. at the La Plata County Fairground.) By putting a farm stand in her restaurant, Illsley will offer Durangoans week-long access to local, fresh comestibles. Rather than compete with the Farmers' Market, she wants to enhance it and its growing popularity.
Essentially, the farm stand incubator would be one way to address the growing hunger for organic goods. According to the USDA, organic food sales totaled $3.16 billion in 2008, with 20 percent of the nation's organic goods plucked from California. Rather than have goods shipped to Durango, Illsley would prefer to support the farmers already rooted in the local soil.
Additionally, Illsley hopes to provide a sort of sales and marketing classroom for growers. Many of the micro-farmers she's worked with are either too small to pull off the volume required for the Farmers' Market or are too new to have developed community relationships. Plus, with all the planting, growing and harvesting, many micro-farmers are just too pooped to publicize.
Brad Christ and Andrea Martone echo those dilemmas. Christ (rhymes with "wrist") and Martone are the co-owners of Calloused Palms Farm, a compact acreage consisting of 40 garden rows stretching about 70 feet, several fruit trees and a generous raspberry patch.
Christ and Martone participated in a trial-run of the farm stand at Linda's Local Foods Café during this last growing season. Like Linley Dixon, of Adobe House Farms, the Calloused couple kept up a regular schedule and rearranged Linda's patio every Wednesday to display the bounty of their crops.
"We learned a lot," Martone exclaims during a recent trip to the farm. Located on Highway 203 on the western slope of the Animas Valley, Calloused Palms commands an idyllic view of buttery pastures and gingerbread mountains.
Tinker, the official farm dog and pest-controller, wriggles between our legs as we chat about all things E-I-E-I-O. The lessons Martone and Christ garnered after a turn at Linda's summer farm stand boot camp included setting up a display, keeping produce looking good when it wants to wilt in the sun, and developing what they hope will become long-lasting relationships with customers. And these are not lessons they can afford to fail by waltzing ignorantly into the veteran pool of the Farmers' Market.
"It's just the two of us," Martone explains as she snips away leafy clusters of emerald green and raisin purple, late-season lettuce varieties. "So doing the Farmers' Market every week would mean a lot of harvesting, setting up and taking down."
"Plus, we don't have any machinery," Christ adds. His tabby cat Bling-Bling roosts on his shoulder like a pirate's parrot. After a moment, he corrects himself.
"Well, we are the machines."
Which is to say, Martone and Christ do all the planning, planting and picking. They have no staff to share the workload, and on top of farming, they both hold off-farm part-time jobs. When Martone is not up to her elbows in kale and potatoes, she's teaching pilates or keeping the books for Grandview Storage, Christ's other business.
With full irony intended, Christ says, "(Those jobs) keep food on the table."
But those jobs were once the traps keeping Christ and Martone from leading happier, healthier livelihoods. For two decades, Christ was also the proprietor of Top Hat Hearth & Home, but he recalls when life felt like running on a hamster wheel.
Everything changed when Christ inherited his grandad's homestead, the land where Calloused Palms now sits. Grandad – Ed Ward – came to Durango in the 1960s to retire. He planted the fruit trees and the raspberry patch.
These days, Christ uses biodynamic farming methods popular across much of Europe to nurture what Grandad started. Dating back to 1924, biodynamic agriculture kicked off a holistic vision for farming that addressed the health and connectedness of everything in the farmer's ecosystem: soil, sun, moon, plants, animals and even the greater community.
Biodynamics is now practiced in more than 50 countries worldwide.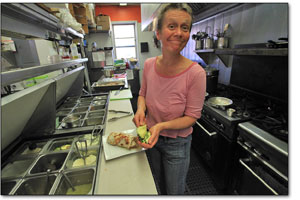 Linda Illsley fixes up a lunchtime order at Linda's Local Foods Cafe on Tuesday. Illsley is launching a Kickstarter campaign to fund a refrigerated display case where local farmers can sell their goods year round/Photo by Steve Eginoire
The biodynamism on the Calloused Palms Farm may not enable Christ and Martone to become regulars at the Farmers' Market, but it does provide them with ample produce to support the 10 members of their CSA. A CSA, or community supported agriculture system, operates a lot like pledging to the public radio station. Members "subscribe" by purchasing a 3- or 6-month share. When it's harvest-time, they receive weekly boxes of fresh fruit and veggie goodness.
CSAs sprouted across America in the 1980s. In 2007, the USDA estimated there were at least 13,000 CSAs in North America. According to the Colorado Farm Share site (www.coloradocsas.info), there are more than 130 CSAs in the state, including close to a dozen in the Durango area.
The Rodale Institute, a nonprofit organization that has been studying the link between healthy soil, healthy food and healthy people for more than six decades, describes a CSA as a "matrix of environmental oases," which is to say, little fertile cogs in the big mechanism of food distribution.
A lot like the refrigerator display unit Linda Illsley wants to put in her restaurant.
"This project is an exploration of how to make the food system better," Illsley says. And to get the exploration up and running, she's looking for backers who are willing to pledge their support for a future of better eating.
The Kickstarter model operates on a pledge-now, pay-later model. Essentially, backers make a promise to contribute but see no money leave their wallets unless the project hits or exceeds its funding target. For Illsley, that means stirring up $7,000 in support by Christmas Day, Dec. 25.
Depending on how much they contribute, backers can also receive a range of rewards, from fridge magnets and postcards depicting local farmers to T-shirts, some of Linda's recipes, and even some samples of local farm luxuries transformed into soups, sauces and curries.
And while getting the funding will be the biggest gift of all, Illsley said the community will also reap rewards – ones that can't be packaged or shipped. Her answer, like her, is short, sweet and full of hope.
"We think of clean, nutritious food as a privilege, but it's not a privilege. It's a right." If she can change the way her community values good food, that, says Illsley, would be a pretty big gift. n
To find out more about Linda's Local Food's farm stand incubator, go to www.lindaslocalfoods.com. The Kickstarter campaign starts Wed., Nov. 27 and ends Wed., Dec. 25.
There is currently no content available.