The confluence of yoga and dance
Living Yoga Project presents community performance
by Page Buono
In Sanskrit, the official language of yoga, Prema means "love" and "nata" means dance. This weekend, the two come together for "Premanata," a performance by the Living Yoga Project that invites audiences to explore the confluence of yoga and dance.
"It's an exploration of the boundaries of yoga. Yoga can be somewhat two-dimensional and it's nice to have the freedom to push that open it up and blur the lines a bit," said Sheryl McGourty, co-director of the performance and part-owner of Yoga Durango.
"Premanata: A yoga inspired performance" shows this weekend, Nov.8-10, in the Smiley Theatre.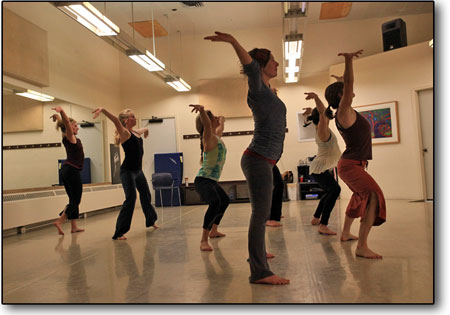 Sheryl McGourty, far right, leads a rehearsal Tuesday night at Durango Dance for this weekend's Living Yoga Project performance of "Premanata." Sanskrit for "love" and "dance," the yoga-inspired show includes 50 community members in seven pieces at the Smiley Theatre./Photo by Steve Eginoire
McGourty and co-director Celeste Greene, both instructors at Yoga Durango, share backgrounds in yoga and dance. The idea for a live performance that melds the two has been mulling around McGourty's head for a while now.
"I really love live performance, and I think there's something really unique that you get from witnessing live performance. You perform and that's it. It's not like a painting," she said. "It's just a snap shot and a feeling and I think there's something really powerful about that."
McGourty missed being part of a live performance, and began day-dreaming about what one might look like.
"It was mostly when I was hiking – walking in nature is where all my ideas inspire from," McGourty said. "So I would walk and have this idea for years. The relationship of being so embodied in the yoga form and the relationship with dance – they're so complimentary, and in some ways the same."
McGourty voiced the idea to Greene on a number of occasions, but generally just in passing. Then, about a year ago, she got serious and said "let's really do this."
"I really resonated with it because I've had the same vision before," said Greene, who also missed dance and the role it had played in her young life. "I love the dance form of yoga and how creative and fluid it can be. I wanted to deepen that and to explore that idea."
McGourty and Greene felt like their combined skill sets were perfect for directing and handling logistics , but they needed choreographers and performers.
They brought Erika Wilson Golightly (a fellow yoga teacher and dancer), Rusty James Toft and Jessica Perino on board as choreographers and then held auditions for performers last May.
"We didn't know exactly what the criteria was other than a feeling of being embodied," McGourty said. "There's a real different feel about someone who knows what it is to move in their body and have a relationship in that way."
Nearly 60 individuals tried out, approximately 40 of whom will be performing in the show. Performers represent a mix of men and women, with ages ranging from 18 to 50.
JusttheFacts

What: "Premanata: A Yoga Inspired Performance"

When: Sat., Nov. 8-9 at 7 p.m.; Sun., Nov. 10 at 4 p.m.

Where: Smiley Theatre, 1309 E. 3rd Ave.

Tickets: $20/adults; $15 students; $10 kids. Available at the door, Yoga Durango, Maria 's Bookshop or www.brownpapertickets.com
For Green and McGourty, one of the hardest pieces of the performance puzzle was turning people away. Auditions were challenging because with yoga there is no right or wrong, but Greene and McGourty had to turn some people down because it wasn't necessarily a good fit.
"People expect that out of a dance audition, but because Yoga is so all-inclusive, it was difficult," McGourty said.
Through the collaborative efforts of the different individuals involved, the piece has evolved into a unique performance.
"I've heard of troups, and I've seen people who are really beautiful in their practice, and at yoga festivals have seen things like acro-yoga," McGourty said. "But I've never seen anything like what we're going to do."
Aside from the integration of yoga and dance, the theme is a play on devotion and strength in yoga.
"It's an interweaving of those things. Maybe one piece really highlights strength and another devotion, or maybe it's a balance of both," Greene said.4
The performance will take place this coming weekend, with shows Friday, Saturday and Sunday (see sidebar for details). Each show will offer the audience seven unique pieces over the course of 75 minutes. Three of the seven pieces will be accompanied with live music provided by Robbie Overfield, Durango Drums and Derek Van Atta.
"I think it's inspiring to see a group of 50 people come together and to know that we're on this path together and all committed to growing as individuals and as part of the community," Greene said.
Doors will open 45 minutes early for a "yoga fair" provided by some of the sponsors. The White Dragon Tea Room will be offering samples of their "yogi" teas – blends especially good for meditation and calming, as well as a their liquid chocolate. There will also be free samples of Doterra essential oils and Solay Superfoods as well as mulled and regular wine for purchase.
As far as the experience from out in the audience: Greene and McGourty devote a significant amount of the nearly 30-hours per week they spend on the project thinking about just that.
"It's not just a performance, it's a relationship with the audience," Greene said. "We're hoping they can receive and we can give and vice versa."
There is some level of interaction with the audience – namely through an invitation of sound (aka chanting) in the beginning to set the stage.
"We hope they feel inspired – maybe not to do the thing they saw on stage, but an inspiration in relation to their life."
McGourty said the performance isn't just for yogis – or for anyone in particular for that matter.
"I think when you see someone do something in their body and in their craft, regardless of what it is, I think we can relate," McGourty said. "It's a visceral experience."
There's an all-male piece that the two say might defy preconceptions. They describe it as strong, vibrant and powerful.
Bryant AuCoin, one of the male participants and relative newbie to the Durango Yoga Community, said the piece is stronger than some may presume.
"It has more power than people might expect," AuCoin said. Aside from expanding his personal yoga practice, he said this performance has connected him to the community and that the dance inspired movements have challenged his athleticism, spatial awareness and discipline.
After the first full-length rehearsal, which took place last week, AuCoin is excited about the show, and what it will offer both the individuals involved and the audience at larger.
"The women's pieces are sexy and beautiful and graceful," he said. "I'm constantly impressed with their grace and will to remain calm and smooth in their movements."
Proceeds from the event will go to covering the costs and, hopefully, creating a fund for next year's event.
Carvers, the event's title sponsor, will host an after party for all of the performers.
The women said the show would not have been possible without the community, which has shown its support with varying levels of sponsorship and involvement. "Our sponsors have been so helpful in creating this event," Greene said. n
Tickets are available at Maria's Bookshop and both Yoga Durango locations and run $20 for adults, $15 for students and $10 for children under 12. Performances take place on Fri. - Sat. Nov. 8- 9 at 7 p.m., and Sun., Nov. 10, at 4 p.m. Doors open 45 minutes prior to all shows.