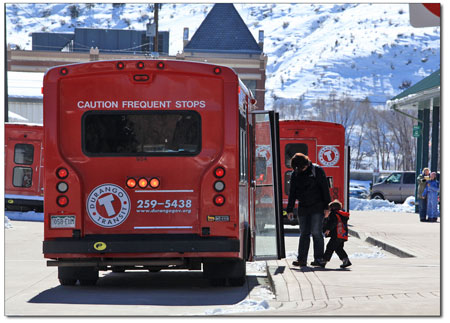 Passengers load onto a trolly at the Transit Center in downtown Durango. More than 600,000 people rode Durango Transit in 2012, an increase of 8 percent over 2011 and 22 percent from 2010./Photo by Steve Eginoire
Life in the fast lane
City sees banner year for multi modal transit, recognition
Goodbye quarters: 'Smart meters,' higher rates on horizon
by Page Buono
Less than a year after the City of Durango adopted its comprehensive Multi Modal Transportation Master Plan, things appear to be moving right along. More riders, more events, more staff and new programs garnered the program national recognition in 2012. For 2013, smart technology, infrastructure improvements and additional programs are on the agenda.

"The plan involved an incredible amount of public participation," Chair of the Multi Modal Advisory Board Michelle Reott said. "The variety in types of meetings held for the Multi Modal Plan were really unique," she added. She said meetings ranged from purely public opinion to more formal working groups to casual gatherings over pizza and beer.

Just the Facts
What: Winter Bike to Work Day
When: Thurs., Feb. 28, 7-9 a.m.
Where: Main Avenue in front of Durango Coffee Co.
Why: Free coffee, treats, T-shirts and other swag. One lucky rider will win a free Osprey pack.
For info.: getarounddurango.com
The City of Durango designated multi-modal transportation a priority in 2009 with the hiring of Amber Blake as multi modal coordinator. Since then, the focus has been on developing a master plan to serve as a living document, to adapt and change with the needs of the community. The plan will be incorporated as law into the City's proposed Land Use Development Code, which is currently undergoing revision and is expected to be approved later this year.

Aside from the official adoption of the Multi Modal Plan, some 2012 achievements include:
- More than 600,000 riders on Durango Transit, an increase of 8 percent over 2011, and 22 percent from 2010.

- Four Durango Transit drivers reaching the 100,000-plus safe driving miles (with no accidents)
- The most successful Clean Commute Week yet in June 2012, with a turnout of approximately 760 participants, up nearly 50 percent from 2011.

- The Colorado Association of Transit Agencies (CASTA) award for "Medium Transit Agency of the Year" and "Transit Employee of the Year" for Blake, who also was appointed to the board of directors for both Bicycle Colorado and CASTA.

Blake said having a seat on the CASTA Board helps her stay informed about changes in policy and potential funding opportunities.
"It helps us keep our fingers on the pulse. If you don't have a seat at the table, your voice can't be heard," Blake said, explaining how Southwestern Colorado is often overlooked in favor of the Front Range when funds are allocated.

The successes above, along with others, attracted national attention. In July, Blake was interviewed on CNN as part of their "Embed America" series. Durango caught CNN's attention as a rural city with an outstanding transit system. "People don't think about how much transportation means to their life," Blake said on the program. "It's a section of your life that you take for granted."

Perhaps best of all, these successes were achieved without an increase in the transit budget. Kent Harris, Transit Operations Manager for the City, said the budget has not been increased in three years, and in 2011 it was actually cut by $200,000.

Meanwhile, ridership has continued to increase. But Harris said without additional fleets, longer routes, and more hours of operation, ridership will probably stagnate. As of Jan. 31 ridership was at 41,000, on par with last year.

Harris attributed increased ridership to outreach and the visibility of the Transit Center and people becoming more familiar with the bus and trolley systems. He said in the last couple of years there has been an increase in the number of professionals using public transit to commute. He said the Trolley has had to leave people at the stops because it was packed, and that without increased funding, this phenomenon may continue.

As for Blake, her job is a big one that keeps getting bigger as grant writing becomes increasingly important (grants account 50 to 80 percent of Transit's operating budget.) Along with this, implementation of the plan is in full swing, and new titles, such as Parking Administrator, have been added to her job description.

With such a full plate, 2012 also granted Blake two new employees: Wade Moore, transit technician; and Deven Meininger, multi modal specialist. The new positions, which are more than 50 percent grant funded, help with everything from education and outreach to finances and technology.
On the technology side, one exciting new development for 2013 is the electric passenger counter and smart phone application, which will offer passengers to track in real time where buses and trolleys are throughout town.

"We are super excited about the new application," Blake said.

Additionally in 2013, there are plans for a trail at W. Second Avenue and 24th Street through Brookside Park to the Trolley Stop and pedestrians improvements for the 9th Street Bridge and the intersection of 9th and Camino del Rio. The program also was recently awarded $216,000 in State Funding for Surface Transportation and Economic Recovery (FASTER) money for the purchase of a new trolley and a mini bus, used for paratransit – the cities dial-a-ride service for elderly and disabled clients – as well as $192,000 in federal funds to purchase three more of the buses that are used for neighborhood loops.

Blake said one focus of 2013 is finding grants to continue improving the system to better meet rider, cyclist and pedestrian needs. Education and outreach in 2013 will aim to influence citizens to consider alternatives to cars when possible, specifically through the Travel Training Program, which began in 2012. The program aims to work with local employers and groups to develop innovative programs with incentives to reward and facilitate multi-modal travel and help employers take advantage of tax benefits available for such programs.

"We're trying to create and maintain a fully connected, vibrant, utilized system," Blake said.