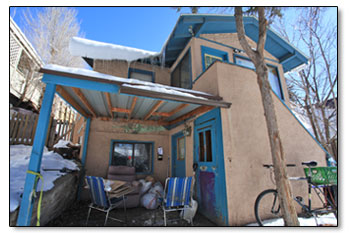 With a real estate renaissance taking place in Durango, it only took a couple of hours to sell this downtown home on 8th Avenue. Demand for downtown properties is increasing as of late, as supply struggles to keep up./Photo by Steve Eginoire
House party
Lively local housing market reinforces rumors of a real estate revival
by Tracy Chamberlin

It could be gone in hours. A seller talks to a local real estate agent; another overhears the conversation and has a buyer in mind. Before they know it, the rush is on to fill out the paperwork, and the house is sold before it even hits the market.
That's just what happened to Tina Miely, a broker associate for Coldwell Banker in Durango.
The local housing market, which starting showing signs of a comeback last summer, has hit a new high with low interest rates and home values out of the basement combining to create the perfect climate for a real estate renaissance.
Miely said downtown properties, like the aforementioned quick-seller on 8th Avenue, have always been the strongest market. With perks like proximity to stores, restaurants, coffee shops, the river trail and Main Avenue, it's the place to be and the place to buy. "It's that magical spot that everybody wants to be in," she said.

But it's not just about location, location, location. After all, Bayfield is also experiencing a real estate revival.

Price is a defining factor of the current craze. Miely's seeing the greatest demand in homes under $400,000, and every house that comes up is getting multiple bids.

"We've not had this enthusiasm since the housing market declined in 2008," she added.

Mary Rigby, who co-owns Re/Max Pinnacle in Durango with her husband, Charles, is also seeing a renewed interest in the market. She recently sent letters out to homeowners across the community, letting them know if they've been thinking about selling but waiting for the right time – this is it.

"The demand is greater than we've seen in quite some time," she said.

The pivotal shift in the market happened last June, according to Denise Storm, president of the Durango Area Association of Realtors, or DAAR. Historically, low interest rates and renewed buyer confidence helped trigger the uptick that's continued since.

DAAR's annual report, which lays out quarterly and yearly MLS statistical data, stated that 2012 "saw the inventory of homes available for sale drop significantly, bringing supply and demand into a closer relationship."

According to the report, last year saw a 16 percent 4 increase over 2011 in the number of homes sold. Jared Nixon, past president of DAAR, called that trend "significant" and "very encouraging."

"It's an exciting time, and I feel the real estate market is turning around," he added.

One thing that is true for both Rigby and Miely is the price. Rigby's greatest demand is also at the lower end of the market, considered homes under $600,000.

This price range is opening up the market to a new segment of entry level buyers.

"Stronger demand coupled with lower supply produces a positive increase in the value of homes," according to the DAAR report.

Homes valued at less than $500,000 saw the median price go up more than 2 percent in 2012. It's a sign the market's bottom-dwelling days are over, and sellers can come out of the basement.

Balance now exists in the tug and pull between buyers waiting for prices to get as low as they can and sellers waiting for prices to stop dropping and start rising. "That's one of the things I've seen," Miely said, "happy clients on both sides."

Buyers are coming from all different backgrounds. From locals and out-of-towners to retirees and investors, everyone is deciding to get back in the game. Rigby said buyers know the bottom is out and, this combined with low interest rates, have realized it's no longer their market.

"They're panicked they're going to miss out on the lowest prices," Miely said. "And, they're right."

For Storm, it's all about the interest rates because that's a buyer's purchasing power.

Ben Bernanke, chairman of the Federal Reserve, has been clear that the Fed wants to keep short-term interest rates low until the national unemployment rate drops below 6.5 percent.

But rates did experience a slight increase recently, and that affects a buyer's ability to borrow money. "That's going to be our biggest obstacle," Storm said.

All obstacles and market conjecture aside, area agents and brokers say it's an exciting time. No one is predicting a reversal of real estate fortune; they all see a healthy future for the market. Rigby, who's been selling real estate for 33 years, and Miely, a broker at Coldwell Banker since 2000, are busier than they have been in years.

Miely said when she sees a smile on the face of someone who just bought a home, it's all worth it. "It's one of my favorite things."