WhiteWave, green wash
by Ari LeVaux
WhiteWave, maker of Silk soymilk, is purchasing the nation's largest producer of organic produce, Earthbound Farm. Organic industry observers are wondering what the fallout of this consolidation, announced Dec. 9, will be. For WhiteWave CEO Gregg Engles, the road ahead is clear.
"With Horizon Organic and Earthbound Farm, WhiteWave will now provide the two most popular gateways for consumers to enter into the organic category – produce and dairy," he stated in a press release.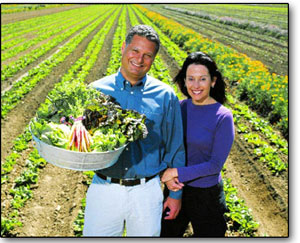 The purchase comes barely a year since the initial public offering of WhiteWave, after it was spun off from its parent company, Dean Foods. Perhaps "foster parent company" would be more accurate, as Dean Foods purchased WhiteWave 10 years earlier. Dean Foods then reorganized its holdings, transferring the feel-good products, like Silk and Horizon organic dairy, before spinning off WhiteWave.
Earthbound Farm, which started in 1984 with a rented raspberry patch and a farm stand, went on to transform the way America eats salad – today it controls 60 percent of the bagged organic salad market, which it helped pioneer. Along the way, Myra Goodman, who started the company with her husband, Drew, has used her stature to further the cause of clean, fresh food. The first recipe in her first cookbook is for raspberry corn muffins, wildly popular muffins she used to sell at the farm stand. The Goodmans' success, from such humble roots and with such good intentions, sounds like a foodie fairy tale.
But some are forecasting dark clouds over the WhiteWave buyout, as it invokes the specter of Dean Foods, the nation's largest dairy. Soon after purchasing WhiteWave in 2002, American organic soybean growers, who had been supplying Silk's primary raw material, were told they had to meet the price of Chinese organic soy, which was lower. Organic soy is labor-intensive, American farmers couldn't go that low, so Silk began sourcing from China. After the company amassed a commanding share of the organic soy milk market, before pulling a stealth bail on organic, Silk switched its supply again, back to the U.S., but to conventional soybeans. Silk products got a downgrade from certified organic to the meaningless designation "natural."
WhiteWave was, by this time, a division of Dean Foods, and another Dean Food holding, Horizon organic dairy, was transferred to WhiteWave. Horizon is the largest organic dairy in the nation, and the largest organic brand, period.
Dean Foods, and its executives, played key roles building Horizon and used principles and practices similar to those that made Dean Foods the nation's largest dairy: gobbling up smaller dairies. In the case of Horizon, many small organic dairies saw core principles get tossed.
Dean Foods eventually purchased Horizon from its partners, who used the money to found Aurora organic dairy, which ran up a list of complaints against its practices. In 2007 Aurora was found by USDA investigators to have willfully committed 14 distinct violations of federal organic standards, according to Cornucopia Institute, an organic watchdog group. Aurora faced 19 class action and consumer fraud lawsuits in federal court, before settling for 8 million, though Aurora admitted no wrongdoing.
Now WhiteWave has staked out on its own, taken Horizon with it, and added Earthbound Farm to the mix.
WhiteWave CEO Gregg Engles is former CEO of Dean Foods, and still sat on the board of Dean as of last May. "The spin-off will provide WhiteWave with greater flexibility to build its portfolio of great-tasting, nutritious and responsibly produced products," he said via press release.
Cornucopia Codirector Mark Kastel fears that with the purchase of Earthbound Farm, WhiteWave is gaining undue influence in the industry. "This new acquisition even gives corporate lobbyists at the former Dean Foods/WhiteWave a direct conduit to the important National Organic Standards Board via John Foster, an employee of Earthbound and an NOSB member," he wrote in a press release.
Samantha Cabaluna, Vice President of Communication with Earthbound Farm, dismissed the notion that WhiteWave would somehow control John Foster as "speculative."
Cornucopia raises interesting concerns about the new WhiteWave, but got it backwards in claiming that, "After [Dean Foods] was done pillaging they then jettisoned the WhiteWave division earlier this year."
If anyone was jetissoned it was Dean Foods, which was left with its conventional dairy business, while WhiteWave got the hottest, most profitable brands, including Horizon, the biggest organic brand of any kind. Silk, love or hate the politics, is a damn good-tasting soy milk. One seemingly incongruous addition to the WhiteWave family of brands is International Delight non-dairy creamer, which contains sodium caseinate, a milk derivative. Now, with the addition of America's largest organic producer, WhiteWave has a lock on some of the most profitable, and growing, industries, including the largest dairy and vegetable producers in the fast-growing organic segment. Wall Street approved the merger, as the stock price soared 9 percent in the two days following the announcement.
WhiteWave says it plans to run Earthbound as a separate business unit, with no significant operational changes planned, and has expressed interest in keeping Myra and Drew Goodman on board as advisors and brand ambassadors. Similar promises were made to WhiteWave/Silk founder Steve Demos. He told Bullfrog Films, "Dean Foods said 'We agree you have a culture, and we agree with the principles.' That's how I agreed to stay with Dean Foods and run Silk after its acquisition. I was told one week that I was doing a brilliant job and everything was working great, and the next week it was 'you're not the right person for this job.'"
I asked Cabaluna, with Earthbound Farm, if the company's sale will mean big changes. "Absolutely not," she told me by phone. "WhiteWave was interested in the purchase because they like what we do and want to expand on that."