Sonic pangea, winter solstice and liquid comfort
by Chris Aaland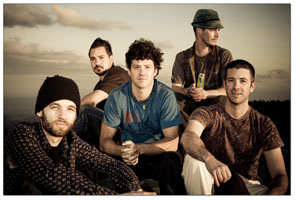 Toubab Krewe play the Animas City Theatre on Sat., Dec. 28, at 10 p.m.
2013 was the year that almost never happened. On Dec. 17, 2012, Dr. Carl Lagerstrom, one of the Southwest's best heart surgeons, cut a 12-inch incision down my rib cage, opened me up and pulled out my heart for repairs. I was filleted like so many spring crappies. Two hours later, I was stapled shut, and my heart had a new, artificial aortic valve. It was a procedure similar to the one that Denver Broncos head coach John Fox had in November. Six days later, I was released from Presbyterian Hospital in Albuquerque, and Shelly drove me home in time for Christmas … albeit one that was pretty drugged up (thank you, Oxycondin!)
The New Year presented me with more ups and downs than I could expect. My wife and I were fired on the same day in April – a cruel blow that no cardiologist would recommend during recovery. But we rebounded, as strong families do. By early summer, Shelly was at Mercury. Two months later, I landed at KSUT. Throughout the medical and employment emergencies, family, friends and strangers throughout the community offered financial and emotional support. No matter how bad fate treated us – and trust me, some wounds won't heal – we endured. Durango made that possible for us, yet again.
Go and enjoy the holidays. We certainly will.
The Asheville, N.C.-based instrumental group Toubab Krewe drops into the Animas City Theatre at 10 p.m. Sat., Dec. 28. This powerhouse claims to create "a sonic Pangaea that lustily swirls together rock, African traditions, jam sensibilities, international folk strains and more." Hype like that in a band's press packet certainly gets your attention. Known more for its burgeoning bluegrass scene, one listen proves that Asheville is not just a one-trick pony. This will be a funky, rocking jam.
Durango's much-beloved cowboy crooners come off the Bar D and return to the Community Concert Hall for their traditional Cowboy Christmas at 7 p.m. tonight (Thurs., Dec. 19). As of Tuesday morning, just 27 tickets remained, so this one will surely sell out. Founded by Cy Scarborough in 1969, the Bar D Wranglers blend Western music, cowboy poetry and humor.
The Fort Knox Five ring in the New Year at the Animas City Theatre. The D.C.-based hip-hop favorites bring a four-turntable DJ set this time around featuring Jon H. and Steve Raskin. DJ Soul Atomic and Juicy Money are also on the bill. Pay an extra $10 and get balcony access, a private bar with discounted drinks, midnight champagne toast and free schwag.
"Find Your Way Back" to Telluride's Sheridan Opera House for New Year's Eve, as Jefferson Starship lands at 10:30 p.m. While lead guitarist Paul Kantner and singer/bassist David Freiberg are all that remain from the original 1970 lineup, expect to hear a slew of hits from the '70s and '80s. Maybe they'll even serenade you with "We Built This City." Hopefully Santa stuffed your wallet with plenty of green; tickets range from $100-250. Two days earlier, the Delta Saints bring bourbon-fueled Bayou rock to the Opera House on Sunday, Dec. 29.
Two of my favorite local bands rock the ninth annual season kickoff party at the Grand Imperial Hotel in Silverton at 8 p.m. Saturday, Dec. 21 — Farmington Hill and The Crags. As always, Venture Snowboards and Ska Brewing host the event and have once again teamed to produce a small run of custom graphics boards and a special winter brew, both of which will be unveiled at the bash.
Carute Roma welcomes the Winter Solstice on Sat., Dec. 21 on 2nd Ave. between College Dr. and 8th St. The gypsy band will do three 45-minute sets: 4:15 p.m. at the Cyprus Café, 5:15 at Artesanos and 6:15 at the Rochester Hotel. The bash also features bonfires, fire dancers, Father Christmas, giant puppets, tarot readers, belly dancers, plenty of dance space and libations.
Winter officially arrives at 10:11 a.m. on Sat., Dec. 21. Locally, the date is significant because Ska Brewing releases Hibernal Vinifera Stout, an oak-aged foreign stout brewed with Malbec grapes. This is the second year for both Vinifera and the seasonal stout series, which features a different canned stout for each of the four seasons. "Grapes create interesting, complex flavors," said Ska's brewing operations czar Bill Graham. "We felt like the Malbec grapes would be a good match with the dark roast flavors and dry character of foreign stout. And it has a pretty good dose of alcohol in it, which is nice on a cold winter night." Expect to see six-packs on the shelves of your favorite liquor store.
Moe's slate these next two weeks includes such regular occurrences as Funked Up Fridays (6-9 p.m.), Salsa Night with DJ Z Ride (Saturdays, 8 'til close) and Music of Mexico (Sundays, 9-11 p.m.). Juicy Money will also spin tunes from 8 'til close on Fri., Dec. 20.
Mudslides be damned, Mountain Madness celebrates its second anniversary at 5:30 p.m. tonight (Thurs., Dec. 19) with the solo acoustic tunes of Pete Giuliani.
Of note: Jack Ellis is back at the Diamond Belle Saloon at 5:30 p.m. on Fri., Dec. 20; the Black Velvet duo plays 6512 Restaurant & Lounge at 7 p.m. Sat., Dec. 21 and the trio does the Derailed Pour House at 8:30 p.m. on Fri., Dec. 27; and the Miserabillies bring country music to the Belle at 5:30 p.m. Sat., Dec. 21 and again Thurs., Dec. 26.
My bionic valve allowed me to see more live music in 2013 than most years. Here are a dozen highlights:
1. Whitey Morgan & the 78's, Outlaw Snowdown, Pagosa Springs, Feb. 8.
2. Steep Canyon Rangers, Community Concert Hall, March 7
3. Bluegrass 101, Durango Bluegrass Meltdown, Durango Arts Center, April 19-20
4. The Defibulators, Pagosa Folk'n Bluegrass Festival, June 7
5. Masters of Bluegrass, Telluride Bluegrass Festival, June 21
6. Steve Earle & the Dukes (& Duchesses), The Ride Festival, July 13
7. Drive-By Truckers, The Ride Festival, July 14
8. Stooges Brass Band, Telluride Jazz Festival, Aug. 4
9. Farmington Hill & the Beautiful Loser Society, Dolores River Brewery, Aug. 17
10. John Hiatt, Four Corners Folk Festival, Aug. 31
11. Town Mountain, Henry Strater Theatre, Sept. 27
12. The Sadies, Animas City Theatre, Nov. 5.
And they shouted out with glee? Email me at chrisa@gobrainstorm.net.