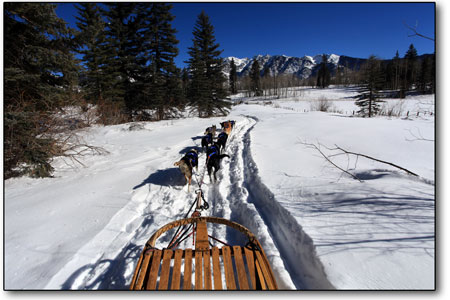 On the old Flume Trail with Durango Dog Ranch. New this year, in addition to offering regular half-day and full-day trips, Durango Dog Ranch will be offering 1-hour jaunts from Purgatory./ Photo by Steve Eginoire
Going to the dogs
Durango Dog Ranch hits the trail for its 18th season
by Page Buono
Twelve wooden doghouses litter the snow-scape. Outside each is an iron post, approximately 5 feet tall, and attached to each by a 4 foot chain is a dog — an excited, howling, work-ready sled dog.
They're waiting, impatiently at best, to be taken out on the next trip; barking, yipping and whining the canine version of "Pick me! Pick me!"
"A working dog is a happy dog," said Sarah Bangert, a five-year employee of Durango Dog Ranch.
Initially the anxious yelping might imply suffering, but the only thing these sled dogs are suffering from is anticipation.
"If you want to punish a sled dog, leave it behind," said Gregg Dubit, owner of the Durango Dog Ranch, tucked at the mouth of La Plata Canyon.
Gregg and his wife, Gretchen, have been in the dog sled business for 18 years, but this is the first year they will offer daily trips from Durango Mountain Resort. Under a special use permit from DMR, the trips will follow a route just north of the resort on what is known as Hoody's run, historically the Old Flume trail. Aside from breathtaking views, the trail follows history as it winds on top of the 100-year-old pipe that pumps water from Cascade Creek down to Electra lake.
And while the scenery is great, for Gregg, dog sledding is really all about the dogs.
"The dogs – each of their unique personalities, working with the them year round – that's my favorite part of the job," he said. "When I go away, I miss them."
He describes them as experts of body language and, lovingly, as "second-grade super athletes."
As someone who has been working with sled dogs for more than 20 years, he knows the ins and outs pretty well.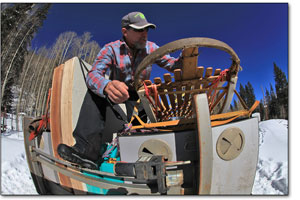 Gregg Dubit unhitches his handmade dogsled from the trailer./ Photo by Steve Eginoire
For starters, dog sleds are different from a horse drawn sleigh, and the ride isn't a "sit and sip hot cocoa" kind of experience. Signing up for a dog sled ride is signing up to participate and learn, at least to some extent. While there's certainly the option of simply holding on, a passive passenger is missing out.
The sleds themselves are small, although considered large by mushing standards. For the sake of dogs and sleigh, each rig carries a maximum of 400 pounds. Made of beautiful curved, polished wood, they have a simple and natural elegance. The Dubits occasionally buy sleds, but make the majority by hand.
Upon arrival at the Durango Dog Ranch hub at DMR, guests and dogs are introduced, allowing the dogs to sniff out what Gregg refers to as "dog-smart" sense. While the Dubits' dogs are a friendly bunch, he asks guests to follow their cues, and if a dog looks uncomfortable or aggressive, to leave it be.
Guests are then asked to sign a waiver – the staff jokes that they sign all possessions over to them in the event something happens – and are tempted with a mug and hot cocoa, available after the ride.
"You have to earn it," Gregg teases.
Gregg then walks guests through the process, inviting them to join in harnessing the dogs and rigging the sled. Then, there's the safety talk. For passengers, of which there's usually only one inside the sled, the rule is pretty much to hold on. "We tell people the three rules of driving are: 1) hold on tight; 2) don't let go; and 3) hold on tight," he said.
The dogs are hitched to the sled, howling all the while. Eight dogs carry this sled, though it can vary depending on conditions. As soon as the brake is pulled, the dogs are off, and the howling ceases. Working dogs are also quiet dogs.
The passenger and driver in the back of the sleigh are in a constant dance of weighting, braking and maneuvering, but really, the dogs are driving. Gregg controls with simple commands; "gee" means right, "haw" left and "ho" stop. Whistles and words of support are used as well, but this isn't the whipping, mushing and screaming often shown in the movies.
Gregg says there are many mushing myths. The most prevalent is that the dogs are forced to work, or that the transport of the dogs in small cages is 4 inhumane. Gregg said the cages are small for safety, ensuring that in an accident the dogs aren't flung.
"All dogs need is food, water and love," Gregg said, pausing. "And exercise. Definitely exercise."
Throughout the ride, Gregg, who has qualified for the Iditarod multiple times but passed on the opportunity because of the financial reasons, has a load of information and experience to offer. And he enjoys sharing. Born in Washington, D.C., his interest in sledding didn't come until later in life, the seed planted by Jack London books and his favorite, Never Cry Wolf by Farley Mowat.
An avid skier, Gregg originally got into the sport because of a desire to get deeper into the backcountry. He leashed up his canine companion at the time and found that dog power definitely offered benefits. Wanting to bring Gretchen along, they adopted another dog from the Humane Society.
One dog each eventually turned into two, and the couple and their four pups participated in their first dog sled race 22 years ago in Pagosa Springs. They borrowed a sled from a friend and took off with their team of four, faring well in the race.
The Dubits began growing their team from there, breeding some of their dogs, and continuing to seek out pups from the pound. The majority of their dogs are mixes of Alaskan malamute or Siberian husky, dotted with rescues from the Humane Society. Trixie, for example, is a German short-haired pointer.
Gregg's relationship with each dog is unique, and as he describes it, self-defined by the dogs themselves. Take for example, Diesel, a tall and slender horse of a dog with powerful haunches. He's Gregg's shadow; "right-hand man" of sorts. His demeanor garners him a position sleeping inside the family home.
The other dogs' personalities define their role on the sled team. The lead dogs need to be intelligent and without an ego. They're typically the dogs with their ears back, listening.
The other dogs are there for power. Not to say they aren't equally cared for, but their mission and desire is to run, and they do. Gregg said his dogs average 2,000 miles per year.
The Dubits currently have 25 dogs at their home, a ranch of nearly 28 acres in La Plata Canyon, half of the 44 strong pack they at one point boasted. They have a kennel license form the state of Colorado to support 90 dogs.
The dogs subsist, or perhaps more appropriately dine, on a meal of 5 to 10 pounds of meat per day, supplemented with dry kibble. Gregg estimates he spends approximately $10,000 each year on dog food alone. That doesn't include other costs, like liability insurance or paying the three full-time and five part-time seasonal guides.
Most guides come to Gregg with a background in dog care, having worked in kennels or as groomers. They also come with a willingness to work and learn, and Gregg trains those who are a good fit to be guides.
"The people are a really fun part of it," Gregg said. "Over the 18 years of doing it, we've had a lot of really great people work with us."
The Dubits do not breed their dogs for sale, and currently their entire pack is spayed and neutered. Gregg said he often receives calls from people who have wolves or huskies and want to breed with his dogs, but he doesn't support breeding, especially by those who aren't professional. Breeding takes a lot of time, knowledge and understanding of how to identify desirable traits in a dog, and few people possess the skills necessary.
"There are so many good dogs at the pound who need love and a home," Gregg said, adding that many breeders are just adding "poor stock to a market with a surplus."
When the Dubits' dogs reach retirement, they are either taken inside and cared for by the family or relocated to loving homes.
Gretchen said Durango Dog Ranch already has 45 reservations booked between now and New Years, not including walk-ups at DMR.
Durango Dog Ranch offers three different trips: the 1-hour, family friendly ride, "Mush on the brain" on the Old Flume Trail at DMR; a half-day trip in the San Juan Mountains; and the full-day "Mush Madness." To book a trip, log onto www.durangodogranch.com.
There is currently no content available.