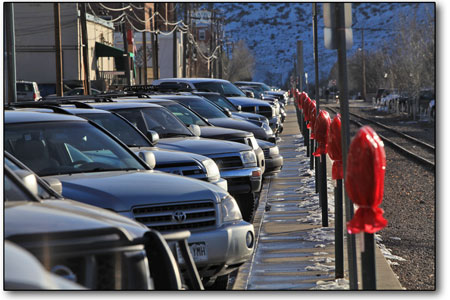 New parking meter prices are on the docket for January with the cost of a spot on Main Avenue going up to $1 per hour, 40 cents more than it cost in 2013./Photo by Steve Eginoire
Same time next year
Local utility rates rise for second year in a row
by Tracy Chamberlin
Rack 'em up
Sewer rates (in-town)
2012 = $31.28 per year
2013 = $47 per year
2014 = $65.72 per year
Water rates
2014 = $13.08 per 2,000 gallons used by a residential home in Durango, and $2.23 per 1,000 over that (up to 10,000 gallons). If the average water bill is $40, it would go up to $42.
Electricity rates (average, per month)
2012 = $88.40
2013 = $99.60
2014 = $103.80, or an extra $50.40 per year
Parking rates
2013 = 60 cents per hour
2014 = $1 per hour for parking on Main Avenue
Transit rates­­­­
2013 = $20 for a monthly pass
2014 = $30 for a monthly pass
It happened again. Like the end of 2012, Durangoans are going to spend the New Year looking over the family budget in search of an extra $100 to $150.
It's not the more than $250 residents were eyeing at this time last year, but annual increases can add up like nickels and dimes.
In 2012, it was electric, sewer, trash and phone bills that went up. This year, the utilities got hit again with water, sewer and electric rates rising, along with parking and transit costs.
Residential sewer rates were expected to rise as part of a two-tiered rate hike approved in 2012. But city officials had to increase that amount by an additional 5 percent. The expected jump was from $7.82 in 2012 to $11.75 in 2013, and $15.64 in 2014. But with the additional cost, it will go to $16.43 next year.
Water rates are also scheduled for a five percent increase; although, those rates did not go up in 2013. Electricity, though, went up a whopping 11 percent in 2012; this year it's just 4.5 percent.
And then there's parking and transit. The new parking meter increases were expected, with the cost of a spot on Main Avenue putting residents back $1 per hour, 40 cents more than it cost in 2013.
The transit rides, however, were not on the docket a year ago. The approved budget for 2014 ups the cost of monthly parking and transit passes from $20 to $30 per month and parking tickets from $9 to $12, among other upticks. A couple items that were threatened during budget negotiations but saved in the final hours were the Buzz Bus and free Trolley, both of which will remain on the transit schedule for 2014.
Members of the public were given a chance to comment on the new rates at various times throughout the fall, whether through La Plata Electric Association for electricity rates or water and sewer rates at City Council meetings. During a November council meeting concerning the water and sewer rates, council members and city officials took the opportunity to discuss the reasons behind the increases.
At the start of those talks, Councilor Christina Rinderle posed a question on behalf of Durangoans, asking Utilities Director Stephen Salka, "Why are we seeing another rate increase?"
The answer: it turns out when the increase was considered last year, Salka had been on the job less than a year. "I didn't have a grasp of everything that had to be repaired," he explained. Most of the city's infrastructure has a shelf-life of 50 years, he said, and it's been about 60 years since it's been updated.
At this point most of the work the Utilities Department performs is what he calls "reactionary maintenance," fixing problems as they occur rather than preventing them.
City Manager Ron LeBlanc explained it another way. "I don't know if any of you have a car that was built in 1980," he told councilors, "but I suspect it wouldn't perform as well as a car that you buy this year."
With so much on the to-do list, sewer rate increases were approved by council members for a second year in row. But, it's not just the sewer infrastructure that's getting older.
Water rates have remained stagnant since 2007, and like the sewer infrastructure, the water infrastructure is also aging.
Salka talked about the 122 water valves that need to be replaced. And the back-up generators needed at key locations to avoid costly damage if the power fails.
"We have to take care of what we own before it gets catastrophic," he explained.
What's not aging are the treatment requirements and regulations. Those are changing. And in order to keep up, city officials said the system needs to be updated.
Durango does have plans, something LeBlanc said residents can find reassuring. A new water treatment facility is on the agenda, but much of the needed upgrades will have to come from the water fund, which is the department's only source of funding.
Mayor Dick White explained at the meeting that the water and sewer monies are enterprise funds and operate like businesses. They are not subsidized by the city's general fund. He called them self supported.
So, the upgrades need to be supported by increased rates. "As the city manager would tell me, I'm not a cheap date," Salka explained. "Everything I?have to touch or fix is very expensive."
Salka said what he doesn't want to do is have a giant increase all at once, mentioning how last year the rate practically doubled. He said he would prefer to implement the increase a little bit at a time.
In order to accomplish that goal, money is being set aside for a rate study in 2014. The plan is for Salka to hire an engineering firm, likely costing about $20,000 to $30,000, to evaluate the water and sewer budgets, including operations, personnel, improvements, projects and maintenance.
The firm can assist the city in developing a rate structure that would finance needed improvements and mature into a maintenance schedule that will keep the system going for the next several decades.
"We're trying to be wise stewards of our citizen's money," Salka said.
Durango residents recently voted to invest in something else – the city's 4 future water supply – by approving the Animas-La Plata project. According to LeBlanc, the addition of Lake Nighthorse is like having money in the bank. "That gives us the resources, now we need to take care of the system," he added.
Residents aren't the only ones who will be feeling the crunch from the new water and sewer rates. So will local businesses.
LPEA CEO Greg Munro said the electric cooperative will likely see a 30 percent increase in its own water and sewer bills in 2014. Those increases in operating costs make up one of three reasons the coop will have to raise their rates in the coming year.
According to Munro, the higher rates are a result of an increase in what the coop pays its supplier, its need for new hires in the coming year and general inflation.
First, LPEA's wholesale power supplier, Tri-State Generation, raised the price of power about 1.6 percent.
Second, the coop expects to do some additional hiring in 2014. They anticipate various retirements, about 30 over the next five years, as well as a need for additional employees to help handle the growing number of renewable energy and energy efficiency programs, like the new Community Solar Gardens.
Munro said in a statement that the coop is "about as lean as we can get without impacting quality."
He said the coop hasn't received any written comments on the 2014 rate increase. As a matter of fact, some businesses have called to say they thought this year's increase was going to be higher.
Earlier in the year, following some financial reports, it seemed as though a 5 to 6 percent increase might be necessary. So, 4.5 percent was a relief. And, that rate increase applies only to the usage charge. The base charge will remain the same.
Last year, the rate increase at the electric coop was 11 percent. Munro said it was mainly due to the rate increase from Tri-State. LPEA is currently embroiled in a law suit with Tri-State over that rate increase.
The area's energy use and demand is changing, according to Munro. He said there was a day when the coop actually had rate decreases, but with decreasing energy demand due to a changing natural gas market and a decline in growth, it's likely Southwest Colorado will continue to see rate increases over the next five to six years. Although they won't be the 11 percent experienced last year and more in the 2- to 3-percent range.
But, like the sewer and water rates, rising costs are something residents are probably going to continue to see in the family budget for years to come.