Diver: "The Wheels" Post, retail monkey at Backcountry Experience
Interesting facts: Sit skiing is harder then it looks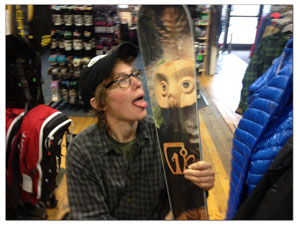 Rosa, from Backcountry, makes sure your skis can take their licks.
Dear Diver,
My husband insists on keeping his stinky hockey and ski gear in the family truckster. Every time we get in, the smell is unbearable. He claims he can't smell anything and it's better than keeping it in the house. While this is true, it could lead to a long –and potentially "cold," if you catch my drift – winter. What can I do short of riding with my head out the window?
– Nose Plugged
Plugged,
I believe that your husband's opinion on his equipment is not due to an olfactory deficiency, but a lack of practice in the fine art of basic human decency. Have you spoken to your in laws about this? I'm surprised that further examples of his depravity have not shined through before, mainly in the form of your house or children's upkeep. Have you gone to grab the holiday lighting and realized that your husband's still on the couch from when you asked him to take them down the previous year? Have you received any calls from school regarding your children's likeness to the Boxcar Children? If your husband hasn't learned the lesson of cleanliness yet, especially with carnal motivations, I would suggest not only putting the gear outside, but potentially your betrothed as well.
– Diver
Dear Diver,
Please help my family settle the age-old Christmas tree dilemma: fake, farmed or fresh harvested.
– Decking the Halls
Decked,
Interestingly enough, the second the last of the turkey remnants were demolished in my household, the same debate commenced among my roommates and I. Unfortunately for us, the presences of two male dogs in the home makes our decision a more complicated one. Last year, the elder of the two beasts, Arlo, seeing a fresh Douglas fir in a friend's house, decided to take it upon himself to mark the tree as his own. Our fear is not of what type of tree, but if we can potty train our dogs in time for the holiday season. I do agree, nothing paints a more festive picture than a family trudging through the snowy woods in search of the perfect shrubbery for the hearth. Unfortunately if you live in a house hold with any animal or dare I say, children, I would be cautious in bringing such a structurally alien and ambiguous object into the house. Maybe a wreath might be your best bet.
– Diver
Dear Diver,
I am trying to do the right thing and "buy local" instead of online this holiday season, but the problem is, I suffer from extreme anxiety and agoraphobia (fear of large crowds) making trips to the store unbearable. I tend to break out in a cold sweat and start hyper ventilating when people invade my personal space, and then the holiday muzak just pushes me over the edge. What tips does the diver have for surviving the holiday shopping crush?
– Home Body
Bodacious Homey,
Let me preface my advice to you with a personal anecdote. Since becoming wheelchair bound, my fear of crowds has escalated. When I travel through bars at first glance people wonder why there is a 4-foot-tall boy migrating toward the pool table. My faceless voice echoes through the tall racks of Backcountry Experience to which my customers jump in fear. These moments are not only frustrating but horribly embarrassing. Thankfully in my life there are duties that must be fulfilled that warrant a large dose of bravery and fearlessness. Going to a Beyoncé concert is one of them. I shiver at the idea of navigating the harsh terrain of glittered, drunken superfans but the call to worship in the house of Bey is one that cannot be ignored. I will suffer through the public restrooms, loud noises and endless flights of stairs because it is my greatest life path to witness the pants-less divinity of one of destiny's children.
Opportunities to be selfless in the face of a higher calling only come every so often in life. I challenge you to embrace your inner warrior in pursuit of material affection for your family. Fortunately, the largest retailers in town where the fearful crowds will be are all chain box stores, so no need to let the consumer guilt trip of where the majority of your money goes overtake you.
– Diver
---
In a sticky situation?
Seek help from the master of the In-Sinkerator. The diver has the solutions to life's little messes. Send your problems to, "Ask the Diver:"
- 1309 E. Third Ave., Room 3 Durango, CO, 81301
- fax (970) 259-0488
-
telegraph@durangotelegraph.com