Noel Night, earlybird folkers and best of 2013
by Chris Aaland
Even though I'm the size of an NFL lineman, I don't consider myself a big Christmas shopper. Most of my holiday purchases happen at the local record store, fly-fishing shop or hardware outlet. It usually takes me more time to drive to these establishments than it does to actually make the transactions.
But 'tis the season. I'll share some local holiday shopping tips and my Top 10 albums list (which is actually an even dozen, but who's counting?)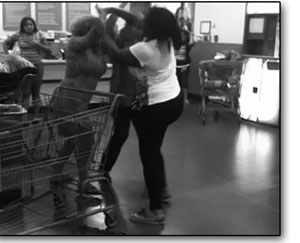 If you didn't forgo quality tryptophan time with family and friends by rushing out from Thanksgiving dinner to line up at Walmart at 6 p.m. last Thursday for the opening of Black Friday festivities (only 15 people injured and one dead nationwide, according to Time magazine!), you'll get another shot … albeit a calm, dignified and productive Local First version. Noel Night takes place from 9 a.m. 'til 9 p.m. Friday, affording downtown businesses the opportunity to showcase their wares. Support our unique Mom & Pop culture before heading out to the big box to buy plastic junk.
Toward the end of Noel Night, Papa Otis' Garage hosts a hillbilly rock party at El Rancho from 8-11 p.m. Special musical guests include Evan Coombs, Mike Kunz and Willie Jack.
Moe's slate this week includes Funked Up Friday, with a freeform funk jam from 6-9 p.m. and DJ Niko from 9 'til close; Salsa Night from 7 'til close Saturday; and Music of Mexico on Sunday night.
Holiday pricing for tickets to the 2014 Pagosa Folk'n Bluegrass (June 6-8) and Four Corners Folk (Aug. 29-31) festivals runs through Jan. 2 or while supplies last at folkwest.com. The savings are significant: $30 on multi-day passes and $15 off single-day tickets. Partial lineups for the two festivals include Claire Lynch, John Jorgenson, Tony Furtado and MilkDrive for the early fester and Baskery, Caravan of Thieves and Marley's Ghost for the latter.
Elsewhere: Carute Roma takes the stage of Brew Pub & Kitchen at 7 p.m. tonight (Thurs., Dec. 5); Pete Giuliani plays solo and acoustic at Four Leaves Winery from 6-9 p.m. Friday; Jack Ellis brings acoustic blues and more to The Office Spiritorium from 7-11 p.m. Friday; and the Miserabillies rock some old-time country at 5:30 p.m. Saturday at the Diamond Belle Saloon.
Just in time for your holiday shopping! This week's Top Shelf list recounts my top 10 albums of 2013, plus two local gems as honorable mention:
1. Pokey LaFarge – self-titled. He's not the most handsome fellow (he looks a bit like Peyton Manning mesmerized by YouPorn videos on the album cover), but few albums resonate like his self-titled effort. It's a gorgeous collection of country blues, western swing and string ragtime. The spirit of Django Reinhardt lives on!
2. The Sadies – "Internal Sounds." If you missed their show at the Animas City Theatre last month, then you suck. Their ninth studio album culls all of their influences: country, folk, surf, garage, rockabilly, psychedelia and punk. Hard to believe it's been three years since their last album, "Darker Circles," one of the finest pieces of wax ever recorded. This one's close, though.
3. Steve Earle & the Dukes (& Duchesses) – "The Low Highway." No doubt Earle's best work since the potent and politically charged "The Revolution Starts Now," which came out nine years ago during the height of the Iraq War. "Calico County" and "Burnin' It Down" return Earle to his rockin' hillbilly roots.
4. Del McCoury Band – "The Streets of Baltimore." Back in the '90s and early 2000s, Del & the boys were the hottest thing in bluegrass. But age caught up with Del and recent efforts have been either tributes (2012's Bill Monroe covers album) or collaborations (2011's "American Legacies" with the Preservation Hall Jazz Band). This one returns the one-time bluegrass boy to triumphant form.
5. Guy Clark – "My Favorite Picture of You." After Townes Van Zandt died in 1997, Guy became country music's poet laureate. His latest features a moving title-track tribute to his late wife of 40 years, Susanna, who died of cancer a year ago, plus a cut about a bluegrass groupie who gets jilted by a banjo man in Telluride and hitchhikes out of Durango. I wonder if we know her?
6. Son Volt – "Honky Tonk." Finally, the return of a twangy Jay Farrar. After a brief hiatus, a new Son Volt emerged in 2005. "Okemah and the Melody of Riot" had its moments, for certain, but ensuing releases saw Farrar seemingly trying to become his old Uncle Tupelo bandmate, Jeff Tweedy of Wilco. "Honky Tonk" takes listeners to classic Bakersfield, songs filled with fiddle and steel guitar with a spirited frontman.
7. Billie Joe + Norah, "Foreverly." Hard to believe that Ravi Shankar's daughter and a punk rock sellout could craft such genius, but that's exactly what they do. On "Forever," the dynamic duo blend voices like Don & Phil Everly and cover Americana standards from the past 60 years.
8. Tim O'Brien & Darrell Scott – "Memories and Moments." Why did it take 13 years for these multi-instrumentalists to record their second album together? Perhaps it was other projects: Scott hooked up with Robert Plant's Band of Joy, while O'Brien toured with Mark Knopfler and his live band. Aside from joining each other at festivals or touring with Steve Earle's Bluegrass Dukes, you hardly saw or heard them together. Hopefully "Memories and Moments" isn't fleeting.
9. Halden Wofford & the Hi*Beams – "Rocky Mountain Honky Tonk." Quite simply the best band in Colorado. The title track is a shout-out to Colorado microbreweries. My only complaint? Aside from Dolores River Brewery, the Western Slope gets shut out.
10. Dale Watson & his Lonestars – "El Rancho Azul." The last true honky-tonker cites drinking in nearly half of the song titles and chases them down with country weepers and plenty of Texas irony.
Local honorable mention goes to Farmington Hill, "Bridge to Nowhere" and the Lawn Chair Kings, "Zombies Wake!" Bubba, Katie, Erik, Kelly and Mike released the best local album in years with their debut – although Nordstrom, Leek and company may have already equaled it with "Zombies." "Bridge" kicks off with "10 Miles," a song that clanged and twanged between my ears all summer long. And now the Kings' "Getting' Pretty Good (At Feelin' Pretty Bad Over You)" may supplant it. Long live local rock!
Ten gallons of gas and a bottle of propane? Email me at chrisa@gobrainstorm.net.