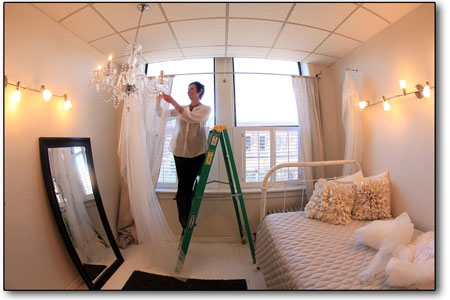 Photographer McCarson Jones hangs some drapes in her Main Avenue photo studio. Jones, known for weddings and portraiture work, recently made the foray into womens intimate photography. A collection of these works, called "Underpinnings," work will be on display at Sorrel Sky Gallery starting Friday./Photo by Steve Eginoire
A new body of work
McCarson Jones unveils latest undertaking at Sorrel Sky
by Stew Mosberg
Just the facts
What: "Underpinnings" an exhibition of intimate portraiture by McCarson Jones
Where: Sorrel Sky Gallery, 828 Main Ave.
When: Opening reception, Fri., Dec. 6, 5 p.m.
Known as a wedding, food and portrait photographer, McCarson Jones has added a new series called "Underpinnings" to her portfolio of talents. Describing the newer work, Jones's admits, "I must confess that while I enjoy all the aspects of my photography business, it is the fine art of the human body that amazes me; each person so incredibly different and unique. Not one person looks like another when they are without clothes."
Jones began shooting Underpinning sessions for her wedding clients and discovered that many of the women thrilled about their big day wanted to honor themselves with an intimate portrait and to create a very special first anniversary gift for their husbands. The concept took off from there and was first exposed in a Sorrel Sky Galley show titled "Riding Side Saddle," last year.
Jones recalled that gallery owner Shanan Campbell-Wells saw some of that work at a private showing and wanted to have an exhibition of it at her gallery. The ultimate presentation was a great success, and the two found a shared a philosophy on beauty, adventure and "Pushing the edge a little."
When word spread about her intimate portraiture, the photographer decided to remodel her Durango studio into a boudoir-like setting. "It is," the confessed Francophile says, "lovely and comfortable, and very French!" Describing the all-white interior, Jones wistfully concedes, "My studio is an extension of 4 myself. It's a romantic place for women to feel even more beautiful, sensual and classy. There are sweet little French touches everywhere and on any given day, I am mentally transported to another place."
Underpinnings will include more than 30 images, all of which incorporate a high-gloss, hand-applied special glaze and consist of photos taken in Paris, New York, Hawaii, Nevada, New Mexico, Colorado, Bermuda and Mexico. The glazing of the finished product is Jones' way of creating art that is different from typically framed, matte finish prints.
When photographing her clients, whether men or women, Jones' admits that the subjects experience many levels of emotion, fear, personal judgment, excitement, sensuality and sexuality. Her studio's intimate environment allows the photographer and client to play with curves and light, adornments and spontaneity. Jones is quick to acknowledge that she lovingly photographs all women, no matter their age, size, race or weight. From her experience and perspective, every one comes with her very own unique beauty. Jones' job is simply to guide them during the session to bring out what they love about themselves, or as she acknowledges, "to allow them to fall in love with their bodies all over again; to see their own naked form not as something to be suppressed, but instead, to be embraced."
Once a client books a session, there is a preliminary consultation wherein Jones explains the process and gets to know the subject and what they are looking for and how comfortable they might be as the center of attention. The actual photographic process is two hours in duration and the client receives five images of their choice. Any additional images can be purchased "a la carte."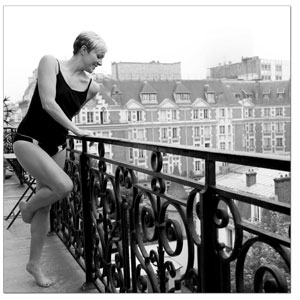 A woman looks out over the terrace of a penthouse on Paris' Rue du Montparnasse. Some of Jones' Paris shots as well as ones of local women will be included in her upcoming show at Sorrel Sky Gallery./Photo by McCarson Jones
One client, who asked not to be identified, was willing to share her personal experience and the reason she took the leap of faith. "I wanted to do something for me," she confessed, "so I scheduled a session with Carson. I'm sure I'm not alone in falling into the girly-ness (sic) of the day, but this is not normal behavior for me. In my 50s, this is my first ever day of just being a girl; hair, nails, champagne, awakening. I admit I was nervous. I finally turned myself over to Carson and let her drive. I changed my outfits and my outlook. I felt sexy and alive, and grateful to be a woman."
Explaining her affinity for Paris and why she has been going there each fall for the past several years, Jones declares she truly enjoys the culture and the graciousness of Parisians. "At each and every turn," she exhorts, "there is something to marvel at, fall in love with and respect." On a previous visit she promised herself that she would work there on her next trip. This past April, Jones happened to meet the female CEO of a verbosely named company, French Kiss Life World Society, and says the two women felt an immediate bond in their passion for the lifestyle of French women. After swapping personal stories and discovering many similarities, Jones agreed to join their Society in Paris and began to photograph lifestyle, food and art as well as intimate portraits of the women in attendance.
The imagery on view at Sorrel Sky will vary in size from a diminutive 5-inch-by-5-inch to 20-inch-by-20-inch and run the gamut from sexy to demure, sweet to tender, with the majority of photographs being local women. "If you see friends or a family member on these walls during this show, congratulate them, hug them and remind them of the joy they bring to you and what radiance they bring to this world," Jones suggests.
For more information on McCarson Jones, go to her website at www.redscarfshots.com.