Steve Sabol, Waiting on Trial and Hooker Jr.

by Chris Aaland

Anyone who ever watched a football game mourns the Sept. 18 passing of NFL Films president and co-founder Steve Sabol, who lost his battle with brain cancer just two weeks shy of his 70th birthday. Since its humble beginnings in 1962, NFL Films has documented moments both great and human of the world's biggest athletic league. And it all started on a whim of Steve's father, Ed Sabol, who purchased a movie camera to record Steve's high school and college football games (Steve starred as an All-Rocky Mountain Athletic Conference running back at Colorado College in the early 1960s).
For decades, NFL Films has produced each team's end-of-year highlight film, making even the most woeful team look like champions. "An outfit that could make even a tedious stalemate seem as momentous as the battle for the Alamo," wrote one critic.
If you've ever watched the NFL Game of the Week, the NFL Network, NFL Total Access or Hard Knocks, you're a fan. I met Steve once, in 1996 when the Philadelphia Phillies visited Coors Field to play the Rockies. He seemed like a genuinely nice guy. He will be missed.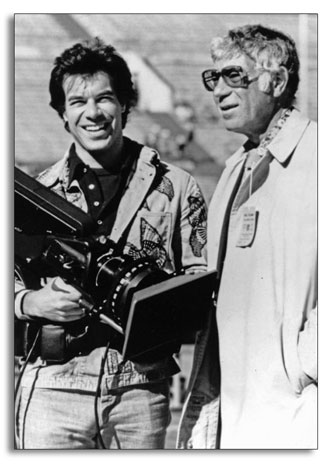 John Lee Hooker Jr.'s tale is as old as the blues itself. It's steeped in the dark and seedy underside of urban America. More than 10 years ago, he found himself lying underneath a car in Detroit to hide himself from police and seek shelter from the freezing rain. Under that car, he had a religious epiphany: choose to walk by God's side or the devil's. He chose the former. In the decade since, the son of John Lee Hooker, no doubt one of the most important and influential American musicians of the 20th Century, has not only kicked his drug and alcohol addictions but emerged as a driving force in blues. Two of his five albums have garnered Grammy nominations: his debut, "Blues with a Vengeance," and 2008's "All Odds against Me." Just to be nominated against the likes of B.B. King, Buddy Guy, Pinetop Perkins and Elvin Bishop meant he'd arrived. But even though he's pigeonholed in the all-encompassing blues genre, don't expect the gritty sounds his father made famous. Instead, Hooker Jr. describes his music as "two parts R&B, one part jazz and down-home blues." Hooker Jr. plays an early show at 8:30 p.m. Sunday at the Abbey Theatre.
Waiting on Trial is recording a live album at the Abbey on Friday. Carvers donated a keg of special brew (proceeds go to the band to help fund the project), Elder Grown opens at 9 p.m. and tickets are just $7 before 10. Robin Davis (mandolin), Ryan Doty (guitar), Chris Lane (banjo) and Ryan Zernis (bass) are a rarity in that they were good friends before they formed WOT six years ago. When they formed, Davis immediately brought respectability to the group, given his well-earned reputation built in Broke Mountain and the Wayword Sons. All of Davis' former Broke Mountain bandmates have broken into bluegrass' big leagues: Anders Beck in Greensky Bluegrass; Travis Book in the Infamous Stringdusters; Jon Stickley in Town Mountain; and Andy Thorn in Leftover Salmon. They predict the same for WOT. "That's the kind of band that can get huge," said Thorn. "This band is so nasty," praised Book.
You no doubt realize that it's election season. Personally, I know who I'm voting for and don't appreciate the dozen or so daily emails from celebrities calling for action. You got my vote. Please stop wasting my time. One group that won't waste our time is The Capitol Steps, which returns to the Community Concert Hall at 7:30 p.m. Monday. The only comedy troupe in America that attempts to be funnier than the real United States Congress, The Steps was founded by a group of current and former Congressional staffers during Ronald Reagan's administration. With plans for a holiday party floundering, the founders dug into the headlines of the day, creating song parodies and skits that have become their trademark. No political party or national personality is protected from The Steps' satire. The troupe continually changes its repertoire to keep "PC" – politically current.
Kirk James and Ska Brewing have teamed up for a fundraiser to benefit Kirk's sister-in-law Susan James who has fought numerous unknown autoimmune diseases and was diagnosed with Stage 4 Thyroid Cancer, which has spread throughout her neck. Extensive, long-term treatment is needed to fight both diseases along with double knee replacements.
The event will help cover medical costs that go beyond health insurance coverage. Musicians uniting for the cause include James, Hal Lott, Steve Dejka, Peter Neds, Mark Andersen, Larry Carver, Lawrence Nass, Jack Tallmadge and Andrea Zeiner. The event takes place at Ska Brewing from 3-7 p.m. Saturday. Come thirsty, as $2 per pint benefits Susan. There will also be a silent auction and prizes.
Honey Henny Lime brings North Miami post-grunge to the Summit at 9 p.m. Wednesday. This guitar-bass-drum trio is influenced by classic rock bands like the Beatles and the Doors and '90s music by Nirvana, Pearl Jam and Foo Fighters. They bill themselves as a rock/jazz/funk fusion band.
Moe's lineup is highlighted by the Splatterdays Urban Art Show and Make It Rain Party. There will be live hip-hop with DJ Juan Blanco, a graffiti artist and breakdancers. Then on Sunday, local musicians rally for the weekly Jazz Church, a freeform jam session. Show up and you could win a Fender Stratocaster guitar. Proceeds benefit the Katzin Music Scholarship.
Finally, the Black Velvet duo of Nina Sasaki and Larry Carver play the Derailed Saloon at 7 p.m. tonight (Thurs., Sept. 27).
This week's Top Shelf list is Steve Sabol's poem, "The Autumn Wind," later adopted as the Oakland Raiders' theme song.

The Autumn wind is a pirate
Blustering in from sea
With a rollicking song he sweeps along
Swaggering boisterously.
His face is weatherbeaten
He wears a hooded sash
With a silver hat about his head
And a bristling black mustache
He growls as he storms the country
A villain big and bold
And the trees all shake and quiver and quake
As he robs them of their gold.
The Autumn Wind is a Raider
Pillaging just for fun
He'll knock you 'round and upside down
And laugh when he's conquered and won.

Straight through the heart of them righteous uprights? Email me at chrisa@gobrainstorm.net.