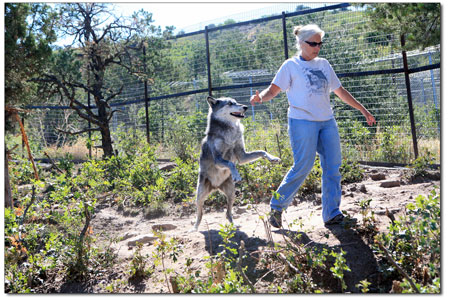 One of the 70 some wolves and wolf-dogs at Wolfwood Refuge gets frisky with Wolfwood's owner Paula Watson. The local sanctuary is holding an art fund-raiser Sept. 28 to defray costs of recent government mandates that classified the refuge as an "animal exhibitor," despite Watson's objections./Photo by Steve Eginoire
Going to the Dogs
Art auction ot benefit Wolfwood Refuge
by
Stew Mosberg
http://www.wolfwoodrefuge.org.
Whether you are an animal lover, an art collector, or both, the upcoming Wolfwood Refuge Art Auction will likely offer something for you.
Set for Fri., Sept. 28 at The Discovery Museum, the event will feature an auction, cocktails and appetizers on the museum's outdoor plaza. With the Animas River as a backdrop, it is a fitting reminder of the refuge's goals, which is to provide a home for these disapcaced creatures of the wild. Proceeds from the sale of the art go directly to the protection and care of the refuge's wolves and wolf-hybrids.

Dozens of local artists, many of whom are represented in regional as well as national galleries, have donated an extraordinary range of work to the event, which includes a live and silent auction. For the live auction, 20 artists will be represented via everything from paintings, prints and drawings to ceramics and sculpture. While much of the works are wolf or wildlife related, many are not. Styles vary from abstract and representational to photo-realism.

For the unfamiliar, Wolfwood is a licensed sanctuary for wolves and wolf/dogs. It is located in Ignacio and was founded by Craig and Paula Watson almost 15 years ago. Today, the Watsons and a team of dedicated volunteers engage in rescue and rehabilitation, educational outreach and maintaining a safe, loving, permanent home for more than 70 of these animals. Wolfwood also stresses that it never breeds or sells the animals and immediately neuters and spays any they take in.

Last year, the USDA classified Wolfwood as an animal exhibitor and demanded that it refurbish the pens and transportation vehicles to meet government regulations. Full compliance was achieved after weeks of intense labor and contributions from the community.
Paula Watson maintains that the government misinterpreted Wolfwood's primary goal, which is to save, serve and protect the animals; the educational programs are a means to that end. "We are a sanctuary that educates; not an animal exhibitor," she says, adding that the refuge never charges a fee to visitors.

Unfortunately, complying with the USDA was extremely costly, as is the ongoing expense of day-to-day maintenance and operations. It is hoped the auction will help offset some of the overwhelming costs.

The evening's events kick off at 5:30 p.m. with an art preview and silent auction. The live auction begins at 6:30 p.m. and will be presided over by Calvin and Pat Story, of Treasure Auctions. Tickets are $25 and include beverages and appetizers from local restaurants. Wolfwood will also bring along two "ambassador" animals for the audience to meet.

For tickets and additional information, go to www.wolfwoodrefuge.org. Tickets are also available at: Karyn Gabaldon Gallery, Healthy Hounds & Fat Cats, Maria's Bookshop, Pet Haus, Wildshots Photo Gallery and the Rochester Hotel.