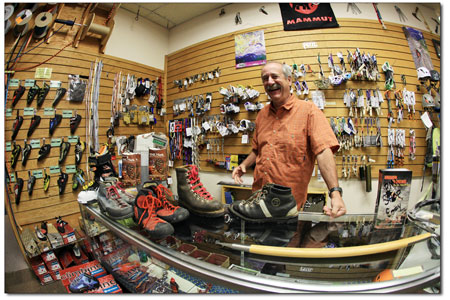 Local climbing and skiing aficionado Keith Roush stands among several decades of climbing technology at Pine Needle on Monday, including the first leather telemark boot, which he had a hand in designing. After nearly 30 years at the store – 10 as owner – Roush is retiring from the biz but not the lifestyle. He bought a VW van and plans to return to his bumming roots./Photo by Steve Eginoire
Earning his turn
Pine Needle's Keith Roush hangs it up after nearly 30 years
by Missy Votel

After almost 30 years of advising Durangoans on some of the more important choices in life – like ski and boot purchases – and telling a few tales along the way, Keith Roush is hitting the high road.

"I'm a complete bum. I'm homeless and unemployed," Roush said Monday. Roush, who has been a fixture at downtown gear dispensary Pine Needle Mountaineering since 1983, punched out for the final time last week. Having bought the store from former owner Mel Matis in 2002, Roush has handed over the reins to Jeremy Dakan, manager for the last five years; local cardio junkie Miles Venzara; and Jackson, Wyo.-transplant Ashley Gonella.

For Roush, who came to Durango as a self-proclaimed climbing bum from Yosemite, it's like coming full circle. "I traded in my truck for a camper," he said of his new '91 VW Westfalia. "I'm going to traipse around, do some hiking, some big hut trips."

Whatever his retirement plans are, you can bet it will involve mountains. A native of Ohio, Roush's narrative is a familiar one. "I went to college at Montana State, in Bozeman, and never looked back," he recalled. Upon graduating, he bummed around the West in search of big walls and crags.
He worked for Seattle-based Jansport for a while before availing himself to one of the pioneers of American climbing, Royal Robbins. "I told him he needed to hire me. He was importing great boots and ropes and nobody knew about it," said Roush. As the story goes, in 1976 Robbins flew Roush to California, where they cemented their friendship over a bottle of Scotch. "He poured me on the plane the next day, and I started repping for him soon after," recalled Roush.

During his time with Robbins, Roush was based out of Modesto, Calif., where, he met other pioneers of the modern gear movement, including North Face founder Doug Tompkins and Patagonia juggernaut Yvon Chouinard. According to Roush, when Tompkins left North Face to launch Esprit, they all used his facilities for clothing manufacturing. "It was an incestuous group back then," said Roush.
At the same time, modern mountaineering in American was blossoming.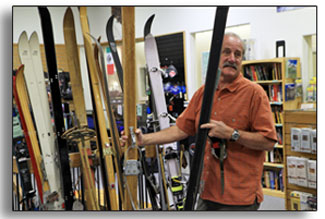 Roush holds one of his prized 1966 Head "Deep Powders" while talking about another pair of his old "powder skis," some wooden boards with steel cable bindings. The quiver is on display in Pine Needle's upstairs annex./Photo by Steve Eginoire

"Royal and I were among the first guides in Yosemite," said Roush. "We climbed all over the world together – Canada, Alaska, Montana, Wyoming and Colorado."

Eventually, the two were called to the relatively untouched San Juan Mountains, where they opened Robbins Mountaincraft in Telluride in 1977. "We bought the only house for sale in Telluride for the enormous fee of $165,000," Roush said. The school offered climbing classes, weeklong programs, and mountaineering and ski trips. "We were established as one of the better known guide schools in U.S.," he said, along with the likes of Rainier Mountain Guides, Eastern Mountain Sports and Jackson Mountain Guides.

Splitting time between California and Colorado, Roush and Robbins set up 65 new routes near Ophir, including the infamous Ames Wall. Among Roush's other firsts were co-founding the American Mountain Guide Association in 1980 and helping develop the first dome tent (think arced poles). But perhaps his biggest claim to fame was in telemark skiing. The free-heeled movement was in its infancy in America when Roush, an avowed randonee skier, approached French boot manufacturer Galibier about combining the flexibility and lightness of a cross country boot with the ruggedness and durability of a climbing boot. The results were the first lace-up leather tele boots: the Correncon (a single liner) and the Laponie (double liner), which can still be seen at Pine Needle today.

It was at around the same time edges were introduced to Nordic skis as well as an international norm for bindings. "The ski guys got into it and started putting edges on their Nordic skis," he said. "There was no Nordic norm, so they had to ground the boot to fit the binding."

Eventually, Norwegian Dagfinn Ragg, founder of Roteffeller, developed the Nordic norm 75 mm "rat trap" binding. Back then, Roush said innovations came at a slower pace, requiring time, networking and luck. "We got to work with some real characters over the years," he said. "It was all about knowing the right guys. You just couldn't get on the internet. There was a great deal of luck involved."

Eventually, through that same old school network, Roush came to know Matis and his wife, Lynn. In 1983, the two asked him to come to Durango to help run the store – an offer Roush accepted.

"We had two kids and were living in California and decided to go back to the mountains," he said of he and his former wife.

Back in the Rockies, Roush helped Matis expand the store to nearly double the square footage. Eventually, the store also went up as well, an area now used for camping goods, ski tuning, offices and skinny skis.

However, looking beyond the latest in sparkling new gear, one can still find a treasure trove of artifacts. In addition to vintage climbing gear adorning the walls, there is a veritable quiver of classic skis on display, including several wooden models, which Roush professes to take out on occasion. "Usually on the last day of the ski season," he said, admitting that nostalgia is a poor substitute for technology. "They don't handle very well."

Stashed toward the back of the nearly 40 years of ski history are Roush's prized possessions: a pair of black, 210 cm Head Deep Powders, circa 1966. "There were only 1,500 pairs made," he said. Adding to the mystique is a Jansport logo on the tails as well as what by 1966 standards was radical: an ever so slightly wider waist and sidecut, which today seems downright miserly.

Of course expanding ski widths are not the only changes Roush has seen in his years peddling skis. In fact, you could say his career has run the gamut from leather to soy-based plastics "with a lot of bad stuff in between."

In addition to witnessing the rise – and tumble – of the telemark boom, he has also seen the explosion of everything from AT gear and splitboards, to self-adhesive climbing skins, plastic water bottles and the ubiquitous Gore-Tex.

But by far, the biggest advances have been in clothing fabrics. "Used to be you'd lug an enormous pack weighing 100 pounds – wool long johns, wool socks, shells, wool pants," Roush said. "Now, you can go with a 25- to 35-pound pack, and that's for a long trip, eating very well. With the whole ultralight movement, everything is so warm and dries so fast, you don't need all those clothes."

In fact, the trend has given rise to a whole new trend: DIAD, short for "did it in a day." Roush said he continues to be blown away by young adventurers pushing the envelope. Drew Gunn, who works at the shop, recently rode his bike from his home in Lightner Creek to Molas Pass, climbed the north face of Vestal Peak, known as "Wham Ridge," then rode home. "And came to work the next day," Roush said. "That's what's so cool now. They take nearly nothing ... but if you get hurt, you've got a problem."

As a former member of La Plata County Search and Rescue, Roush knows that scenario all too well. In January 2002, he was involved in the rescue of a plane crash near Purgatory. As he was readying to disembark the rescue helicopter, the copter crashed. Roush was banged up and suffered several cracked and broken ribs, but it could've been much worse. "My pack broke my fall," he said. And, in another twist of fate, in its hasty descent, the copter took down several trees, creating firewood for the survivors to wait out the cold night. To this day, Roush counts it as his most epic adventure, and the one that convinced him a more staid line of work might be in order. "That's when I knew I needed to change my life, and I came back and bought the shop," he said.

While the fast-paced days may be past, Roush looks forward to a new chapter of relatively leisure mountain pursuits that includes lots of backcountry as well as an annual spring pilgrimage to the Haute Route, from France to Switzerland.

And he will still call "home" Durango, where, rest assured, he has downsized to a rented condo, with a large garage. "My daughters keep asking me if I'm going to live in my van down by the river," he said. "I tell them, I'm an Eagle Scout and former mountain guide, so if I wanted to, I probably could."

Pine Needle will be hosting a farewell party for Roush on Sat., Sept. 29, from noon - 5 p.m. Afterward, participants are invited to a fund-raiser for another longtime local skier, Susan James, who is fighting cancer. The fund-raiser takes place at Ska Brewing starting at 5 p.m. and features $2 beers and live music.