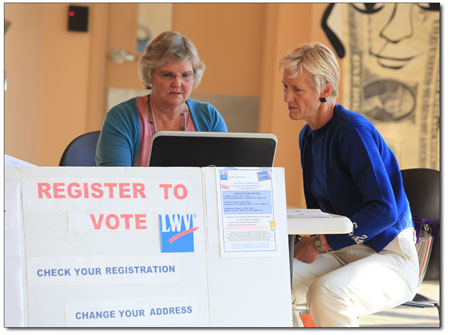 Kathleen Adams, left, from the La Plata County League of Women Voters, helps Roberta Eickman, right, register to vote at the Durango Public Library on Tuesday afternoon./Photo by Steve Eginoire
The 'ayes' have it
Groups work to register voters ahead of November election
by Tracy Chamberlin

Over the years, elections have been won and lost by only a handful of votes – even presidential ones. So, every vote counts.

This November, local voters will not only choose the next president, they will make decisions that will shape Durango and the Southwest for decades to come.

But, none of these decisions can be made without the first step, registering to vote. Colorado, along with 48 other states, requires voter registration. North Dakota is the only state that does not.
The deadline to register in Colorado is Tues., Oct. 9.

More than one third of eligible voters in Colorado aren't registered. And that doesn't account for the estimated one in eight that likely have incorrect information, according to the Colorado Secretary of State's office.

However, there is no shortage of options to sign up or check registration status.
"We believe in access … being able to vote should be as wide as possible," said Jill Patton, voter service coordinator for the League of Women Voters in La Plata County.

The League of Women Voters is a nonpartisan organization that has been promoting participation in local, state and national elections since 1920.
The group plans to host several voter registration events in the area. It will have a booth at the Durango Seniors Center on Tues., Oct. 2, and the Durango Farmer's Market from 8 a.m. - noon Sat., Oct. 6.

Decisions, decisions
Nationally, Colorado is considered a key swing state in the presidential election. The two primary candidates, President Barack Obama and Republican Mitt Romney, have visited the state many times and spent millions of dollars on hundreds of hours of television ads vying for the state's nine electoral votes.

The University of Denver is also the sight of the first presidential debate, which will be carried on local television networks, cable news channels and radio stations across the country on Wed., Oct. 3, at 7 p.m.

At the state level, a constitutional amendment on the ballot gives voters a choice about whether or not they want to be the first state to approve the legalization of marijuana for recreational use.

In La Plata County, two commissioner seats are up for grabs, which constitutes a majority of the governing body that chooses the vision and lays the groundwork for the future of the county. Incumbent Kellie Hotter faces challenger Gwen Lachelt; and, Julie Westendorff and Harry Baxstrom are competing for Wally White's seat, who is term limited.

At the local level, Durangoans will make a decision affecting the next 20 years. That's the length of a proposed franchise agreement between the City of Durango and La Plata Electric Association.

The League of Women Voters is hosting a Ballot Issue Forum on Mon., Oct. 8, and a Candidate Forum on Mon., Oct. 15. Both events begin at 5:30 p.m. at the Durango City Council Chambers.
They also offer an electronic voter guide,
www.vote411.org
. It's a national program that lists candidates and organizes ballot measures with pro and con comparisons. Voters can register, check their status, locate a polling place, check forum dates, and even fill out a ballot that they can print out and take to the polls with them.

"You can also see responses to candidates at the state and local level," said Ellen Park, co-president of the La Plata County League of Women Voters.

Getting the word out
Colorado Secretary of State Scott Gessler touted an $850,000 campaign to register state residents for the 2012 election, calling it the "largest voter registration initiative in the state's history."

The money is being spent on television, radio, print and online advertising. "I wanted a bold initiative that resonates a positive message with voters and can still compete with all of the other ads," Gessler said.

It's estimated that one in eight registrations are inaccurate, which can cause confusion at the polling station. Patton said it's important for voters to check their voting status and make sure that the information is accurate and up-to-date.

One point of potential confusion, according to Park, is a change in the rule about mail-in ballots. Colorado voters that requested permanent mail-in ballots but did not vote in 2010 were marked as inactive. This means that they will not be mailed a ballot for the 2012 election.

Park said these voters need to update their status as active in order to receive a mail-in ballot. They can do this online or by contacting the County Clerk's Office.

Patton and Park commended La Plata County Clerk Tiffany Clark on her efforts to inform residents. The clerk's office has mailed out postcards to residents informing them of their status and polling stations.

Many county and city groups are offering registration assistance and hosting registration events. The La Plata County Republicans have been contacting inactive voters, and the La Plata County Democrats have been hosting several registration events.

On the Fort Lewis College campus, students can find a registration booth at the Student Union on weekdays, and several student groups are scheduling additional events ahead of the Oct. 9 deadline.

In the 2008 presidential election, eligible voters between ages 18 and 24 had the lowest registration rate, at 59 percent, almost 10 percent lower than any other age group.
FLC student Claire Shea, with New Era Colorado, a student organization, has been helping her fellow students change that. Over the past few weeks, Shea said they have registered more than 400 students and have additional events planned in the future.
For more information, visit
govotecolorado.com
or
lwvlaplata.org
.