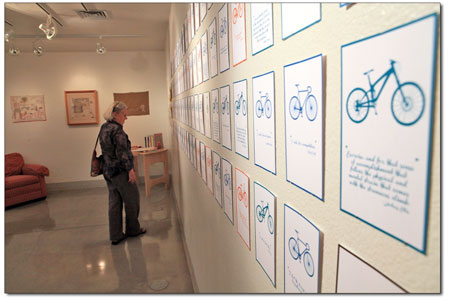 A gallery-goer examines Associate Professor Paul Booth's "Why Do You Ride" piece, part of the Fort Lewis College Art Faculty's "The Raw and the Cooked" show. The exhibit explores the creative process, with many faculty opening up their private sketch books and keys to their inner muse. The show runs through Sept. 22 at the college./Photo by Steve Eginoire
Recipe for creativity
FLC art faculty cooks up intriguing art show
by Stew Mosberg

Have you ever wondered how artists' minds work, how they come up with an idea and proceed to turn it into an object of art? Head on up to the Fort Lewis College Art Department Gallery and take a peek under the magic curtain of creativity.

With the start of the fall semester and a new exhibition season, the FLC art faculty decided to open its sketch books and idea files, show some of experimental models and rough plans, and reveal the "Hidden Workings of the Creative Process."

The resulting exhibition, "The Raw and the Cooked," runs until Sept. 22 and offers an glimpse into developmental process that goes into creating a piece of art.
Just the facts

What: "Hidden Workings of the Creative Process - The Raw and the Cooked"
When: Through Sept. 22, Mon.– Fri., 10 a.m. – 4 p.m.; Sat., 12 noon – 4 p.m.
Where: Fort Lewis College Art Building/Art Gallery
The elemental work on view is as thought provoking and educational for art students as it is for the curious populace. According to Assistant Professor and Gallery Director Elizabeth Gand, the aim is to give the public a window into the creative process. "Viewers are invited to consider some intriguing questions: how do artists generate ideas? What goes into the process of experimentation and discovery that leads to a new work of art?" she said.

The contributing teachers vary in professional status from visiting instructor to full professor, and for those unfamiliar with the hierarchy of academia, the titles are educational in themselves. Asked to explain the arcane designations, Gand provided her own capricious interpretation. "As for those silly academic titles, here's the rough translation: adjunct is a short-term instructor who teaches for the department but in a consultant role;
assistant professor is the first tier of the tenure-track. Professor is fully tenured. Associate professor is the mid-way point between assistant and full professor, and instructor is a person who is hired relatively long-term, but is not on the tenure track."

That being said, the faculty members in this exhibition include four visiting instructors; two professors, two associate professors; two assistant professors and one adjunct instructor.

The show's brochure playfully asks, "What is this thing we call creativity?" Yet, it doesn't really answer the question. It touches on the importance of the creative process itself by noting that much of Leonard DaVinci's works were left unfinished or are historically less important than the sketch books and private notebooks he left behind.

According to Gand, the exhibit is about taking a "raw" idea and working until it is "cooked," and she remarked that sometimes the process is more important than the product. Inside the gallery, visitors have the chance to literally turn the pages of sketchbooks, finding that the working method of one artist differs from the next. Some are as neat and precise in their approach as they are in the final execution. Professor Amy Wedland, for example, shares her exploration of color and finishes on tiny blocks of wood. They are akin to three-dimensional postcards or miniature assemblages and serve to illustrate her thoroughness.

Nationally recognized ceramicist and Visiting Instructor Lorna Meaden exhibits some of her porcelain vessels. To help the viewer better understand the production process for the vessels, Meaden includes the molds she used to create the work.

Adjacent to Meaden's work are a miniature slide and swing set, which were fabricated by Assistant Professor Jay Dougan. A leading ceramics and three-dimensional artist, he created them to pay tribute to his grandmother, who had donated money to build a schoolyard playground for her town.

Seeing a displayed paint box or tool kit of an artist and the sketches or paint splattered stools hints at being inside the workshop or perhaps having been invited to a home studio. Visiting Instructor and locally recognized artist, writer and satirical cartoonist, Judith Reynolds, shares sketches leading up to her controversial commentary on the recent shooting in Aurora. She has also included a sketch plus the finished caricature of a sinister looking Taliban.

Associate Professor Chad Colby's print and collage studies are exercises in harmony and color. They are a perfect demonstration of the challenges that faced Gand's students who were assigned the task of mounting the show. Under Gand's tutelage, they shared a unique experience and also received a grade. The ease at which visitors can move around the exhibit and also have a vantage point to study the art at close range is a testament of their success.

One of the most difficult works to hang however, was left to the artist herself – Visiting Professor of Art Andrea Martens. Tiny, delicate flower petals and organic material, not unlike exotic insect wings, are pinned to the wall in a grid-like pattern. It is an arresting and thought-provoking display.
Professor Susan Moss, chairwoman of the Art Department, teaches drawing and textile arts. Her embroidered panels allude to domesticity in both a whimsical and poignant way. Her portion of the gallery includes an armchair inviting visitors to sit and select books to read from her display; it amusingly rests against a column under an image of a chair.

Viewers who didn't get enough of the Pro Cycle Challenge can admire the work of Associate Professor Paul Booth, who has assembled scores of bicycle images in multiple colors titled "Why I Bike," each incorporating quotes about the joy of bike riding.

Space limits describing all the work on view, but as a learning experience this is a worthwhile and fun exhibit.