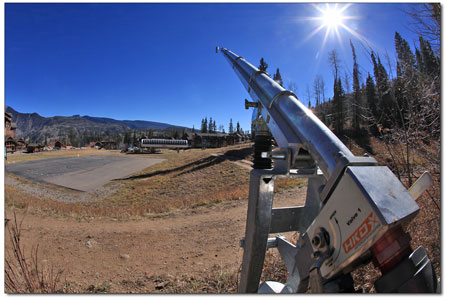 A snowgun sits at Durango Mountain Resort, ready for action. The resort plans to begin snowblowing on Thurs., Nov. 1, ahead of its Nov. 23 opening./Photo by Steve Eginoire
Ready. Set. Snow.
Area ski resorts prepare for upcoming season
The local scene: Discounts and deals
by Tracy Chamberlin

Following a dry and difficult 2011-12 season, area resorts are gearing up for a comeback with upgraded amenities, new snowmaking and grooming equipment, and deals meant to entice potential guests.

Last year, the industry experienced its most challenging season in two decades and resorts suffered the lowest average snowfall since the 1990-91 season, according to the National Ski Area Association's End of Season Survey.

Although nearly 10 million fewer skiers and snowboarders hit the slopes last season than did the year before, Southwest Colorado actually fared better than many of its Colorado counterparts. Durango Mountain Resort saw a less than 1 percent decline in skier visits, and Wolf Creek Ski Area was only about 10 visits shy of its 2010-11 numbers.

DMR even picked up some guests over the holiday season who said they typically visited other resorts, according to Director of Communications Kim Oyler. "There is always fluctuation in the ski business as we are at the mercy of the weather and economy," Oyler said. "But overall, Durango Mountain Resort has seen an increase in visitation over the last five years."

Wolf Creek also bucked last year's trend with a record early opening. While half of the industry's resorts opened late, Wolf Creek opened Oct. 8 after a winter storm swept through the pass, dumping 46 inches on the ski area.

This year however, they're waiting on Mother Nature. Snowmaking is already under way at Wolf Creek, but a little help from above is still needed. The beginner runs and base area will be the first to open.

The family-owned ski area enjoys some of the best natural snowfall in the West with an average of 465 inches per year. After last year's drought, Wolf Creek still finished the season with 396 inches.

"We're hoping for a great year for everyone in Colorado," said Marketing and Snow Reporter Molly Textor.

Last season, The Old Farmer's Almanac predicted a dry winter and below-normal snowfall. This year, 4 the almanac is expecting "winter will be cooler and wetter than normal, with near- to above-normal snowfall" for Durango.

It should get coldest in early and mid-December and late February, and the snowiest periods are predicted in early to mid-December and early to mid-February.

The National Oceanic and Atmospheric Administration's winter weather predictions, however, are not as optimistic.

"This is one of the most challenging outlooks we've produced in recent years because El Niño decided not to show up as expected," said Mike Halpert, deputy director of NOAA's Climate Prediction Center.

According to the forecasters, the Four Corners is likely to have warmer-than-average temperatures this winter. However, an El Niño watch is still in effect and there is a chance it could emerge.

Until then, resorts have a way of helping. DMR is scheduled to begin snowblowing today, Nov. 1, with enough equipment to cover 21 percent of the mountain. They're looking to open for Thanksgiving weekend on Fri., Nov. 23. Oyler said the goal is to open as much of the frontside as possible and then turn attention to the backside of the mountain.

On the western side of the San Juans, Telluride has invested in six new, high-efficiency tower guns and three new fan gun pedestals, upping its snowmaking capability. Telluride is scheduled for a Turkey Day opening on Thurs., Nov. 22.

Once the season gets under way, it's up to the groomers to build the foundation and keep the runs going during difficult weather patches.

Purgatory added some new pick points along Lower Hades on the resort's frontside. This allows the groomers to tie off the winch cats and groom the steep angles on that run more efficiently. They're also going to groom one half of the run and leave the other half in its natural state, an initiative that began on other runs last season and will continue this year. This satisfies guests who want the manicured corduroy and those looking for natural bumps.

Purgatory has also added to its rental gear fleet, upgraded its website and partnered with Rossignol to offer the Rossignol Experience Center, which combines equipment and classes to minimize the learning curve for beginners and intermediates.

Wolf Creek also added to its rental fleet with K2 skis and Venture snowboards, and purchased a new snowcat for grooming. Improvements have also been made to the ski area's avalanche reduction program, with two more exploders. On-mountain facilities have also gotten a boost, with restroom upgrades and the addition of The Continental Espresso Bar on Prospector.

And this is just the beginning for Wolf Creek, after releasing its 20-year master plan earlier this year. The small ski area has future plans for terrain expansion, and new lifts and facilities around the mountain.

With the start of the ski season in sight, all that's needed now is for Mother Nature to say "Go!"