Di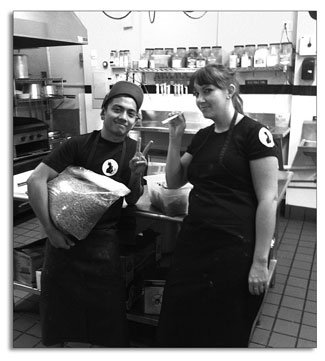 Ralph & Jen puff on a tiny burrito.
ver
: Ralph and Jen from Nini's
Interesting Facts: Jen and Ralph hardly ever smoke this much dope at the restaurant. And if they did, it would be for purely medicinal reasons. Their boss is a pain in the ass.
Dear Diver,
I am trying to book my Christmas travel plans but this whole thing about the world ending on Dec. 22 is making me kind of uncertain. I mean, why go to all that trouble if we're all going to die a few days before anyway. What if the ancients were right? Shouldn't I be staying home and getting my "house" in order instead?
– Rapture Weary
Dear Raptor,
Don't worry, you should make your travel plans so then you can go on vacation while everyone else is sitting at home feeling like idiots. Personally, we will be in the Philippines at world's end.
– Divers
Dear Diver,
Is it true that if our beautiful sanitation area by Santa Rita Park was to stop working due to a backup or other issue, the Doubletree's swimming pool would be the backup? Please clarify!
– Floater
Dear Floaty,
The answer is yes. All of the guests at the DoubleTree will be evacuated from the swimming pool and be sent out to the river.
– Yours, Love that Dirty Water
Dear Diver,
Does the City's new antismoking ordinance apply to pot smoking, too? After all, it is legal now. If so, where can I smoke my recreational pot? Maybe the Rec Center?
– Still Smokin'
Dear Smoky Joe,
You should smoke it in the same places that you did before ... your house, your porch, in the alley around the corner from the bar, or in the big walk-in refrigerator at work. You know about smoking in a fridge right? There's something about the pot and smoke mixed with the cold air ... you know. I guess it makes more sense when you're high.
– Smoke 'em if You Got 'em
In a sticky situation?
Seek help from the master of the In-Sinkerator. The diver has the solutions to life's little messes. Send your problems to, "Ask the Diver:"
- 1309 E. Third Ave., Room 25 Durango, CO, 81301
- fax (970) 259-0488
-
telegraph@durangotelegraph.com