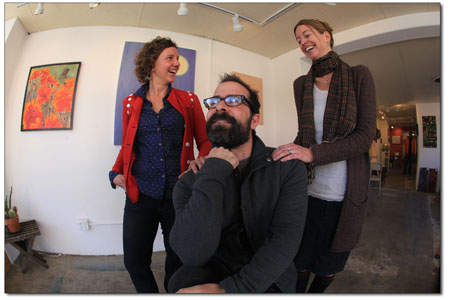 Crystal Hartman, left, Scott Dye, center, and Bethany Bachmann are the latest featured artists at Studio &. Their work is on display in the exhibit "3'," which opens Friday night./Photo by Steve Eginoire
& then some ...
Studio & adds new talent
by Stew Mosberg

It's been almost three years since the symbolically named gallery/studio "&" first opened its doors. In that time, numerous exhibits and events celebrating art have enticed visitors to step inside. The concept behind & is to be an ever-evolving, revolving incubator of ideas, styles and talent; and it has exceeded that goal.

Only graphic designer Tim Kapustka remains from the original group of founders, but he is the force behind the continual evolution. Because the physical space at 1027 Main Avenue is small, any spot on which to display art is at a premium, especially since the resident artists also use the room to ply their trade. The result of such a limited work area is that exhibitions remain on view for a very short time. While that factor creates an air of immediacy, it also prevents some people from seeing and or buying the work.

Just the facts

What: Studio & opening art reception "3"
When: Fri., Nov. 16, 5-9 p.m.
Where: 1027 Main Ave.
Note: Some work will remain on view through Thanksgiving weekend.

At an opening reception to be held this Fri., Nov. 16, Kapustka and artists Elizabeth Kinahan, Shay Lopez and Clint Reid will officially welcome the newest member, Scott Dye, into the fold. Although artists Bethany Bachmann and Crystal Hartman will not be permanent members of the group, they will be represented by & and are featured in this latest presentation along with Dye.

In keeping with its short and snappy ampersand brand name, the showing this weekend is numerically titled "3," and according to Kapustka, "The intent is to welcome these very talented, very diverse individuals and provide an opportunity for the public to see their work."

The trio of local artists will show a range of work in varying styles and mediums. Hartman, a multi-media artist, will be exhibiting 33 pieces of her unique jewelry. The assortment includes sterling silver rings, bracelets, earrings and necklaces, all of which will be displayed in a steel case built by artist Jeff Madeen.
By way of explanation, Hartman says, "Each piece is carved in wax and cast into sterling silver through the Lost Wax Process." Working with natural, high-grade and conflict-free stones, that are hand-cut by her jeweler father and brother, Hartman said her designs are, "Inspired by growth, nature and the place of adornment in art history."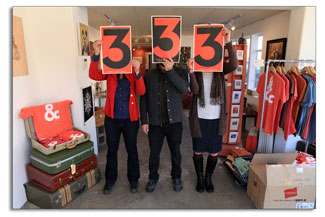 They are, she continued, "Intimate and accessible, and certainly the foundation of my escapades in art."

Hartman is no stranger to the creative forces at &, having exhibited two-dimensional art and poetry there in the past, but this is the first time her jewelry will be represented in downtown Durango.

Bethany Bachman's highly original soft-pastel artwork is best known for its saturation of color and intense composition. This time around she has reduced the imagery considerably and simplified the visual content while incorporating imagery of nests, eggs and birds. In addition to the pastel work, she will include watercolors and has plans to continue expanding the mix while being represented at the studio/gallery.

Scott Dye's role as exhibitor will segue into his new spot as member of the incubator studio. As such, he will be displaying more than 30 pieces in mediums that include oil painting, photography, watercolor, ink on paper, and his thoroughly innovative "Quick Response Code" art, which was on view at Serving Life Chiropractic during &'s collaborative show in July.

Several of Dye's more intriguing pieces will include paintings of knives, hatchets, and similar objects that are complimented by the small frames surrounding them. According to Dye, his style ranges from whimsical to dark; from portraits of animals to technology driven art or utilitarian objects.
Titles such as "Five Pandas in a Tree," "Switchblade" and "The Birth of Tragedy," suggest that viewers will have an interesting experience in store.

Combining a literary theme with the visual world, Dye also created what he calls his "Black Dog" illustrations. "I take the title page out of a book and illustrate a Black Dog on (it) in relation to the book title," he explained.

With books by authors such as Nietzsche and Jules Verne, these also promise to be thought-provoking images.

Asked about his joining the other artists at & and how it came about, Dye said he has always been excited and interested in what they are doing in the community. "They approached me about it when they were looking for another artist to join them – we all thought it would be a great fit and with the support of more than a few good friends I jumped in head first."

Showing in a number of local venues this past year has given Dye great exposure and, in addition to the "3" show, his work can also be seen through November at Raider Ridge Café.

Traditionally working in a more isolated situation, Dye says he is looking forward to being in a more supportive environment where he can be a part of the "push and pull" exchange that frequently occurs in a group-oriented setting.

Originally from Winslow, Ariz., the artist has been in Durango for 10 years hoping to become more involved with the community through his art, "I know it sounds lofty and maybe a bit naive, but I want to make people's lives better through my art. So that's what I expect to do."