Swamp Cabbage, Champagne and civic duty
by Chris Aaland
By and large, national and international touring acts tend to bypass D-Town in the summer. Sure, the Abbey books a few shows each month by acclaimed artists, while the Summit has a couple of tasty up-and-comers on their bill in the near future. But most venues either go dark (like the Community Concert Hall) or commit to other things (like the Henry Strater Theatre, which hosts the Melodrama all summer long starting June 15). Nonprofits (where have ye gone, Durango Acoustic Music?) tend to be scared off by festival season and the fact that Durangotangs like to play in the rivers and hills during the long, sunny hours between May and September.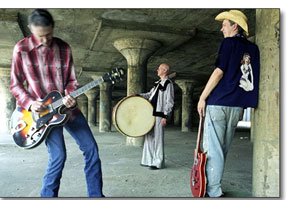 Swamp Cabbage gets good and stinky in Dolores on Saturday night.
But there's a saving grace 50 miles to the west. The Dolores River Brewery, less than an hour away, has booked a strong schedule that's heavy in alt-country this summer. (Highlights from their summer slate make up this week's Top Shelf list at the end of this column.)
Up next in Dolores is Swamp Cabbage at 8 p.m. Saturday. Founded nine years ago in Jacksonville, Fla., the trio is comprised of Walter Parks (guitar, vocals), Jagoda (drums) and Jim Devito (bass) and has five albums under its belt. From the liner notes of their debut recording, "Honk," these guys describe the recipe for making Swamp Cabbage as "equal parts of ZZ Top, John Campbell, Tom Waits, Leon Redbone, Canned Heat, Otis Taylor and John Lee Hooker.
Then add a little water moccasin venom, the heart of an alligator and some miscellaneous toad fluids. Leave this mixture out in the wild of the north Florida swamps for about 10 years with the lid slightly ajar and, you know … see what happens. Then take this bowl and pour the contents into your CD player and push 'play.'" I listened to some tunes on their website and it's not a bad assessment. Or you could simply state the obvious that these Floridians are heavily influenced by their Jacksonville predecessors Lynyrd Skynyrd and Molly Hatchet and call it good … because that's what Swamp Cabbage is: good stuff.
The Summit's slate includes Champagne with Friends on Saturday. Born in Beaumont, Texas — the middle of mosquito country on the "Right Side of Texas," as he calls it — guitarist Thomas Champagne grew up with the best of both worlds, Texas pride and Cajun spirit. He hit the stage at age 14 with musical roots in piano, bass and drums. Absorbing a wide array of influences, Champagne fronted acts that dabbled in jazz, funk, pop, rock and bluegrass. Now known as Champagne with Friends, the group "channels a love of funk, roots rock, and island grooves into a danceable blend of music that utilizes percussive phrasing and catchy lyrics to engage fans to embrace hope, freedom, change … and most of all, life," according to its website.
Moe's lineup includes the one and only "Aboveground Salsa Night" with DJ Caliente at 7 p.m. tonight (Thurs., May 24), fresh jams with DJs Michael Dark and Ralphsta at 8 p.m. Saturday and the Jazz Church freeform jam (experienced musicians welcome regardless of your genre) from 6-9 p.m. Sunday.
"I Love a Clean Durango" is the theme for Friday's clean day sponsored by the Durango Chamber of Commerce, Business Improvement District and City of Durango. Local business and organizations are asked to provide volunteers to help spruce up Downtown Durango before the start of the busy tourist season. Volunteers will receive complimentary coffee, donuts and a free "I Love a Clean Durango" T-shirt while they last. Contact the chamber at 247-0312 or email rita@durangobusiness.org if you're interested. Volunteers can check in at the chamber tent located in the Strater parking lot next to Magpies at 8:45 a.m. to get their assignments. Cleanup should be done by 11 a.m. Bring your work gloves and prepare to get dirty!
The Iron Horse Bicycle Classic is here once again, bringing us a boatload of cycling events from Friday through Sunday at various locations around town. Many of these are spectator-friendly. Visit www.ironhorsebicycleclassic.com for a complete schedule.
More local flavor on tap this week: Spiral Eyes do indie rock at this week's Ska-B-Q from 5-7 p.m. tonight; Psychedelic Mojo gigs at the Lost Dog at 6 p.m. tonight for Jaime McMillan's campaign launch and at the Balcony at 5 p.m. Saturday; Black Velvet is back at El Rancho at 5 p.m. Friday; Tumblin' Dice rock the Balcony at 5 p.m. Friday; Pete Giuliani does acoustic solo sets at Homeslice Pizza at 9:30 a.m. Saturday and at Serious Texas South at 6 p.m. Monday; and the Miserabillies bring country music to the Lost Dog at 7 p.m. Sunday.
This week's Top Shelf list, as promised, features additional highlights coming to the Dolores River Brewery this summer. Most shows range from $5-$10, some are free. Look for their complete schedule on Facebook:
1. Hymn for Her, Sun., June 17. H4H hails from any place they can park their 16-foot, 1961 Bambi Airstream trailer, which comes equipped with dog and baby. The husband-wife duo of Lucy Tight and Wayne Waxing dabble in gothic alt-country with lots of reverb. They swap a three-stringed broom handle/cigar box with more conventional instruments like banjo, dobro, bass drum, hi-hat and harp. KDUR's Bryant Liggett drunktexts me his highest praise of H4H whenever he sees them in a random, East Coast bar.
2. J.P. Harris & the Tough Choices, Fri., June 22. It's a shame this one falls on the Friday night of Telluride Bluegrass, smack dab in the middle of John Fogerty's set. This Nashville honky tonk act has released the front runner for my Album of the Year, on my favorite indie label, Cow Island, no less. If you're not swaying along to "Proud Mary" with the rest of the hippie throngs in T-Ride, then you should hitch your saddle to the Dolores River Brewery.
3. Halden Wofford & the Hi-Beams, Sat., July 14. Colorado's favorite honky tonk sons return, on the strength of a solid new live album, no less.
4. Eilen Jewell, Thurs., Aug. 23. Born in Boise and schooled on the streets of Santa Fe, Jewell found a musical home in Massachusetts and now records for the folksy Signature Sounds label. Durango fans caught her before opening for Fred Eaglesmith at a DAM show.
Peace and love, beans and brown rice? Email me at chrisa@gobrainstorm.net.